MANAV: Human Atlas Initiative; NABARD announces Rs 700 cr fund for rural start ups - Current Affairs
Manav project is funded by Department of Biotechnology (DBT) that would make a database network of all human body tissues.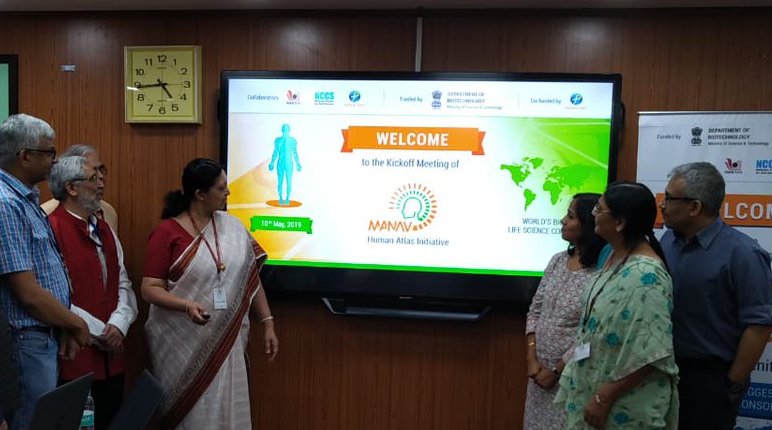 MANAV: Human Atlas Initiative
Story 1: Department of Biotechnology launched MANAV: Human Atlas Initiative
Department of Biotechnology (DBT) working under ministry of science and technology has recently launched human tissue mapping project called MANAV: Human Atlas Initiative. It has been launched to improve understanding on human physiology. Objective of this initiative is to map every single tissue of human body to find out deepest information and roles of tissues and cells linked to a variety of ailments.
This project is funded by Department of Biotechnology (DBT) that would make a database network of all human body tissues. Those students part of this project will be trained and instructed with skills to perform annotation.
Objectives of MANAV project
• Physiological and molecular mapping for better biological insight,
• Develop disease models through predictive computing,
• Major Objective of the initiative is to find out and capture human physiology in two stages – normal stage and disease stage,
• At final stage, overall analysis and medicine discovery.
Major Highlights
• Department of Biotechnology has issued funds of Rs 13 cr to two institutions in Pune, Indian Institute of Science, Education and Research (IISER) and National Centre for Cell Science (NCCS).
• Also, Persistent Systems has co-funded the project and is developing the platform, and has contributed Rs 7 crore.
• Through physiological and molecular mapping this programme involve in getting better biological insights, develop disease models through predictive computing and have a holistic examination and at last drug discovery.
Who can join MANAV project?
The project can be signed up by students who are in their final year of graduation and above. Students of various streams like biochemistry, systems biologists, pharmacologists, zoology,, biotechnology, botany, microbiology, bioinformatics, health sciences, and data sciences can associate with this project. Those students can also join who doesn't have science background or not involved in active scientific research.
Department of Biotechnology (DBT)
It is an Indian government department under the Ministry of Science and Technology. This department is responsible for administrating development and commercialisation in the field of modern biology and biotechnology in India. It was set up in 1986. In December 2015, the Department of Biotechnology launched the National Biotechnology Development Strategy 2015–2020 programme. The stated aim of the programme is to intensify research in the fields of vaccines, human genome, infectious and chronic diseases, crop science, animal agriculture and aqua culture, food and nutrition, environmental management and technologies for clean energy.
Liked the article? Do watch our videos too!
Story 2: NABARD announces Rs 700-crore venture capital fund for rural agricultural start-ups
India's National Bank for Agriculture and Rural Development (NABARD) has recently announced for Rs. 700 crore project funds for equity investments in agriculture and rural start-ups. NABARD was used to contribute to other funds but it is for the first time when NABARD launched its own funds.
This project was launched by Nabventures, an auxiliary unit of NABARD. NABARD proposed amount of Rs 500 crore with an option to retain over-subscriptions of Rs 200 crore. Company names it green-shoe option. With this initiative NABARD will assist those start-ups who are engaged in agriculture and rural areas' development.
Benefits
Rural economy: It will help to boost rural economy. When rural start-ups will get some funds and work for benefit of villages, it will automatically improvise rural financial condition.
Employment generation: Biggest issue of villages is lack of employment opportunities. When NABARD will fund some companies it will generate employment as well as new market to the country.
Mitigate migration: It is quite possible if rural population will get employment and better infrastructure in their own area.
Key Highlights
• NABARD believe that these funds will provide a boost to investment ecosystem in the core areas of agriculture, food and improvement of rural livelihoods.
• Till date, NABARD has already contributed Rs 273 crore to 16 alternate investment funds.
• NABARD is now 100 per cent owned by the government, which has been focusing on start-ups through a slew of measures.
About NABARD
National Bank for Agriculture and Rural Development (NABARD) is an apex development financial institution for rural development in India. It's headquarter is located at Mumbai while regional offices are present across India. NABARD was established on the recommendations of B.Sivaraman Committee, (by Act 61, 1981 of Parliament) on 12 July 1982 to implement the National Bank for Agriculture and Rural Development Act 1981. NABARD is the most important institution in the country which looks after the development of the cottage, small scale, village and other rural industries in the country.
Download our Current Affairs& GK app from Play Store/For Latest Current Affairs & GK, Click here