Mother Teresa's 109th birth anniversary: All you need to know
Mother Teresa Birth Anniversary: Mother Teresa had founded Missionaries of Charity, which looks after people who are dying of HIV/AIDS, leprosy and tuberculosis.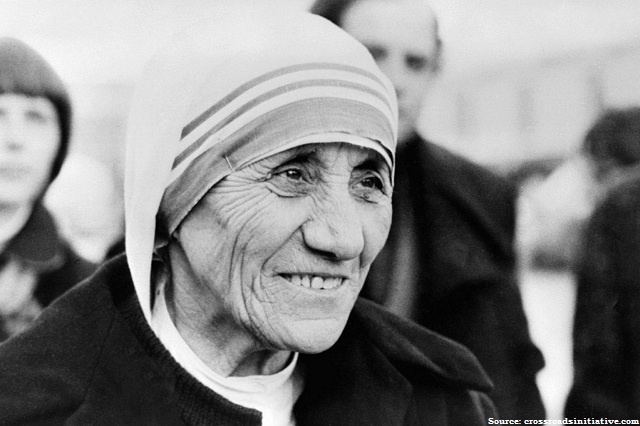 Mother Teresa
Mother Teresa Birth Anniversary: Mother Teresa's 109th birth anniversary was commemorated across the world on August 26, 2019. Mother Teresa was born on August 26, 1910. Mother Teresa came to India in 1929 and worked for the welfare of the poorest of the poor as well as the homeless, orphan children and people dying from terminal illness such as HIV/AIDS, leprosy and tuberculosis.
Mother Teresa, whose original name was Anjeze Gonxhe Bojaxhiu, was an Albanian-Indian Roman Catholic nun and missionary. Mother Teresa was born in Skopje (current capital of North Macedonia), then part of the Kosovo Vilayet of the Ottoman Empire. She left her home at the age of 18 and moved to Ireland and then to India, where she lived for most of her life. Mother Teresa devoted most of her life working for poor and downtrodden.
Mother Teresa Missionary
Mother Teresa had founded Missionaries of Charity, which mainly looks after people who are dying of HIV/AIDS, leprosy and tuberculosis.
Mother Teresa India
Mother Teresa came to India in 1929 at the age of 19 years and began her novitiate, a period of training that a Christian member of a religious order undergoes before taking vows to discern whether he or she is called to vowed religious life, in Darjeeling.
She began learning Bengali and taught at St. Teresa's School near her convent. She took her first religious vows on May 24, 1931 and chose to be named after Thérèse de Lisieux, the patron saint of missionaries. However, since a nun in the convent had already chosen that name, she opted for its Spanish spelling- Teresa.
She served as a teacher at the Loreto convent school in Entally, eastern Calcutta for nearly 20 years and was appointed as its headmistress in 1944. Though Teresa enjoyed teaching, she was extremely disturbed by the sight of poverty that she saw in Calcutta.
The Bengal famine of 1943 had brought death and misery to the city and the August 1946 Direct Action Day marked the beginning of Hindu-Muslim violence in the state.
Mother Teresa experienced "the call within the call" on September 10, 1946 when she was traveling to the Loreto convent in Darjeeling by train from Calcutta for her annual retreat. It made Mother Teresa realize that she was to leave the convent and help the poor while living among them.
Mother Teresa began her missionary work with the poor in 1948 and she replacing her traditional attire with a simple, white cotton sari with a blue border.
Mother Teresa then applied for Indian citizenship and spent several months in Patna to attain basic medical training at the Holy Family Hospital and then took off into the slums.
Mother Teresa founded the Missionaries of Charity in 1950 to help the poorest among the poor. The charity took in an increasing number of homeless children.
Mother Teresa was joined in her effort by a group of young women at the beginning of 1949. Mother Teresa's efforts quickly caught the attention of Indian officials including the Indian Prime Minister.
In 1952, Mother Teresa converted an abandoned Hindu temple into the Kalighat, a home for the Dying, free for the poor. The home was renamed as Kalighat, the Home of the Pure Heart (Nirmal Hriday). Those brought to the home not only were given adequate medical attention but also the opportunity to die with dignity in accordance with their faith.
Teresa later opened a hospital for those with leprosy, calling it Shanti Nagar (City of Peace) and also established leprosy-outreach clinics throughout Calcutta through Missionaries of Charity. She also opened Nirmala Shishu Bhavan, the Children's Home of the Immaculate Heart, as a haven for orphans and homeless youth.
Mother Teresa also did humanitarian work outside India; she rescued 37 children trapped in a hospital by brokering a temporary cease-fire between Israel and Palestine. She travelled through the war zone to the hospital to evacuate the young patients.
Mother Teresa also expanded her efforts to Communist countries despite criticism. She travelled to Ethiopia to assist people with severe malnutrition, to Chernobyl to assist those affected by radiation and to Armenia to assist earthquake victims.
Mother Teresa opened 517 missions in over 100 countries by 1996. The Missionaries of Charity grew from 12 to thousands, spread across 450 centres in the world. Mother Teresa worked for poorest of poor, orphans, homeless, AIDS and leprosy patients, disabled and victims of floods and epidemics.
Mother Teresa Awards
Mother Teresa was fluent in five languages including English, Hindi, Bengali, Albanian and Serbian.
She was the recipient of more than 120 honours and awards during her lifetime including the Ramon Magsaysay Peace Prize in 1962 and Nobel Peace Prize in 1979.
Mother Teresa Death
Mother Teresa passed away on September 5, 1997 after braving cardiac problems, surviving two heart attacks, broken collar bone, pneumonia and malaria. She passed away five days after another tragic death, the death of Princess of Wales, Lady Diana who passed away in a tragic accident on August 31, 1997.