Mukesh Ambani rules Forbes Richest Indian 2019 list for 12th year
Mukesh Ambani tops the Forbes Richest Indian 2019 list while Gautam Adani secured the second position.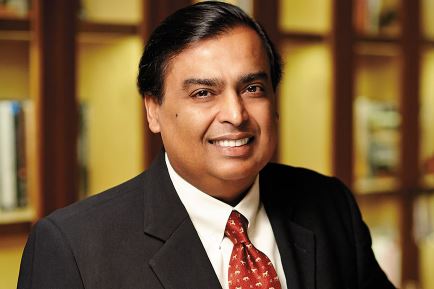 Mukesh Ambani
Mukesh Ambani, Chairman of Reliance Industries Limited (RIL), has again occupied the number one position in the Forbes richest Indians list 2019. Forbes India magazine released the list of the richest Indians for the year 2019. Mukesh Ambani is at number one position with a net worth of USD 51.4 billion. However, infrastructure tycoon Gautam Adani has become the second richest Indian this time.
Gautam Adani has a net worth of USD 15.7 billion. Adani's success is also amazing as he has jumped eight places to make it to the second place in the Forbes richest Indians list. Every year, the 100 richest people are included in the list.
Forbes' Top 10 Richest Indians

Rank

Name

Net Worth

1.

Mukesh Ambani

USD 51.4 Billion

2.

Gautam Adani

USD 15.7 Billion

3.

Hinduja Brothers

USD 15.6 Billion

4.

Pallonji Mistry

USD 15 Billion

5.

Uday Kotak

USD 14.8 Billion

6.

Shiv Nadar

USD 14.4 Billion

7.

Radhakishan Damani

USD 14.3 Billion

8.

Godrej Family

USD 12 Billion

9.

Lakshmi Mittal

USD 10.5 Billion

10.

Kumar Birla

USD 9.6 Billion
Also Read | Akshay Kumar is world's 4th highest-paid actor: Forbes List
Key Highlights
• The promoters of Ashok Leyland, Hinduja Brothers are on the third position with net worth of USD 15.6 billion, Shapoorji Pallonji Group's Pallonji Mistry is fourth with net worth of USD 15 billion, Kotak Mahindra Bank's Uday Kotak fifth with net worth of USD 14.8 billion and Shiv Nadar of HCL is at sixth place in this list with USD 14.4 billion of net worth.
• This time six new billionaires have got a place in the Forbes India richest Indian list. These include Biju Ravindran with assets of USD 1.91 billion, Manohar Lal and Madhusudan Agarwal of Haldiram Group with assets of USD 1.7 billion and Rajesh Mehra of Zakuar Group with USD 1.5 billion.
• Wipro chairman Azim Premji dropped out of this year's Forbes Top-10 Rich List. Last year he was in second place.
• Azim Premji now ranks 17th in this list after donating his wealth. His wealth decreased from Rs 1.53 lakh crore last year to Rs 51,104 crore.
Economic Slowdown and Forbes' list
According to Forbes' list, the total wealth of Indian businessmen has fallen by 8 per cent to USD 452 billion. The magazine says that the year has been challenging even for the rich people of the country due to economic slowdown. Acharya Balakrishna's wealth has declined by more than two-third due to decrease in sales of Patanjali Ayurveda products.
Also Read | Virat Kohli sole Indian in Forbes 2019 list of world's highest-paid athletes
Also Read | Forbes 30 under 30 Asia 2019: IIT Kharagpur Alumni feature in the list with PregBuddy Technologies