New snake species found in Odisha; Victor Vescovo's deepest dive – Current Affairs
Scientists took 10 years for completing field and laboratory work to confirm about new species.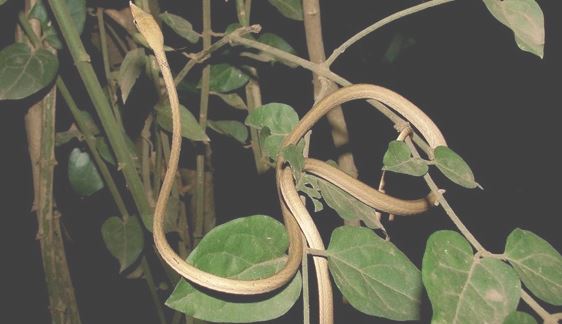 Vine snake
Story 1: A new vine snake species found in Odisha
A species of new vine snake have discovered in the eastern part of Odisha. This new species have found after a century because last discovery was made about vine snake in year 1906. Researchers named it Ahaetulla laudankia or Laudankia vine snake since it was found in the region. The local name for vine snakes in the eastern State is Laudankia or Laudaka, as the snake resembles dried stems ('danka') of bottle gourd ('lau').
Key Findings
• Scientists took 10 years for completing field and laboratory work to confirm about new species.
• Vine snake is a slender rear-fanged snake with narrow head, and pointed snouts.
• Snake is from Colubridae family, it has three prominent genera – Oxybelis found in American continent, Thelotornis found in Africa and Ahaetull, which is found in India and Southeast Asia.
• Scientists conducted molecular analysis that proved that the earlier samples were related to a unique species. Scientists found it genetically distinct from green vine snakes.
• After reviewing all the literature pertaining to the brown coloured vine snakes from India and after cross-validating with two old collections of brown vine snakes from Rajasthan, the team was convinced it had discovered of a new species.
• Their eyes have pupils that look like horizontal keyholes.
Story behind discovery
This research has an interesting story behind it. In year 2009, researchers found a brown coloured snake from Similipal Biosphere Reserve while they were travelling. Initially they thought it may be another species of the common vine snake found in India. But after analysing another brown vine snake as a specimen (Ahaetullapulverulenta) from Baripada in Odisha, they found some variations in color between the specimens.The researchers felt that the specimen they had collected from Similipal may be a new variety. However, they came across three more specimens from Balasore district of Odisha, which further intrigued them.
Journal of Natural History
The Journal of Natural History is a scientific journal published by Taylor & Francis focusing on entomology and zoology. The journal was established in 1841 under the name Annals and Magazine of Natural History and obtained its current title in 1967. The journal was formed by the merger of the Magazine of Natural History (1828–1840) and the Annals of Natural History (1838–1840; previously the Magazine of Zoology and Botany, 1836–1838) and Loudon and Charlesworth's Magazine of Natural History).
Liked the article? Do watch our videos too!
Story 2: Victor Vescovo Sets New World record with deepest dive
Victor Vescovo (53 years old) broke the world record for the deepest dive in history. US citizen Vescovo is a under-sea explorer who dove about 6.8 miles to a point in the Pacific Ocean's Mariana trench.
It was the third time humans have dived to the deepest point in the ocean, known as Challenger Deep. His dive went 52 feet (16 meters) lower than the previous deepest descent in the trench in 1960.
Victor Vescovo's dive
• Vescovo took his Pressure Drop submersible to 10,927 meters (35,853 feet) below the surface of the Pacific Ocean in the Challenger Deep part of the Mariana Trench, breaking Don Walsh and Jacques Piccard's depth record set in 1960.
• Vescovo set another record by becoming the first and only person who visited highest and deepest point of the world. He had climbed mount Everest also.
• He also made discovery about undiscovered species of sea life ranging from shrimp-like arthropods with long legs and antennae, sea pigs similar to a sea cucumber.
• He also found angular kind of plastic object at the bottom of Mariana Trench.
About Mariana trench
• The Mariana Trench is located in the western Pacific Ocean about 200 kilometres east of the Mariana Islands, and has the deepest natural trench in the world.
• In 2009, the Marianas Trench was established as a United States National Monument.
• It is a crescent-shaped trough in the Earth's crust averaging about 2,550 km (1,580 mi) long and 69 km (43 mi) wide. The maximum known depth is 10,994 metres.
• If Mount Everest were dropped into the trench at deepest point, its peak would still be over two kilometres under water.
Download our Current Affairs& GK app from Play Store/For Latest Current Affairs & GK, Click here