Rajnath Singh flags off 51st unit of self-propelled K9 Vajra-T Guns
The Ministry of Defence had signed an agreement with L&T company to supply 100 units of K9 Vajra Guns.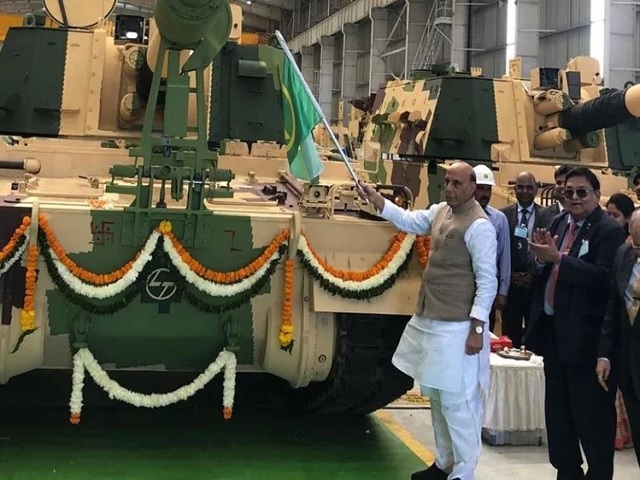 Image: ANI
Defence Minister Rajnath Singh flagged off the 51st unit of K-9 Vraj-T cannon at the Larsen & Toubro armored system complex at Hazira, Surat on January 16, 2020. He drove the K9 Vajra-T Gun around the Hazira complex.
The Ministry of Defence had signed an agreement of Rs 4500 crore with L&T company in 2017 to supply 100 units of K9 Vajra-T 155mm/52 caliber guns to the Indian Army under 'Make in India' initiative. Rajnath Singh said on this occasion that these guns are future-ready combat vehicles.
About K-9 Vajra-T Guns
• K-9 Vajra Self-Propelled Artillery was inducted into the Army in November 2018.
• K-9 Vajra is a type of K-9 Thunder which is being used by the South Korean Army.
• The weight of this cannon is 50 tons and it can fire 47 kg shells up to 43 kilometers.
• K-9 Vajra gun can also rotate at a zero radius. L&T is assembling these canons with the help of South Korea's Hanwha Techwin Company.
• It offers a high rate of fire with a long-range of target. K-9 Vajra is compatible with NATO ammunition standards.
Also Read | CPCB issues fresh guidelines for setting up new petrol pumps
About Make in India
Prime Minister Narendra Modi launched the 'Make in India' scheme on September 25, 2014, to strengthen the country's economy and provide employment to the youth. It aims to create 100 million new jobs by 2020. The Modi government had decided that the contribution of the manufacturing sector in the country's economy will be increased from 16 percent to 25 percent by 2022. The government wants to get more capital and technical investment in India through this scheme. It aims to develop India as a manufacturing hub, promoting India's economic development, more employment opportunities, more FDI in various sectors among others.
Also Read | New Gold Hallmarking process: Jewellers to sell only 14, 18, 22 carat gold
Also Read | What is 'Blue Flag' certification? Govt eases CRZ rules