Rajya Sabha passes J&K Quota Bill, extends President's rule: PM says "Thank You"
Rajya Sabha has passed the Jammu & Kashmir reservation bill in the Parliament, while also extended the President's rule in the state by six months.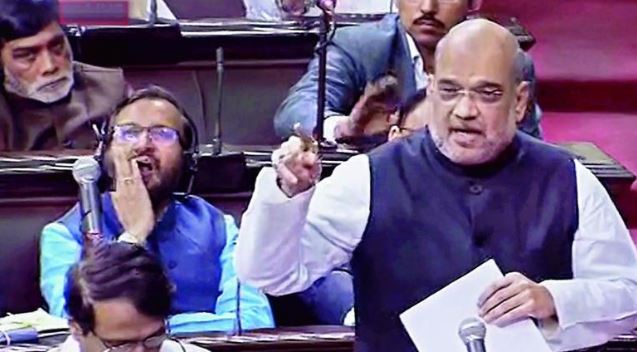 Amit Shah in Parliament
The Rajya Sabha passed Jammu and Kashmir reservation bill on July 1, 2019 also extends President's rule in Jammu and Kashmir. This bill provides 3% reservation for people in the State living near the international border (LOC).
Home Minister Amit Shah replied to the debate on the motion and the bill that Centre government has no objection to hold Assembly elections in the State. He said security forces have raised certain concerns and he hoped that the Election Commission will take a decision at the earliest.
Prime Minister Narendra Modi's tweet said, "Both Houses of Parliament unanimously passed two important bills pertaining to Jammu and Kashmir. These bills were passed after rich debates, enriched by participation of MPs across party lines. I thank all parties for their support. Such bipartisan support is gladdening."
Apart from this PM Modi also tweeted a link of Parliament that consisting speeches of Amit Shah in both houses of Parliament. PM Modi said in his tweet, "Union Home Minister Shri @AmitShah's speeches in both Houses of Parliament were comprehensive and insightful. Those who want a clearer understanding of the Kashmir issue must hear his speeches."
What is J&K Quota Bill
• The Bill, which replaces the Jammu and Kashmir (Reservation) Amendment Ordinance 2019 issued on March 1, provides for amendments in the Jammu and Kashmir Reservation Act, 2004 to bring persons residing in the areas adjoining International Border within the ambit of reservation at par with persons living in areas adjoining Actual Line of Control (ALoC).
• Earlier, the provision of 3% reservation was available only for youth living within 6 kms of LoC in J&K. Now, this provision will be applicable for people living near the international border also.
• This has been a long-pending demand of the population living near the international border, as they have been facing the brunt of cross border firing in J&K.
• The Bill and the resolution now await the assent of President Ram Nath Kovind.
Also Read | Zaira Wasim quits bollywood; Anupam Kher sees red