Zaira Wasim quits bollywood; Raveena deletes her tweet, apologises to Zaira Wasim
Zaira Wasim's decision to quit Bollywood was ridiculed by many celebs and Raveena Tandon was one of them. After realising that it might be under some pressure she apologised to Zaira Wasim and deleted her 'regressive views" from Twitter.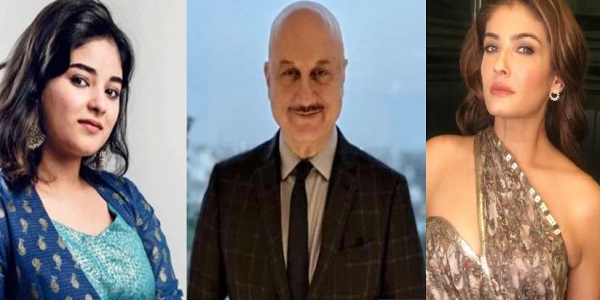 Zaira Wasim quits bollywood
Zaira Wasim's decision to quit Bollywood shocked the industry. Earlier people were criticising her but after a new report that suggests that she might have been pressured to quit Bollywood has changed mind-sets of many regarding the same. People have been taking social media handles to support or criticize Zaira Wasim's choice. After Raveena Tandon, KRK, Payal Rohtagi, Anupam Kher also shared his views about Zaira Wasim's choice of leaving Bollywood. Zaira Wasim announced that she has quit Bollywood, saying the workings of the industry "damaged my peace, imaan and my relationship with Allah."
Anupam Kher
In a recent media interaction held at New Delhi, Anupam Kher was asked about Zaira Wasim's decision to quit films. Anupam Kher replied, "I think it's a tragedy that a 16-17 year old girl has to take a decision like that. I do respect her sentiments, I do respect that it's her individual choice. But as a person, I feel sad that she had to take a decision like this about her flourishing career."
Anupam Kher further said, "She is most welcome to take her decision. She is an independent girl and our country gives everybody the fundamental right to choose what they want to choose...I felt sad when I read that. I felt that somewhere, she had to take that decision. It is not her decision."
Raveena Tandon
Raveena Tandon, took to Twitter to condemn such pressure from fundamentalists and religious fanatics. She tweeted: "I wish her luck and strengthAfter seeing this, I now regret my first immediate tweet after reading her statement.Maybe she was forced to write what was unacceptable to people like me who love films,cinema,the industry, that I was born into.Deleting the tweet that now sounds harsh."
Earlier tweet of Raveena Tandon, "Doesn't matter if two film olds are ungrateful to the industry that have given them all. Just wish they'd exit gracefully and keep their regressive views to themselves."
KRK
Bollywood personality KRK writes on twitter, "I will say to all the people, that pls don't trust Zaira Wasim! She is doing all this for the publicity only. She is the biggest drama girl. She is in the Bollywood and she will never leave it. Don't worry, Aamir khan will produce more films for her."
Nagma
Appriciating and supporting Zaira Wasim for her decision Nagma took to Twitter and said Zaira Wasim is a courageous girl who defied stereotypes and shined through. We must appreciate her courage & stand with her in her moment of crisis We love you for work you did and your spirit keep it alive. Wish you well and want you to be happy.
Vivek Agnihotri
Director of movie Buddha in a Traffic Jam Vivek Agnihotri is defending his approach and appriciating Zaira Wasim. He wrote on Twitter, "Of course we must not judge choices of Zaira Wasim but in the age of Artifical Intelligence we must question the book that orders an individual to quit 'ARTS' to make peace with Allah."
Payal Rohtagi
She slammed Zaira Wasim for her decision, "I hope that this child now grownup Indian Muslim actress Zaira Wasim who says she quit Bollywood as it interferes with her religion doesn't become a Jihadi tomorrow under the same ideology. After all she is an Indian so I am sharing my concern on public platform."
Reactions of other than bollywood personalities
Tasleema Nasreen
Bangladeshi author Taslima Nasreen has slammed Zaira Wasim's decision to quit films because it "threatened" her relationship with her religion.
About Zaira Wasim
Zaira Wasim is (now former) an Indian actress who is best known for her playing the role of childhood character of the Indian sportswoman Geeta Phogat in the popular movie Dangal. She is the recipient of numerous accolades, including a Filmfare Award and a National Film Award. Zaira Wasim was honoured with National Child Award for Exceptional Achievement by Ram Nath Kovind, the President of India, at a ceremony in New Delhi in 2017.
In June 2015, Wasim was signed by director Nitesh Tiwari to make her film debut with the biographical sports film Dangal (2016). The following year, Wasim found her breakthrough role in Advait Chandan's directorial debut Secret Superstar (2017), a musical drama about the story of Insia Malik (Wasim), a 15 year-old teenager who aspires to be a singer.
On March 2019, Zaira Wasim has completed shooting for The Sky Is Pink, the biopic of motivational speaker Aisha Chaudhary, a 19 year-old girl who died due to the disease of pulmonary fibrosis. Co-starring Priyanka Chopra and Farhan Akhtar, the film is set to theatrically release in India on October 11, 2019.