RBI Governor's address: Policy Repo Rate reduced from 4.4% to 4%, Reverse repo rate reduced to 3.35%
RBI Governor's address: The policy repo rate has been reduced by 40 basis points from 4.4 percent to 4 percent. The reverse repo rate has been reduced by 3.35 percent.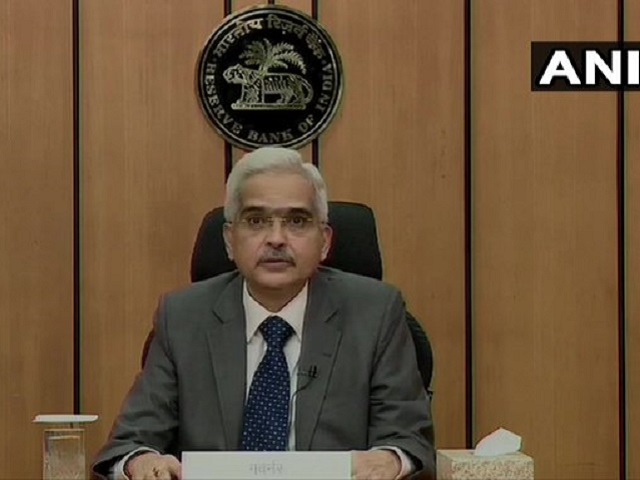 RBI Governor Address
RBI Governor's address:
The Reserve Bank of India's Governor
Shaktikanta Das addressed the impact of coronavirus on the global and Indian economy during his address on May 22, 2020. In a major announcement, the RBI Governor announced reduction in policy repo rate by 40 basis points from 4.4 percent to 4 percent. The reverse repo rate has been reduced to 3.35 percent.
The RBI Governor revealed that its Monetary Policy Committee had met over the last 3 days in an emergency meeting to review to current global and domestic outlook and the depth of the impact of COVID-19. The six-member MPC then voted 5:1 to reduce repo rate by 40 basis points in interest rate. The reverse repo rate was also reduced to maintain an accommodative stance. It was decided that that deduction in policy rate will be provided as long as necessary to mitigate growth.
The repo rate cut by 40 basis points from 4.4 % to 4%. Reverse repo rate stands reduced to 3.35%: Reserve Bank of India (RBI) Governor Shaktikanta Das pic.twitter.com/z9N8fr7vRT

— ANI (@ANI) May 22, 2020
Global Economic Situation
The world is now heading towards a recession.
Global services recorded steepest decline. The growth rate of emerging market economies have hit record low.
The value of global trade reduced by 3 percent in Q1, it can shrink further by 13-32 per cent this year.
At the same time, the global policy response has been unprecedented.
Domestic Economic Situation
The Indian economy has been severely impacted by the COVID-19 crisis. The top 6 industrialised states, which account for 60 percent of industrial productions, fall either in the red or orange zones.
The loss of demand and production has taken its toll on fiscal revenues. The Industrial demand has reduced drastically.
There has been a collapse in both urban and rural demand since March 2020. The biggest blow was slump in private consumption. The consumer durables production fell by 33 percent in March 2020.
There was 25 percent reduction in cement production. The Industrial production also fell by almost 17 percent. The manufacturing activity reduced drastically by 21 percent. The output of core industries also fell by 6.5%.
Beacon of Hope
Agriculture and allied activities: There was a marked increase in production in agriculture and allied activities, providing a beacon of hope. There was a 3.7 percent increase in food grain production, which is a new record. There was an increase in Kharif sowing.
Normal south-west monsoons.
India's foreign exchange reserves also increased by 9.2 billion during 2020-21 from April 1, 2020 onwards. Currently, India's foreign exchange reserves stand at USD 487 billion.
Inflation
Food inflation, which had eased from its January 2020 peak, has suddenly reversed and increased to 8.6 percent in April.
The price of vegetables, pulses, oil seeds and milk emerged as pressure points.
According to MPC, the headline inflation in H1 of 2020 will stay intact but it may fall below the target of 4 percent by Q3 and Q4 .
The inflation outlook highly uncertain, the elevated level of inflation in pulses is worrisome and requires review of import duties.
What has improved?
The RBI Governor Shaktikanta Das stated that the monetary policy transmission has improved. The improvement in passing on a lower rate to borrowers has been noticed across various business segments.
The international crude oil prices, metals, industrial raw material likely to remain soft and this may ease pressure on India's imports.
The RBI Governor, however, reiterated that much will depend on the recovery of coronavirus pandemic.
Future Predictions
According to RBI Governor, the GDP growth is likely to remain negative in 2020-21. It may pick up in the second half of 2021 but much of it will depend on how the COVID-19 curve flattens. The MPC is of the view that the macroeconomic impact of the pandemic is turning out to be very severe acute and hence it is is essential now to instill confidence.
The GDP growth in 2020-21 is expected to remain in the negative category with some pick up in second half: RBI Governor Shaktikanta Das pic.twitter.com/wq3VUcBK7C

— ANI (@ANI) May 22, 2020
A combination of fiscal, monetary and administrative actions will create conditions for revival of economy in H2 of fiscal year 2021.
Regulatory announcements
The RBI Governor Shaktikanta Das stated that the apex bank has been constantly monitoring the situation. He assured that the level of vigilance is extremely high and that the RBI has been taking policy measures as and when the situation warrants.
The RBI announces 4 key measures to boost Indian Economy:
1. Measures to improve functioning of markets
2. Measures to support exports and imports.
3. Measures to ease financial stress by giving relief on debt servicing and better access to working capital
4. Ease financial constraints faced by state governments
Key Measures
• In order to provide greater flexibility of SIDBI, the RBI has decided to provide another 90 days extension for offering of loan facilities to provide additional liquidity support to the MSME sector.
• Besides this, a facility of Rs 15,000 crore line of credit for 90 days for USD swap facility will be provided to EXIM Bank. This will have a rollover facility to upto one year.
• The export credit period has been increased to 15 months from 1 yr, to alleviate difficulties faced by exporters.
• Term loan moratorium extended till August 31 : The loan moratorium will be extended till August 31, which makes it a six month moratorium. The lending institutions are being permitted to restore the margins for working capital to the origin level by March 31, 2021.
Three-month moratorium we allowed on term loans&working capitals we allowed certain relaxations. In view of the extension of the lockdown&continuing disruption on account of #COVID19, these measures are being further extended by another 3 months from June 1 to Aug 31: RBI Guv pic.twitter.com/YKulKb9bD0

— ANI (@ANI) May 22, 2020
• The Group Exposure Limit of banks has been increased from 25% to 30% of eligible capital base to enable the corporates to meet their funding requirements from banks. The increased limit will be applicable up to June 30, 2021.
• The RBI has also relaxed rules governing withdrawal from Consolidated Sinking Fund (CSF). This will enable states to meet about 45% of redemption of their market borrowings which are due in 2020-21.