RIL acquires toy retailer Hamleys; only one third rivers are flowing free - Current Affairs
RIL acquired Hamleys in 67.96 million pounds. Hamleys was founded in 1881 by William Hamley.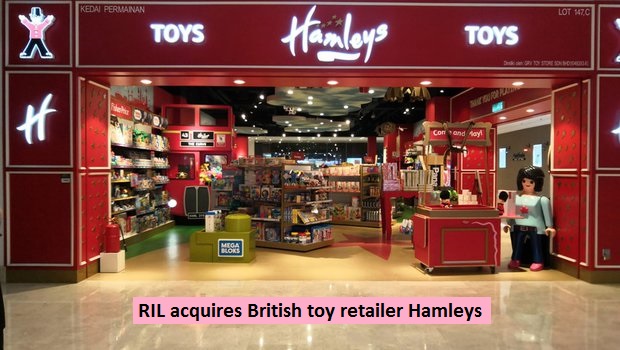 A Hamleys store
Story 1: RIL acquires British toy retailer Hamleys
Reliance Industries Ltd. (RIL) acquired British toy retailer Hamleys in a all cash deal on May 09, 2019. As per the RIL announcement they have acquired Hamleys in 67.96 million pounds (about Rs. 620 cr). With this announcement Reliance will get hold of hundred percent shares of Hamleys Global Holdings Limited (HGHL).
RIL's recent move would assist Reliance to become a major player in global toy market. RIL would open several stores across India and globe with its own holding. Reliance is also planning to invest infrastructure to make Hamleys more attractive.
RIL-Hamley deal
• Mukesh Ambani led Reliance Infrastructure Limited (RIL) purchased Hamleys in 67.96 million British pounds.
• Hamleys was looking for profits from long time as it was under loss of 11.24 million pounds in 2017.
• However, Hamleys tried to get back on tracks with 2.44 million pounds of net profit in year 2018 after tax deductions, but it was not serving the purposes of this multinational toy retailer.
• C Banner International Holdings and RIL subsidiary company Reliance Brands Ltd signed a agreement for this deal.
• Hamley was owned by Chinese fashion conglomerate C Banner International since 2015.
About Hamleys
• Hamleys has a rich history of glorious past. It was founded by William Hamley in year 1760. He opened its branch on Regent Street, London in 1881.
• The store was bombed during Second World War but owners built it again.
• Queen Elizabeth gave second Royal warrant as a "Toys and Sports Merchant" to Hamleys in 1955.
• At present Hamleys has 167 stores across 18 countries across the globe. Apart from England,Hamleys stores are present in India, Russia, China, South Africa and Germany.
• Hamleys was bought in June 2003 by the Baugur Group, an Icelandic investment company. When Baugur collapsed, its stake in the toy store was taken over by the Icelandic bank Landsbanki.
• Chinese fashion conglomerate C Banner International acquired Hamleys in 2015 for 100 million pounds.
• Regent Street is a flagship store of Hamleys with over seven floors covering 54,000 sq ft, with over 50,000 lines of toys on sale.
About Reliance Brands Limited (RBL)
Reliance Brands Limited (RBL) is a unit of India's largest publicly-listed venture Reliance Industries Group. RBL started its operations from October 2007 with an objective to launch and build international and domestic brands in the premium-to-luxury segment across apparel, footwear and lifestyle businesses. Its current portfolio comprises of over 50 brand partnerships, some of them being Armani Xchange, Brooks Brothers, Bottega Veneta, Coach, Diesel, Dune, Emporio Armani, Ermenegildo Zegna, Giorgio Armani, Hamleys, Jimmy Choo, Kate Spade, Michael Kors, Mothercare, Muji, Paul & Shark, Steve Madden, Superdry, Scotch & Soda.
Story 2: Just one third rivers are flowing free in the world: Study
In a recent study published in Nature magazine first detailed, replicable global map of rivers whose flow has been largely affected and unaffected by human activities was given. It has been found in the research that several human activities disrupt the natural flow of rivers. For example, dams that span river channels distort the movement of water, sediment and organisms from upstream to downstream.
This survey was conduct for the first time in the world that examined 12m kilometres. Study revealed that just 90 of the 246 rivers more than 1,000km (621 miles) long flowed without interruption.
Major Findings
• Researchers mapped 12 million kilometres of rivers globally. They found that 97% of rivers shorter than 100 km are free-flowing, but only 37% of those longer than 1,000 km flow freely along their entire course.
• Most of these rivers are restricted to remote parts of the Arctic, and to the Amazon and Congo basins.
• In many developed countries or regions (including the United States, Europe, southeast Asia and southern Australia), even free-flowing rivers longer than 500 km are greatly reduced in number.
• Six pressure indicators of human impact that sever the natural flow connectivity of rivers. These include river fragmentation, flow regulation, sediment trapping, water consumption and two measures of floodplain infrastructure development.
Dams' affect on river flow
As per the report, most of the disconnectivity is caused by the world's estimated 2.8 million dams. Dams fragment river systems, altering the natural flow regime and disconnecting channels from floodplains for long distances downstream. They also retain suspended sediments that would otherwise pass to the oceans. In line with these effects, researchers find that the dominant pressures impairing the world's non-free-flowing rivers are longitudinal fragmentation (which accounts for 68.8% of lost connectivity), flow regulation (23.5%) and sediment starvation (4.2%). Urbanization, road building and water consumption comprise the remaining connectivity losses.
UN's call for protection of water-ecosystem
• United Nations Sustainable Development Goals specifically call for secure, clean drinking water for human populations, and the protection and restoration of water-related ecosystems that provide services and benefits.
• However, the manifold pressures on rivers as a result of population growth, and the conflicting demands for achieving global water, food and energy security, make it difficult to balance these needs with the maintenance of river ecosystem function and biodiversity.
Download our Current Affairs& GK app from Play Store/For Latest Current Affairs & GK, Click here