Shakti-2019: Indo-French counter terrorism exercise to begin from Oct 31
Shakti-2019: A contingent of the Sikh Regiment of Sapta Shakti Command will represent the Indian Army in the joint drill.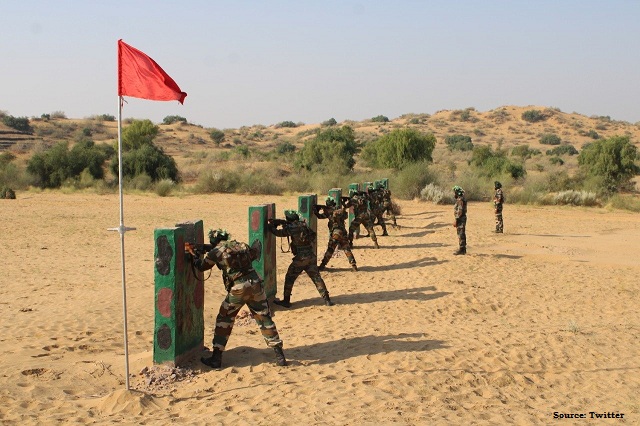 Exercise Shakti-2019
Shakti-2019: Indo-French joint exercise 'Shakti 2019' is scheduled to begin on October 31, 2019 in Rajasthan. The bilateral exercise will be conducted between the armies of both countries.
'Shakti-2019' will be conducted at the Foreign Training Node at Mahajan Field Firing Ranges in Rajasthan The exercise will be conducted from October 31 to November 13, 2019.
The army troop from France arrived in India for the training exercise with the Indian troops on October 26.
Also read: IAF conducts biggest combat exercise 'Gaganshakti'
Shakti-2019: All you need to know
The Indian side will be represented in the joint bilateral exercise by a contingent of the Sikh Regiment of Sapta Shakti Command. The French Army will be represented by the troops of the 21st Marine Infantry Regiment of the 6th Armoured Brigade.
The duration of the exercise will be 36 hours. The 'Exercise Shakti' series was initiated between India and France in 2011.
Objective
The main objective of 'Shakti-2019' is to boost understanding, cooperation and interoperability between the armies of India and France.
Focus
'Shakti-2019' will mainly focus on counter-terrorism operations, set in the backdrop of semi-desert terrain. It will involve neutralization of terrorists in a village hideout.
The joint military drill will focus on a high degree of physical fitness, tactical sharing of the drill and learning of best practices and techniques from each other.
Indo-French Joint Army Exercise "Shakti 2018"
The Indo-French joint military exercise "Shakti-2018" was conducted in France from January 20 to February 4, 2018 at the combat training centre of Mailly-le-Camp, Aube, in eastern France.
The joint exercise aims to help maintain a high level of operational cooperation between the Indian and French armies and work on common operation procedures, which are useful, for instance, in missions conducted under UN mandates.
The Indian Army was represented by 45 personnel specialized in mountain combat from the 8th Gorkha Rifles, while the French Army was represented by the 5th Company of the 2nd Infantry Marine Regiment.
The major military drill followed up on the counter-terrorism joint exercise Shakti-2016 in Rajasthan, India.
Also read: Free ride scheme for women in DTC buses launched in Delhi
Also read: Justice SA Bobde appointed as 47th Chief Justice of India, President signs warrant