Sri Lankan Political Crisis: Everything you need to know!
Sri Lanka, one of Asia's oldest democracies is in the midst of a political turmoil, following the sudden dismissal of Prime Minister Ranil Wickremesinghe by President Maithripala Sirisena on October 26, 2018.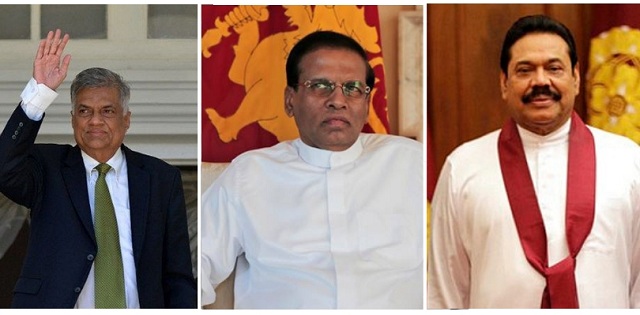 Sri Lankan President Sirisena ousts PM Ranil Wickremesinghe
Sri Lanka, one of Asia's oldest democracies is in the midst of a political turmoil, following the sudden dismissal of Prime Minister Ranil Wickremesinghe by President Maithripala Sirisena on October 26, 2018.
President Maithripala Sirisena announced through a live television address that Ranil Wickremesinghe, with whom he had governed in a fragile coalition since 2015, had been dismissed and in his place, he had decided to appoint former president Mahinda Rajapaksa, the same man he had joined forces with Wickremasinghe in 2015 to defeat.
The decision has created a wedge in the country's politics with parliamentarians showing more favour towards Prime Minister Ranil Wickremesinghe, who has termed the sacking as illegal and is standing his ground despite attempts to replace him with Rajapaksa.
Despite warnings of a possible breakout of extreme violence, President Sirisena suspended Parliament to give Rajapaksa time to muster enough support to survive any no-confidence vote. This was followed by the swearing in of 12 Cabinet ministers including one state minister and deputy minister on October 29. The new cabinet includes four MPs who switched sides from the alliance led by the ousted PM Ranil Wickremesinghe.
One nation, two Prime Ministers
This entire development has left Sri Lanka with two Prime Ministers, as even though Rajapaksa took control of the prime ministerial office and starting naming a new cabinet, Wickremesinghe continues to occupy his official residence.
The move has increased pressure on President Sirisena to call an early session of Parliament, to decide between two men claiming to be the country's lawful prime minister.
According to the ousted PM, he cannot be legally dismissed until he loses the support of parliament. Wickremesinghe's party, which holds a majority of seats in the 225-member assembly, was prevented from holding a confidence vote when Sirisena abruptly suspended parliament on October 27 until November 16.
The Parliamentary Speaker has called for an all-party meeting and may reach a decision for the early convening of Parliament despite President's order to discontinue it.
Meanwhile, Sirisena has removed Wickremasinghe of most of his staff and privileges as the Prime Minister. Not only has Wickremasinghe lost his official cars, his office but his security detail has also been reduced from a force of more than 1,000 officers to just ten.
Political Turmoil turns Violent
On October 28, Arjuna Ranatunga, the Petroleum Minister in the ousted PM Wickremesinghe's government was confronted by Rajapaksa's loyalists when he approached his ministry.
When they were not allowed to move out, the Minister's security personnel opened fire at the crowd, which injured three persons, leaving one person dead.
Following the incident, Ranatunga, a cricket legend who had captained the Sri Lankan side to victory in the 1996 World Cup, was arrested on October 29.
Friends turn Foe
Rajapaksa and Sirisena were former political allies and Sirisena was Rajapaksa's minister of health until 2015 when Sirisena broke away from Rajapaksa's party and plotted to defeat him.
On the other hand, Sirisena and Ranil Wickremesinghe were political opponents, who united their parties in 2015 to unseat Rajapaksa, who had been ruling for more than 10 years, fearing that he was becoming too powerful.
However, over the past three years, differences arose between Sirisena and Wickremesinghe over several issues including economic reforms, key policy moves and a probe into military officers accused of human rights violations during the country's civil war with LTTE.
Executive Power in Sri Lanka
In Sri Lanka, the President is the most dominant political force. The Prime Minister's role is limited to a deputy to the President, besides being the leader of Cabinet.
However, in the latest development, the final call to decide whether the President has the power to straightway dismiss or replace a Prime Minister lies with the Sri Lankan Supreme Court.
In 2015, Sri Lanka had amended its constitution to prevent the president from sacking any prime minister unless they had died, resigned or lost the confidence of parliament.
Who has more numbers in the Parliament?
In the current Parliament, Rajapaksa and Sirisena combined have 95 seats, which is short of a simple majority. Rajapaksa though claims to have around 100 loyal MPs and requires 13 more for a majority of the 225-seat assembly.
On the other hand, Wickremesinghe's party has 106 seats on its own with just seven short of the majority. Wickremesinghe claims to have obtained the signatures of 126 MPs calling for parliament to be returned immediately to end the political standoff.
The president's move to consolidate power and invite Rajapaksa back into government starkly counters the promises he made to investigate the former government's actions during the country's long civil war.
During his 10 years in power, Rajapaksa and his government were accused of authoritarianism, corruption and human rights abuses, especially against the country's Tamil minority.
Rajapaksa oversaw the end of the 27-year Sri Lankan civil war in 2009 through a series of brutal military offensives in which the UN estimates up to 40,000 Tamil civilians died.
His tenure was also marred by accusations his security forces were forcibly disappearing, torturing and murdering opposition politicians, aid workers, activists, journalists and dissidents.
Tamil groups fear that an uneasy reconciliation process that began after the end of the 2009 civil war could be imperilled with the reinstation of Rajapaksa's regime.
Impact on India, other nations
During his 10-year stint in the presidency, Rajapaksa had a sour relationship with the west.
However, under him, Sri Lanka had grown closer to China with the nation pumping billions into huge infrastructure projects in Sri Lanka.
Sirisena and Wickremesinghe's party had come in with the promise of lessening financial ties with China, in order to reduce the debt created due to such projects, which had pinched the country's economy.
Hence, China's potential gains with the change in the government of Sri Lanka could possibly impact the broader rivalry between India and China across the Indian Ocean.
Video: Check out the latest current affairs of this week