Taiwan and Kiribati cut off diplomatic ties amid China pressure
Taiwan and Kiribati have called off their diplomatic relations amid Taiwan's tensions with China.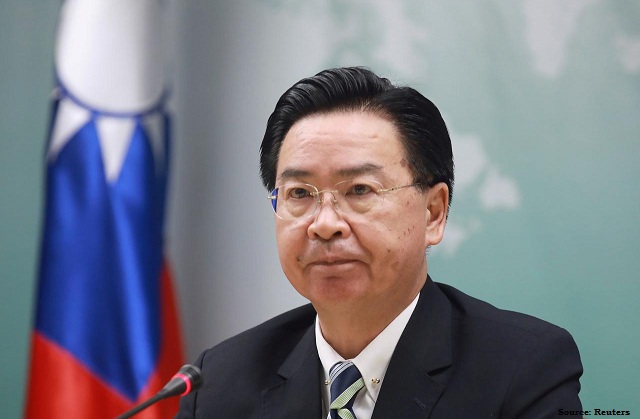 Taiwan cuts ties with Kiribati
Taiwan has cut off its ties with Kiribati thereby losing its second ally within a matter of a week. Taiwan and Kiribati called off their diplomatic relations amid Taiwan's tensions with China. China claims Taiwan to be its territory and says that it has no right to having formal ties with any country. As per latest reports, China has been putting immense pressure on nations that hold diplomatic relations with Taiwan to cut off their ties.
Taiwan's Foreign Minister Joseph Wu announced on September 20, 2019 that Taipei has terminated its diplomatic ties with Kiribati and it will be immediately closing down its embassy there. Joseph Wu stated that Taiwan "rejects and strongly condemns" Kiribati for disregarding its long-standing relationship with Taiwan and the aid provided by it. He also accused Kiribati's president Taneti Mamau of entertaining "highly unrealistic expectations regarding China" and requesting "massive financial assistance from Taiwan to purchase commercial airplanes", which it did not feel was consistent with its aid policy.
Taiwan's foreign minister also stated that China had "lured Kiribati to change its diplomatic ties" with promises of investment and aid. Taiwan's announcement came before the Kiribati government formally announced its decision to cut off its ties with Taiwan, just as it had done before the Solomon Islands officially announced their decision. China praised Kiribati for its decision of cutting its ties with Taiwan.
The Solomon Islands announced on September 16, 2019 that it would be breaking its long-standing ties with Taiwan. Following the move, the United States announced that it is considering cutting aid to the Solomon Islands in retribution. Surprisingly, the United States does not recognize Taiwan, they recognize China.
Taiwan currently has official diplomatic relations with only 15 countries worldwide. In the past three years, since Taiwan's President Tsai Ing-wen's election in 2016, the nations has lost 7 of its allies including Burkina Faso, Dominican Republic, Sao Tome and Principe, Panama, El Salvador, the Solomon Islands and most recently Kiribati.
Is Taiwan an independent nation or a part of China?
Taiwan has been a sovereign nation since the civil war ended in 1949. However, China still views it as its territory that is awaiting reunification.
Currently, Taiwan is self-ruled, but China considers it as its province and hence, it feels that it should not have diplomatic relations with any country that recognises Taiwan as a state.
Most of the countries including the United States and the European countries switched their recognition to China in the past few decades, leaving Taiwan with just a handful of loyal allies, who largely belong to Latin America and the South Pacific.
Till recently, Taiwan was known to have a stronghold in the south pacific with six island nations as its allies. However, with Kiribati and the Solomon Islands ending their ties with Taiwan, it is left with just four allies in the Pacific- Nauru, Marshall Islands, Palau and Tuvalu along with Caribbean allies and allies in Latin America.
Taiwan's President Tsai Ing-wen, who supports the self-ruled island nation's sovereignty, will be facing elections in January 2020. The move by China to pressurize Taiwan's allies into breaking their ties with the island nation has unnerved many major countries in the region including the United States and Australia.
According to reports, China aims to peel away more of Taiwan's allies before the 70th anniversary of Communist China on October 1, 2019. China is attempting to force Taiwan to accept its arrangement of 'one country two systems,' which it shares with Hong Kong.
Download our Current Affairs & GK app for Competitive exam preparation. Click here for latest Current Affairs: Android|IOS