Top 10 Weekly Current Affairs: 15 July to 20 July 2019
Supreme Court has allowed mediation process in the Ram Janmabhoomi-Babri Masjid land dispute case to continue till July 31.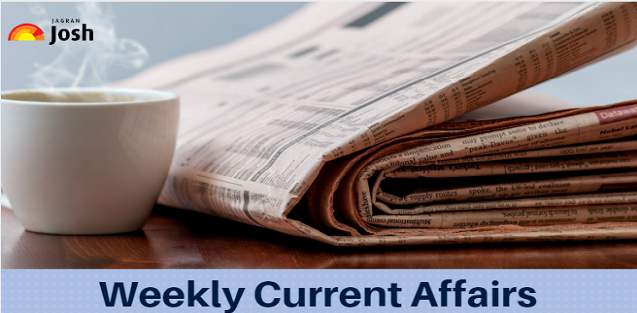 Top 10 Weekly Current Affairs 15 July to 20 July 2019
Ayodhya dispute: SC allows mediation on Ram Mandir to continue till July 31

Supreme Court has allowed mediation process in the Ram Janmabhoomi-Babri Masjid land dispute case to continue till July 31. The mediation panel will now submit its report on August 1, after which the court will decide whether a hearing is required in the case. The five-judge SC Constitution bench, headed by CJI Ranjan Gogoi, had earlier on July 11 sought a report on the mediation process from the mediation panel.
Kulbhushan Jadhav ICJ Verdict: ICJ rules in India's favour, directs to Pakistan to review death sentence

The International Court of Justice has put Kulbhushan Jadhav's execution on hold. ICJ has directed Pakistan to review the death sentence order, to reconsider it and give Kulbhushan Yadav a fair trial by providing him consular access. This order is a big win for India. Kulbhushan Yadav will not be executed.
Kalraj Mishra appointed Himachal Pradesh Governor, Acharya Devvrat sent to Gujarat

Senior BJP leader Kalraj Mishra was appointed as Governor of Himachal Pradesh on July 15, 2019. He replaced Acharya Devvrat who has been transferred and appointed as Governor of Gujarat. A press release issued by Rashtrapati Bhavan said that appointments of Mr. Mishra and Mr. Devvrat will come into effect from the dates they assume charge of their respective offices.
Anusuiya Uikey, Biswa Bhusan appointed Governors of Chhattisgarh and Andhra Pradesh

Rajya Sabha member Anusuiya Uikey has been appointed as Governor of Chhattisgarh and Senior Bhartiya Janta Party (BJP) leader Biswa Bhushan Harichandan appointed as Governor of Andhra Pradesh. Anusuiya Uikey is a sitting member of Rajya Sabha.
June 2019 was recorded as hottest-ever in Earth's history

June 2019 was recorded as the hottest June ever with temperatures soaring up to nearly 10 degree Celsius above the average temperature recorded this time of the year. India witnessed heat waves all across in June due to delayed monsoon. The temperature in certain parts of the country breached 50 degree Celsius such as Rajasthan and New Delhi recorded the highest-ever temperature for June on June 10.
Ebola outbreak as global health emergency: All you need to know!

Ebola outbreak in DR Congo was declared as a global health emergency by the World Health Organization (WHO) on Wednesday. The Ebola outbreak, considered to be Congo's worst-ever, has already killed over 1700 people in Congo. The deadly Ebola virus now threatens to affect neighbouring nations and infect millions of people.
Lok Sabha passes NIA (Amendment) Bill 2019: Know important features
The Lok Sabha has passed the National Investigative Agency (Amendment) Bill, 2019. Three important amendments have been done to the National Investigation Agency (NIA) Act of 2008. Special powers have been given to the officers of NIA through this amendment bill. This bill mandates the setting up of Special Courts for NIA. The bill was passed by Lok Sabha after detailed discussion by Home Minister Amit Shah in the house.

Kartarpur Corridor: Pakistan to permit visa-free access to 5000 pilgrims per day

Pakistan has agreed to allow visa-free travel of 5,000 Sikh pilgrims per day through the Kartarpur corridor to visit Gurudwara Kartarpur Sahib. The decision was taken after the second round of talks between officials of India and Pakistan at Wagah border on July 14, 2019. During the meeting, it was decided that Indian passport-holders and OCI card-holders will be allowed visa-free travel to the Gurudwara Kartarpur Sahib.
Apollo 11 space mission: Google Doodle commemorates NASA's historic moon landing mission

Apollo 11 mission's 50th anniversary was commemorated by Google with an interesting doodle. The Google doodle celebrates the Apollo 11 journey of the world's first-ever moon landing with a video and audio narration by Apollo 11 astronaut Michael Collins. Apollo 11 space mission created history by carrying Neil Armstrong and Buzz Aldrin to the Moon's surface on July 20, 1969.

ICC Hall of fame: Sachin Tendulkar, Allan Donald and Cathryn Fitzpatrick inducted

Sachin Tendulkar has become sixth Indian cricketer to be included in the ICC Hall of Fame. The ICC selected India's Sachin Tendulkar, South Africa's Allan Donald and Australia's Cathryn Fitzpatrick for the hall of fame honour at a ceremony in London on July 18, 2019.