Ebola outbreak as global health emergency: All you need to know!
Ebola Outbreak: WHO has declared Ebola outbreak as global health emergency after it spread to Congo's main city, Goma that borders Rwanda.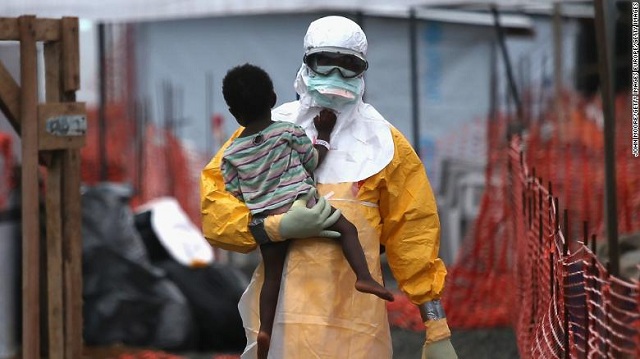 Ebola outbreak: WHO declares Ebola as global health emergency
Ebola Outbreak: Ebola outbreak in DR Congo was declared as a global health emergency by the World Health Organization (WHO) on Wednesday. The Ebola outbreak, considered to be Congo's worst-ever, has already killed over 1700 people in Congo. The deadly Ebola virus now threatens to affect neighbouring nations and infect millions of people.
The Ebola outbreak was first declared in DR Congo 11 months ago and ever since there have been no signs of it being contained. Though backed by a major vigilance and vaccination campaign, the Ebola virus was mostly confined to two provinces in Congo's northeastern region but the deadly virus has now spread to Goma city, which is home to almost two million people. Goma also shares a boundary with Rwanda and has an international airport.
Goma City in DR Congo

Experts were urging WHO to declare a public health emergency since months, however, the emergency committee of international health experts, which advises WHO, declined to declare emergency three times previously.

Ebola Outbreak: Global Health Emergency?
WHO declared the Congo Ebola outbreak as a public health emergency of international concern (PHEIC) after the deadly Ebola virus threatened to spread to a major city near Congo's international border. This is the fifth time in history that WHO has declared a public health emergency. The previous declarations were for the devastating Ebola outbreak in West Africa in 2014-2016 that took lives of more than 11000 people, spread of Zika virus in Latin America, 2009 Swine flu epidemic and for polio in 2014. WHO only declares a disease or outbreak a global emergency when it threatens to affect other countries and requires a coordinated international response.
What is public health emergency of international concern?

Public health emergency of international concern is defined as an "extraordinary event that is determined to constitute a public health risk to other States through the international spread of disease and to potentially require a coordinated international response." The public emergency announcement is the highest level of alarm that is only raised during the gravest of outbreaks. Ebola virus, which has already killed over 1700 people in Congo, fits the description aptly.
How will declaration of global health emergency help?

The declaration of a global health emergency will bring larger international focus on the alarming issue and it will also help bring in more financial and technical support. At the same time, the declaration can cause governments of neighbouring nations to panic and overreact by shutting down borders.

Ebola Outbreak: Countries at most risk

According to WHO, countries that are most at risk of Ebola outbreak include Rwanda, Uganda, South Sudan and Burundi. The countries that stand a little less risk of the deadly Ebola virus include Republic of Congo, Central African Republic, Angola, Zambia and Tanzania.

Ebola outbreak: Cases in Congo and threat to neighbouring countries

Ebola outbreak was first reported in Congo in early 2018. The virus was largely contained in two northeastern provinces of Congo. However, the virus has now threatened to spread into one of Congo's heavily populated cities, Goma and also into neighbouring nations.

The first Ebola case was confirmed in Goma this week and last week a family is reported to have brought the virus into Uganda after they attended a burial of an infected relative in Congo. Goma shares a border with Rwanda and has an international airport.
What is Ebola Virus?
Ebola Virus is a rare and deadly disease that mostly infects humans and other primates including monkeys, gorillas and chimpanzees. The virus is caused by an infection with a group of viruses (Ebola, Sudan, Taï Forest, and Bundibugyo viruses) within the genus Ebolavirus.
Ebola Virus: Origin
Ebola virus was first discovered near the Ebola River in DR Congo in 1976. Ever since then, the virus has been infecting people from time to time, leading to serious Ebola outbreaks across African nations. It is not yet clear where Ebola virus comes from. Scientists, based on the nature of similar viruses, believe that the virus is animal-borne, with bats being the most likely source. The bats carrying the virus can transmit it to humans and monkeys.
Ebola Virus: How does it spread?
The deadly Ebola Virus spreads through direct contact with body fluids and blood of the infected person. The virus also spreads through contact with items contaminated by body fluids. The virus infects a new host through broken skin or mucous membranes in the eyes, nose or mouth.
Ebola Virus Symptoms
The main symptoms of Ebola virus infection include abrupt fever, fatigue, sore throat, weakness, eye redness, joint and muscle pain, headache, nausea and vomiting. Additional symptoms of the deadly virus include diarrhea, hiccups, cough, rash, stomach pain, chest pain, loss of appetite and breathing problems. The severe symptoms of the Ebola virus include decreased function of liver and kidney and internal and external bleeding.
Ebola Virus Diagnosis and Treatment
Early diagnosis of Ebola virus is difficult as the symptoms are not specific. Similar symptoms appear in many other diseases. Hence, blood tests for viral RNA, viral antibodies or for the Ebola virus itself help confirm the diagnosis. There is also no proper treatment and cure for the Ebola virus. Those infected are isolated and provided with supportive therapy and experimental treatment. The virus has a high mortality rate. The symptoms of the virus start showing anytime between 2-21 days after contracting the virus.