Top 10 Weekly Current Affairs: 8 July to 13 July 2019
Supreme Court will hear the plea filed by ten rebel MLAs of the JD(S)-Congress coalition in Karnataka.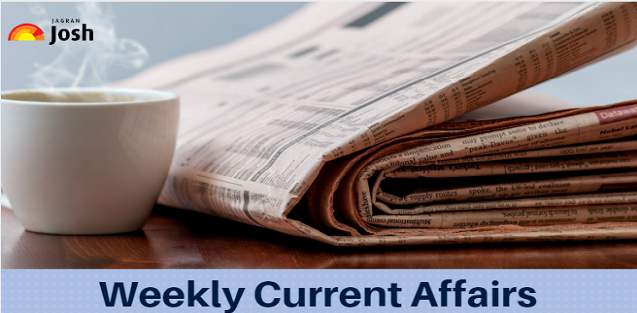 Top 10 Weekly Current Affairs: 8 July to 13 July 2019
Chandrayaan 2: ISRO asked people what you would take to the Moon; see the answers
With Chandrayaan 2, Indian Space Research Organisation (ISRO) is all set to launch its second mission to the Moon on July 15, 2019. ISRO posted a graphic image of Chandrayaan 2 in the background and asked, "What are some of your #MoonEssentials?' ISRO has received amazing response from the users. For example, one of the twitter users responded saying, Indian Flag, Telescope, Mobile, Indian Food, Solar Panel and lighting will be the Moon essentials for him.
Karnataka political crisis: SC orders to decide quickly, Speaker says can't work at lightning speed
Supreme Court will hear the plea filed by ten rebel MLAs of the JD(S)-Congress coalition. Rebel MLAs are claiming that Karnataka assembly Speaker was not deliberately accepting their resignations. The apex court asked Speaker KR Ramesh Kumar to read thoroughly and decide about the MLAs' resignations by midnight yesterday. After that, the Speaker, KR Ramesh filed a plea in apex court ruling out any immediate decision, he said that he cannot be expected to work at "lightning speed".
MS Dhoni trends on twitter: Lata Mangeshkar and fans urge Dhoni not to Retire after World Cup 2019

MS Dhoni has been trending on twitter ever since Team India's narrow World Cup semi-final loss against New Zealand on 10th July at Old Trafford cricket ground in Manchester. Despite India's loss, MS Dhoni and Ravindra Jadeja's performance was applauded by the team and fans alike. Ever since, twitter has been abuzz with Indian fan tweets requesting the former Indian skipper to not retire amidst his retirement speculations and thanking him for his invaluable contribution to the Indian cricket team.
Indian Army orders for Israeli anti-tank Spike missiles

Indian Army has placed an order for Israeli anti-tank Spike missile. This missile is known for its ability like it can pierce even bunkers. Another major advantage of this missile is that it can hit targets at a range of four kilometers. Before this decision of Indian Army, central government has allowed armed forces to make emergency purchases. This power was given to armed forces after Pulwama attack in which 40 CRPF jawans were killed.
World Population Day 2019: India will have largest population by 2100

The World Population Day is observed every year on July 11 with the aim of spreading knowledge about population related issues across the world. The day has been observed since 30 years and issues are still growing. When first world population was observed it was 5.25 billion people were sharing planet earth but today population is nearly crossing the 7.7 billion mark.
Dutee Chand wins 100m Gold; Congratulations pour in from President, PM and Bollywood

Dutee Chand has created a history by winning first position in 100 meter race at the Universiade, the World University Games in Naples. She has become first Indian sprinter to win 100m Gold in this race. Dutee Chand clocked 11.32 seconds to win this gold. Dutee Chand was running in the fourth lane but reached at the finish mark ahead of all eight athletes.
"No longer acceptable" Donald Trump slams India over tariffs
Donald Trump tweeted about Indian tariffs on American products and said that Washington will no longer accept India's tariffs on US products. India imposed additional customs duties on 29 US products.
Rahul Dravid appointed as Head of Cricket at NCA

BCCI announced that former Indian captain Rahul Dravid was appointed as Head of Cricket at the National Cricket Academy (NCA). Rahul Dravid was supposed to take over as NCA head from July 1 but his job at the India Cements caused the delay.The Committee of Administrators (CoA) asked Dravid to relinquish his post as vice-president of India Cements or be on leave until he completes his tenure. India Cements then sent him on leave to avoid conflict of interest.
Padma Shri awardees to get 10k monthly allowance in Odisha

Odisha government decided to provide Rs 10,000 per month to Padma award winners of the state facing financial problem. Chief Minister Naveen Patnaik approved this proposal made by the state Culture department.Total of 84 persons from the state have so far been honoured with Padma Sri Award of whom 45 have passed away.
World Cup 2019: Rohit Sharma falls 26 runs short off Sachin's all-time World Cup record

Rohit Sharma was 27 runs away from creating a new world cup record but he fell for 1 run during India vs New Zealand World Cup 2019 semi-final match, bringing an end to all the record hopes. Sharma, who made five centuries in the ongoing World Cup edition, was on the verge of breaking Sachin Tendulkar's world record of highest runs scored in a single World Cup edition.