Top 5 Current Affairs: 23 August 2017
The 1 cm nano missile can fly by burning the red phosphorus, and hit the target of three metres distance was developed with an aim to help Army personnel in their fight against terrorism.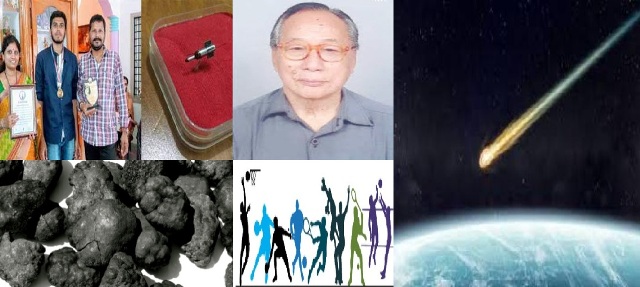 Top 5 Current Affairs: 23 August 2017
Indian student develops Nano Missile for Indian Army
Dacharla Panduranga Rohith, a student of Chennai's SRM University, was recognised by World Records of India for developing a Nano missile. The basic prototype of the missile was tested in the presence of Assistant Commissioner of Police Ramapuram in Chennai and the video was submitted to World Records of India for recognition in July 2017.
Rohith has developed the missile for the Indian Army and local police in fighting terrorism. The missile was developed for launch through a robot.

Former Manipur CM Rishang Keishing dies at 96
Former Manipur Chief Minister and a member of the first Lok Sabha Rishang Keishing passed away on 22 August 2015 following a brief illness in Imphal. The veteran Congress leader was 96. Keishing, a Naga, served as the chief minister of Manipur from 1980 to 1988 and from 1994 to 1997.
Home Minister Rajnath Singh condoled the demise of Keishing and described him as a towering leader from Manipur who believed in humanity, social harmony and clean politics.

Dinosaur-killing asteroid probably darkened earth for 2 years: Study
A research report published in journal Proceedings of the National Academy of Sciences suggests that an asteroid that eliminated dinosaurs 66 million years ago would have also pushed the earth into darkness for nearly two years.
As per the study, the 10-km-wide asteroid attack caused global wildfires that released tremendous amounts of soot in the atmosphere, which absorbed light and potentially blocked the process of photosynthesis for more than a year-and-a-half.

National Sports Museum to be established in New Delhi
The Union Ministry of Youth Affairs and Sports has announced that it will establish National Sports Museum at the Jawaharlal Nehru Stadium in New Delhi. The decision in this regard was taken three months back. The current venue for the museum was finalized by the Union Sports Minister Vijay Goel himself.
The first-of-its-kind museum will showcase India's achievements in sports and will also focus on the traditional sports within the country.

ISA extends India's exclusive rights to explore polymetallic nodules from Central Indian Ocean Seabed Basin
The International Seabed Authority (ISA) has extended India's exclusive rights to explore polymetallic nodules from the seabed in Central Indian Ocean Basin (CIOB) by five years. The decision was taken in the 23rd session of International Seabed Authority concluded on 18 August 2017 at Kingston, Jamaica.
India's exclusive rights are over 75000 sq. km of area in international waters allocated by the ISA for developmental activities for polymetallic nodules. India is the first country to have received the status of a pioneer investor in 1987. The country was allocated an exclusive area in Central Indian Ocean Basin by the United Nations for exploration and utilization of nodules.