Top 5 Current Affairs: 24 August 2017
Nepal PM Deuba is on a five-day long state visit to in India and the signed agreements will help the two nations to boost the bilateral relations.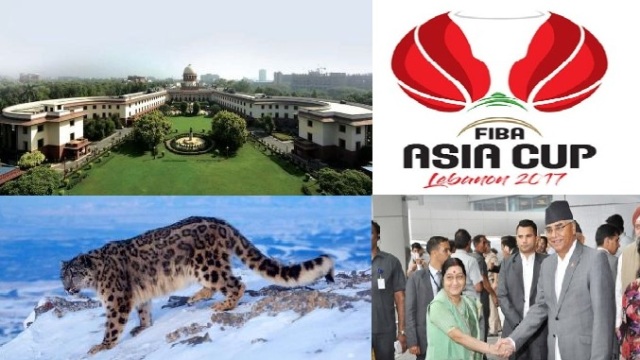 Top 5 Current Affairs: 24 August 2017
Privacy is fundamental right under Article 21: SC
A nine-judge constitution bench of the Supreme Court in its landmark judgment of 24 August 2017 declared the right to privacy to be a fundamental right and is protected under Article 21 of the Constitution of India.
In addition to it, in a unanimous decision, the Constitution bench overruled the Judgments in MP Sharma and Kharak Singh Cases.
The bench headed by Chief Justice JS Khehar had reserved its verdict on 2 August 2017 after hearing marathon arguments on whether the right to privacy can be held as a fundamental right under the Constitution. During the hearing, submissions were advanced in favour and against the inclusion of the right to privacy as a fundamental right.
India-Nepal signed 8 agreements to boost the bilateral relations

Eight agreements were signed between India and Nepal on 24 August 2017. The agreements/MoUs were signed to boost the bilateral relations between the two nations during Nepal Prime Minister Sher Bahadur Deuba visit to India.
The signed agreements include Agreement on Cooperation in the field of standardization and conformity assessment and reduction and prevention of illicit trafficking in narcotic drugs among others.
Australia beats Iran to clinch 2017 FIBA Asia Cup

Australia on 20 August 2017 was crowned the FIBA Asia Cup 2017 basketball champions. The team defeated Iran 79-56 in the final to grab the title. On the other hand, South Korea clinched the third place with a win over New Zealand 80-71.
The FIBA Asia Cup is an international basketball tournament. Formerly, the FIBA Asia Cup was formerly known as the FIBA Asia Championship.
Nepal launches Climate-Smart Snow Leopard Plan

Nepal has launched its climate-smart snow leopard landscape management plan. The plan aims to safeguard the endangered species of snow leopard and its habitat.
The conservation plan was launched ahead of the International Snow Leopard Summit and Ecosystem Forum that addresses key current and emerging threats to the snow leopards, including climate change.
Union Cabinet approves amalgamation of Public Sector Banks through Alternative Mechanism

The Union Cabinet on 23 August 2017 approved amalgamation of Public Sector Banks through an Alternative Mechanism (AM) with an aim to facilitate consolidation among the Nationalised Banks to create strong and competitive banks.
The decision regarding creating strong and competitive banks will be completely based on commercial considerations. The proposal of Consolidation must start from the Boards of Banks.