Top 5 Current Affairs: 9 September 2017
The new species belongs to the Labeo genus and has been named as Labeo filiferus. The name filiferus was taken from Latin and refers to the very long dorsal fin of the species.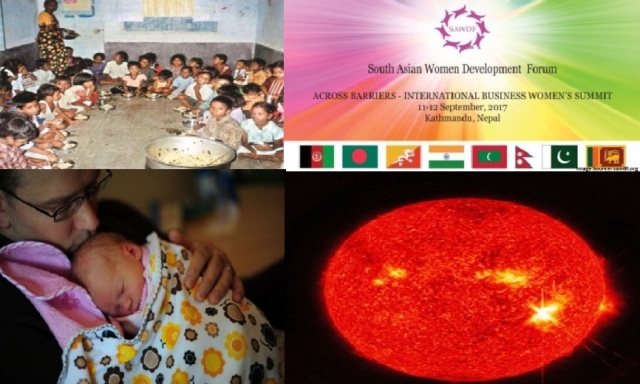 Top 5 Current Affairs: 9 September 2017
Gujarat state, GCMMF, Dairies sign MoU to prevent malnutrition among Anganwadi children
The Women & Child Welfare Department of the Gujarat Government, Gujarat Milk Marketing Federation (GCMMF) and three leading dairies have signed tripartite MOU to save the children of Anganwadi from malnutrition.
The MoU was signed in the presence of Gujarat Chief Minister, Vijay Rupani in Gandhinagar. The women and child welfare state minister Nirmalaben Waghwani, Chief Secretary J N Singh, Chairman of the milk marketing federation and Managing Directors of Banas, Sumul and Amul dairies and other senior officials were also present at the occasion.
Johnson & Johnson India introduces paternity leave
Johnson & Johnson India has announced that new and adoptive fathers would be entitled to eight weeks of paid leave during the first year.
In this regard, Indrajeet Sengupta, Head-Human Resources, Johnson & Johnson India, stated "Enhanced benefits make us attractive towards Millennials and GenZs, who are critical to our future workforce."
Mothers are allowed up to 26 weeks of maternity leave since the past six years as per the company's Global Parental Leave approach.
South Asian Women Development Forum to organise summit at Kathmandu
The South Asian Women Development Forum (SAWDF) would be organising 'Across Barriers-International Business Women's Summit' from 11 to 12 September 2017 at Kathmandu, Nepal.
The two-day event aims to encourage partnerships between women entrepreneurs from the SAARC and ASEAN member countries and China.
The Ministry of Agriculture, US Embassy in Nepal and the Department for International Development (DFID), UK would be providing financial support to the event.
NASA captures images of strongest Solar Flare in 12 years
NASA's Solar Dynamics Observatory (SDO), which watches the sun constantly, on 6 September 2017 captured the images of two significant Solar Flares emitted by Sun. The Solar flares are powerful bursts of radiation.
These solar flares are seen as the strongest ones ever in a decade. Sun emitted two strong solar flares. The first flare is classified as an X2.2 flare and the second is an X9.3 flare. Both the flares erupted from an active region which also produced a mid-level solar flare on 4 September 2017.
New species of edible fish found in Pampa River in Kerala
A group of researchers discovered a new species of edible freshwater fish while exploring the waters of the Pampa river in Pathanamthitta in Kerala.
As per the researchers, the newly found fish could possibly be farmed on a commercial scale.
The two researchers, Mathews Plamoottil, Assistant Professor, Government College, Chavara, Kollam, and Primoz Zupancic from the Dinaric Research Institute, Slovenia, Europe, have reported the discovery in the latest issue of an open access research journal Bioscience Discovery.