Top Affairs Quiz: 14 August 2019
The day's updated quizzes cover topics such as Independence Day 2019, Vir Chakra, Donald Trump, Namaz road ban and new patriotic song among others.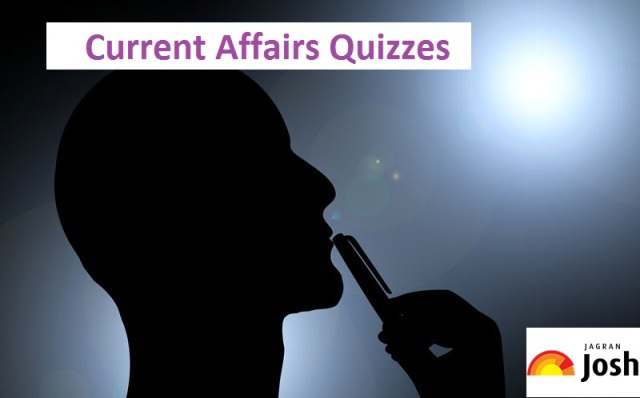 Current Affairs Quiz
14 August 2019: The Current Affairs Quizzes section of Jagranjosh aims to help every competitive exam aspirant to revise the day at ease. The day's updated quizzes cover topics such as Independence Day 2019, Vir Chakra, Donald Trump, Namaz road ban and new patriotic song among others.
1. Which police department was dragged to court for referring to Independence Day as Republic Day?
a) UP Police
b) Delhi Police
c) MP Police
d) Karnataka Police
2. Donald Trump accused which two countries of taking advantage of the WTO's 'developing economies' tag?
a) China and Japan
b) India and Pakistan
c) Pakistan and China
d) India and China
3. IWF has provisionally suspended five athletes belonging to which nation?
a) India
b) Japan
c) Russia
d) China
4. Which state's police has banned offering of namaz on roads?
a) Delhi
b) UP
c) Madhya Pradesh
d) Maharashtra
5. What is the name of the patriotic song released by I&B Minister Prakash Javadekar recently?
a) Watan
b) Azadi
c) Mera Desh
d) Hum Sathi
6. Who has recently won 'Doodle for Google' 2019 award?
a) Misty Lawrance
b) Jane Peterson
c) Arantza Pena Popo
d) Andrew Cornwell
7. Who will be awarded with Vir Chakra during Independence Day 2019 celebrations?
a)Rajiv Arora
b) K L Nayak
c) Abhinandan Varthaman
d) Sumit Prakash
8. When will the World Sanskrit Divas 2019 be celebrated?
a) 14 August
b) 15 August
c) 16 August
d) 17 August
Download our Current Affairs & GK app for Competitive exam preparation. Click here for latest Current Affairs Android|IOS
Answers
1. (b) Delhi Police
Delhi Police reportedly referred to August 15 as India's Republic Day instead of Independence Day. This blunder got printed in an advisory. Following the incident, a petition was filed against Delhi Police in the Delhi High Court on August 13.
2. (d) India and China
US President Donald Trump stated recently that India and China are no longer "developing nations" and that both were taking advantage of the developing nations tag given by the World Trade Organization.
3. (c) Russia
The International Weightlifting Federation (IWF) announced on August 14, 2019 that it has provisionally suspended five Russian weightlifters, including a 2012 Olympic bronze medallist, after conducting dope tests on samples recovered from the Moscow lab.
4. (a) Delhi
The UP police have banned offering namaz on roads across the state, as it causes disruption in road traffic and interrupts smooth traffic flow.
5. (a) Watan
Union Information and Broadcasting (I&B) Minister Prakash Javadekar released a music video titled 'Watan'. It has been sung by renowned Bollywood singer Javed Ali and written by lyricist Alok Shrivastav and music composed by Dushyant.
6. (c) Arantza Pena Popo
Google has announced Arantza Pena Popo as a winner of 'Doodle for Google' contest 2019. She belongs to the Georgia who won for her Doodle titled "Once You Get It, Give It Back." Google is honored to award Arantza with a USD 30,000 college scholarship and a USD 50,000 technology award for her school.
7. (c) Abhinandan Varthaman
Wing Commander Abhinandan Varthaman, who was part of an aerial engagement with Pakistan a day after the Balakot air strike and was later caught by Pakistan after his Mig-21 crashed on their side, is set to get Vir Chakra on Independence Day.
8. (b) 15 August
World Sanskrit Divas 2019 will be observed on 15 August 2019 this year. It is celebrated every year on Shravana Purnima that is on full moon day in the month of Shravana according to the Hindu calendar.