Union Budget 2019: New schemes announced by Finance Minister
Among various new schemes and policies Jal Jeevan Mission launched to achieve Har Ghar Jal to all rural households by 2024.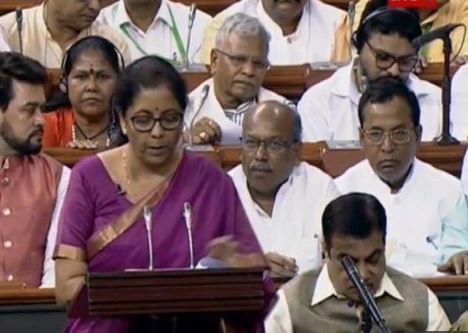 Nirmala Sitharaman
While presenting Union Budget 2019 Finance Minister Nirmala Sitharaman announced various new schemes in her maiden budget. Emphasizing on rural India various new schemes for the benefit of the public were announced.
Pradhan Mantri Karam Yogi Maandhan Scheme
Pension benefits to about three crore retail traders and small shopkeepers with annual turnover less than Rs. 1.5 crore were announced under this scheme. Enrolment to be kept simple, requiring only Aadhaar, bank account and a self declaration. Apart from that, among other measures related to the MSMEs, Rs. 350 crore allocated for FY 2019-20 for 2% interest subvention (on fresh or incremental loans) to all GST-registered MSMEs, under the Interest Subvention Scheme for MSMEs.
Jal Jeevan Mission
Finance Minister Nirmala Sitharaman announced that New Jal Shakti Mantralaya is set up to look at the management of our water resources and water supply in an integrated and holistic manner. Under this ministry, Jal Jeevan Mission to achieve Har Ghar Jal (piped water supply) to all rural households by 2024. Its objective will be focus on integrated demand and supply side management of water at the local level. She also informed that 1592 critical and over exploited Blocks spread across 256 District being identified for the Jal Shakti Abhiyan.
New National Education Policy
Budget 2019 speech of Nirmala Sitharaman explained that a new National Education Policy (NEP) to be brought which proposes major changes in school and higher education, better governance system and greater focus on research and innovation.
National Research Foundation (NRF)
Finance Minister Nirmala Sitharaman proposed National Research Foundation (NRF) to fund, coordinate and promote research in the country. It will also help to assimilate independent research grants given by various Ministries. NRF would help to strengthen overall research eco-system in the country and this would be adequately supplemented with additional funds.
New Space India Limited (NSIL)
Nirmala Sitharaman announced during her Budget speech that New Space India Limited (NSIL), a PSE, incorporated as a new commercial arm of Department of Space. To tap the benefits of the Research & Development carried out by ISRO like commercialization of products like launch vehicles, transfer to technologies and marketing of space products.
National Sports Education Board (NSEB)
Nirmala Sitharaman announced that National Sports Education Board for development of sportspersons to be set up under Khelo India, to popularize sports at all levels. She has also announced that Khelo India Scheme to be expanded with all necessary financial support.
TV Channel for Start-ups
Government will start a new TV channel under DD bouquet of channels for start-ups. This channel will help start-ups to strengthen and grow their initiatives in a better way. Channel's name and programmers will be announced soon.
Credit Guarantee Enhancement Corporation
Under measures to enhance the sources of capital for infrastructure financing Credit Guarantee Enhancement Corporation to be set up in 2019-2020. Action plan to be put in place to deepen the market for long term bonds with focus on infrastructure.
10-point Vision for the decade
• Building Team India with Jan Bhagidari: Minimum Government Maximum Governance.
• Achieving green Mother Earth and Blue Skies through a pollution-free India.
• Making Digital India reach every sector of the economy.
• Launching Gaganyan, Chandrayan, other Space and Satellite programmes.
• Building physical and social infrastructure.
• Water, water management, clean rivers.
• Blue Economy.
• Self-sufficiency and export of food-grains, pulses, oilseeds, fruits and vegetables.
• Achieving a healthy society via Ayushman Bharat, well-nourished women & children, safety of citizens.
• Emphasis on MSMEs, Start-ups, defence manufacturing, automobiles, electronics, fabs and batteries, and medical devices under Make in India.