Everything Explained: Model Contract Farming Act 2018 finalised; Contract farming excluded from APMC Act
A 'Registering and Agreement Recording Committee' or an 'Officer' will be available at district or taluka level for online registration of sponsor and recording of agreement.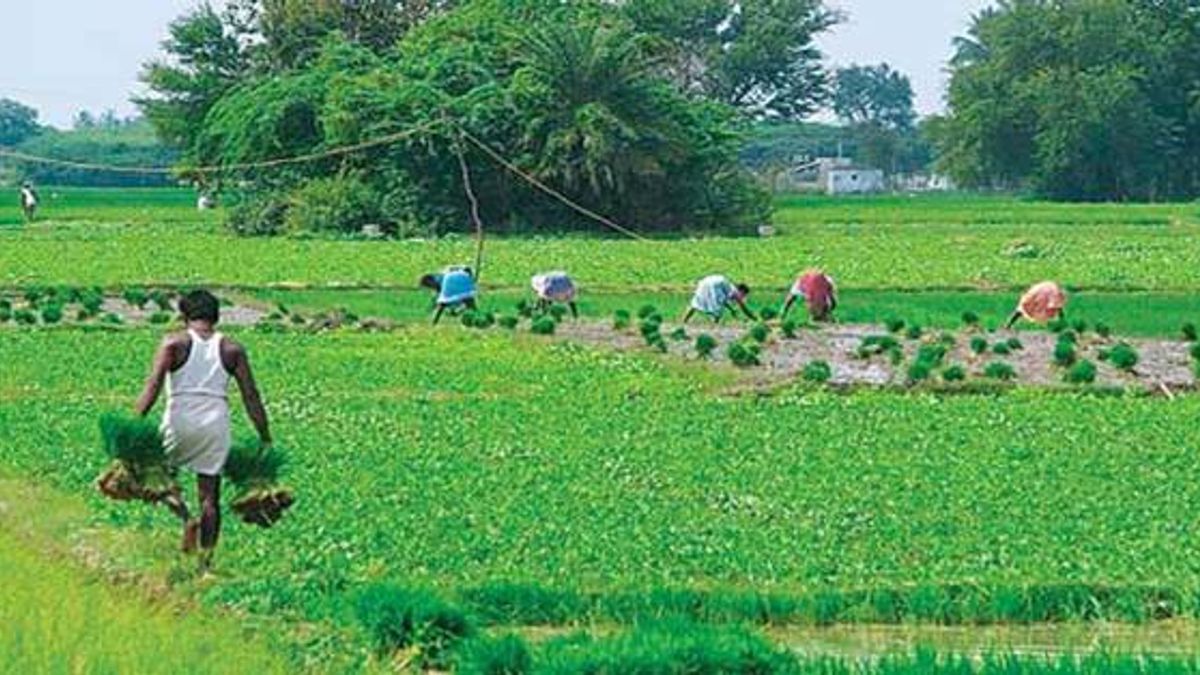 Model Contract Farming Act, 2018 finalised
Union Agriculture Minister Radha Mohan Singh on May 22, 2018 released the final Model Act titled 'The ….State/UT Agricultural Produce and Livestock Contract Farming and Services (Promotion & Facilitation) Act, 2018'.

The main motive behind drafting the Model Contract Farming Act is to integrate farmers with bulk purchasers for better price realization.

Union Finance Minister Arun Jaitley in his budget speech 2017-18 announced the preparation of the Model Contract Farming Act and circulation of the same to the States for its adoption.
Concept of Contract Farming
The concept of Contract Farming refers to a system of farming in which bulk purchasers including agro-processing firms and exporters enter into a contract with farmers to purchase a specific quantity of any agricultural commodity at a pre-agreed price.
It's a two way process - farmers grow and supply the produce to the buyer at predetermined quantity and prices, while, the buyers agree to buy produce from farmer at predetermined price.
The Contract Farming functions as a tool to minimise price risk for farmers
It aims to reduce post-harvest losses.
Farmer's producer organisations (FPO's) have a major role in promoting Contract Farming and Services Contract.
It seeks to increase private sector investment in agriculture.
In India, the concept of Contract Farming was introduced by Pepsi Co in 1927 for cultivation of vegetables.
Some famous examples of Contract Farming agreement:
| | | |
| --- | --- | --- |
| State | Farm Produce | Buyer Company |
| Punjab and Haryana | Potato and Tomato | Pepsi Co |
| Karnataka | Ashwagandha | Himalaya Healthcare |
| Punjab and Madhya Pradesh | Soyabean | ITC |
| Madhya Pradesh | Wheat | Hindustan Unilever |
| Himachal Pradesh | Apples | Adani Agri Fresh Limited (AAFL) |

Provisions of Model Contract Farming Act, 2018

• The Act lays special emphasis on protecting the interests of the farmers, considering them as weaker of the two parties entering into a contract.

• Besides including contract farming, the model act also incorporates the services contracts along the value chain including pre-production, production and post-production.

• A 'Registering and Agreement Recording Committee' or an 'Officer' will be available at district or taluka level for online registration of sponsor and recording of agreement.

• The contracted produce will be covered under the crop or the livestock insurance in operation.

• No permanent structure can be developed on farmers' land or premises.

• The contract farming sponsor will have no right or title ownership on the land.

• The act provides for the promotion of Farmer Producer Organisation (FPOs) / Farmer Producer Companies (FPCs) to mobilise small and marginal farmers.

• FPO/FPC can be a contracting party, if authorised by the farmers.

• The act will ensure that the buyers buy the entire pre-agreed quantity of one or more of agricultural produce, livestock as per the contract.

• Contract Farming Facilitation Group (CFFG) will be created for promoting contract farming and services at village and panchayat level.

• For quick disposal of disputes, accessible and simple dispute settlement mechanism at the lowest level will be provided

• It is a promotional and facilitative Act and not regulatory in its structure.
Contract farming is outside the ambit of the APMC Act
To protect the interests of producers and sponsors of Contract Farming, the Union Ministry of Agriculture drafted the Model Agricultural Produce Market Committee (APMC) Act, 2003, which provided for registration of sponsors, recording of agreement and dispute settlement mechanism.

However, due to conflict of interest of contract farming sponsors with the APMCs, the atmosphere was not facilitative.

Moreover, the NITI Aayog observed that market fees and other levies are paid to the APMC for contract framing when no services such as market facilities and infrastructure are rendered by them. In this context, the Committee of State Ministers on Agricultural Reforms recommended that contract farming should be out of the ambit of APMCs.
All you need to know about the Agricultural Produce Market Committee (APMC)
Agricultural Produce Market Committee (APMC) is a statutory market committee constituted by a State Government under the Agricultural Produce Market Committee Act.
APMC makes sure that intermediaries do not compel farmers to sell their produce at the farm gate at throwaway prices. It ensures that all food produce should first be brought to the market yard and then sold through auction.
In the year 2015, the Union Government created the National Agriculture Market (NAM), a pan-India electronic trading portal, to network the existing APMC mandis to create a unified national market for agricultural commodities.
Azadpur APMC
Functions of APMC:
To ensure transparency in pricing system and transactions taking place in market area

To provide market-led extension services to farmers

To promote agricultural processing activities for value addition in agricultural produce

To publicise data on arrivals and rates of agricultural produce brought into the market area for sale

To setup and promote public private partnership in the management of agricultural markets
Model APMC Act, 2003
As per the act, the State is divided into several market areas, each of which is administered by a separate Agricultural Produce Market Committee (APMC) which impose its own marketing regulation.
The Act provides for the freedom of farmers to sell their produce.
The farmers could sell their produce directly to the contract-sponsors or in the market set up by private individuals, consumers or producers.
The Model Act also increases the competitiveness of the market of agricultural produce by allowing common registration of market intermediaries.
There is a provision for Contract Farming, allowing direct sale of farm produce to contract farming sponsor from farmer's land.
One of the famous examples of APMC in Delhi is Azadpur Mandi, which was established in 1977. Since its establishment, the Azadpur APMC has been facilitating marketing of Fruits and Vegetables (F&V), and implementing regulations meant for safeguarding the interest of farmers, producers/sellers and consumers.