Weekly Current Affairs Quiz: 05 March to 11 March 2023
For this week, Jagran Josh is presenting the top 10 questions with their answers including China's new President, BIMSTEC Meeting, Irani Cup Title, etc.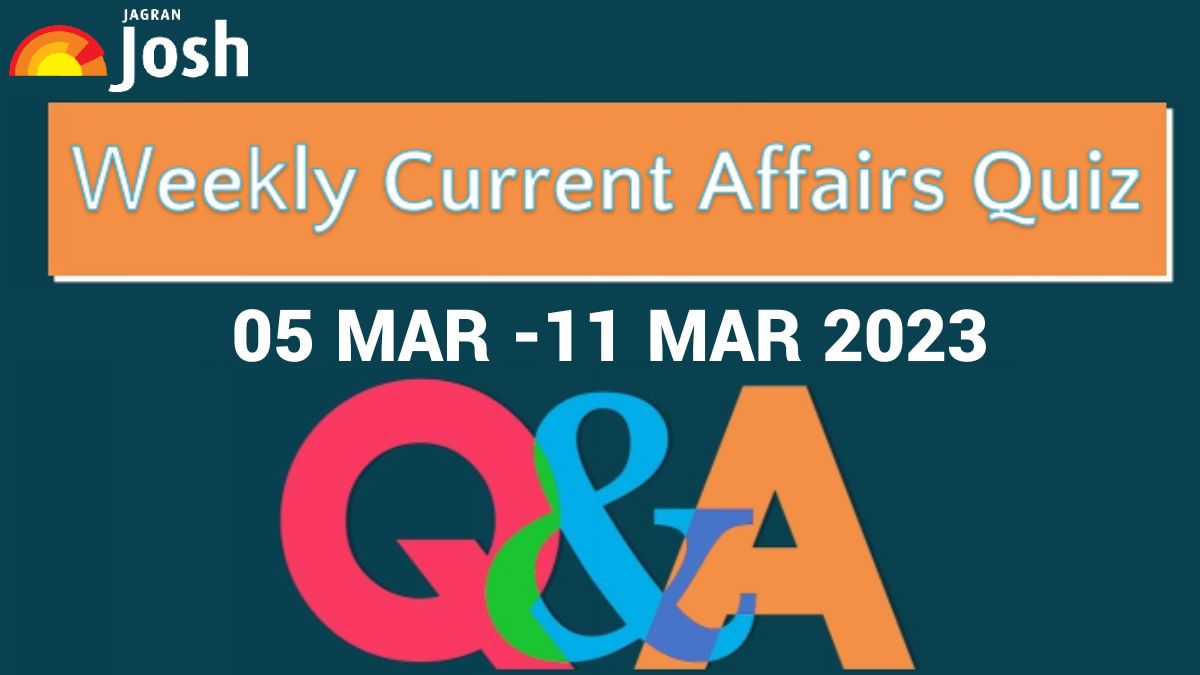 Weekly Current Affairs Quiz
Weekly Current Affairs Questions for UPSC/IAS Exams: Weekly Current Affairs Quiz section of Jagran Josh aims to help every competitive exam aspirant to revise the day with ease. This week, we have compiled 10 weekly current affairs questions and answers relevant to government exams including the Qatar new Prime Minister, Manhattan Southern District Court Judge, and Salhoutuonuo Kruse among others.
1. Who has taken over as the 28th Controller General of Accounts?
(a) Soma Roy Burman
(b) SS Dubey
(c) Ashwini Vaishnaw
(d) Sumit Tyagi
2. India has signed an MoU with which country on Research, Technology and Innovation Cooperation?
(a) Germany
(b) Mexico
(c) Brazil
(d) Italy
3. Who has been elected for the third term as the President of China?
(a) Hu Jintao
(b) Li Yuanchao
(c) Xi Jinping
(d) Han Zheng
4. Sheikh Mohammed bin Abdulrahman Al-Thani has become the new Prime Minister of which country?
(a) Qatar
(b) Bahrain
(c) Oman
(d) United Arab Emirates
5. Rest of India's team defeated whom to win the prestigious Irani Cup title?
(a) Madhya Pradesh
(b) Uttar Pradesh
(c) Haryana
(d) Gujarat
6. Which Indian-American was recently nominated as the Judge of the Southern District of New York?
(a) Geeta Menon
(b) Ajay Banga
(c) Arun Subramanian
(d) Rakesh Khurana
7. Which country has decided to recruit women in the army for the first time in 25 years?
(a) Colombia
(b) Ghana
(c) Azerbaijan
(d) Armenia
8. Which country chaired the 19th BIMSTEC ministerial meeting?
(a) India
(b) Bangladesh
(c) Thailand
(d) Bhutan
9. Who won the Professional Photographer of the Year award at the 8th National Photography Awards?
(a) Shashi Kumar Ramachandran
(b) Arun Saha
(c) Shipra Das
(d) Sudipto Das
10. Who has taken oath as the First Woman Minister of Nagaland?
(a) Salhoutuonou Kruse
(b) Hekani Jakhalu
(c) Keneizhakho Nakhro
(d) Azheto Zhimomi
Answers:-
1. (b) SS Dubey
The Centre appointed Indian Civil Accounts Service Officer S.S. Dubey as the 28th Controller General of Accounts (CGA) under the Ministry of Finance, Government of India. Along with this, he has 5 years of working experience in the United Nations. Previously, he has served as Joint Secretary and Financial Advisor to the Ministry of Housing and Urban Affairs and the Ministry of Development of the North Eastern Region. CGA is the Principal Accounts Advisor and it operates under the Department of Expenditure. It is not a constitutional body.
2. (b) Mexico
A pact was signed between India and Mexico on Research, Technology and Innovation cooperation in New Delhi. The deal involves aerospace, electronics, ocean science, biotech & several other major technology sectors like healthcare. Dr Jitendra Singh (Science & Technology Minister) and Marcelo Ebrard (Foreign Minister of Mexico) were both present at the event. Mexico (United Mexican States) is located in the southern portion of North America, bordered by the north of the US while its capital is Mexico City.
3. (c) Xi Jinping
Chinese Politician Xi Jinping acquired the post of the President of China for the 3rd consecutive time. In an annual meeting of the People's Party held in October 2022, he was elected as the top leader of the National People's Congress (NPC). About 2,952 votes came in favour of Xi and not even a single vote was cast against him. He came into power as the President of the People's Republic of China back in 2013. He has also been chosen as the Chairman of the Central Military Commission of China.
4. (a) Qatar
Emir of Qatar Sheikh Tamim bin Hamad Al Thani designated Minister of Foreign Affairs Sheikh Mohammed bin Abdulrahman Al-Thani as the new Prime Minister of Qatar. Khalifa bin Abdulaziz Al Thani was replaced by Sheikh Mohammed bin Abdulrahman bin Jassim Al Thani. He has earlier worked as the Minister of Foreign Affairs since 2016. Qatar is a peninsular Arab country comprising deserts, beaches and dunes. The capital is Doha and its currency is the Qatari Riyal.
5. (a) Madhya Pradesh
The 'Rest of India' team beats Madhya Pradesh to hold the Mastercard Irani Trophy. In the final round, the Rest of India won the match by 238 runs. Setting the target of 437 runs for victory, the MP team however declined to 198 runs in 58.4 overs. Irani Cup is a first-class Cricket Championship in India. This match was played at Captain Roop Singh Stadium in Gwalior. The 2022–23 edition was the 59th edition of the Irani Cup.
6. (c) Arun Subramanian
NY-based solicitor Arun Subramanian has been appointed as the Judge of the Manhattan Southern District and was elected by US President Joe Biden. Arun is the first South Asian to be nominated for this position. This Indian-American lawyer was born in 1979 in Pittsburgh, Pennsylvania. He obtained a Bachelor's degree from Case Western Reserve University in 2001 along with a Juris Doctor from Columbia Law School in 2004.
7. (a) Columbia
Colombia is the first one to offer military posts to women in 25 years. In February 2023, about 1,296 women has been selected for recruitment into the Colombian Army. Colombia has had compulsory military service for males aged 18 to 24 for many years. The authorities have now allowed women in the same age group to voluntarily join the army. Colombia is located in South America. Its capital is Bogota and its currency is the Colombian Peso.
8. (c) Thailand
Minister of State for External Affairs Dr Rajkumar Ranjan Singh attended the 19th BIMSTEC Ministerial Meeting in online mode from Bangkok. The summit was held under the governorship of Thailand. During this session, the ministers gave approval for several documents including the Rules of Procedure for the Core BIMSTEC System. BIMSTEC is a multi-sectoral initiative of seven South Asian and South East Asian countries. It was established on 6 June 1997 after the Bangkok Declaration. Its headquarters are in Dhaka.
9. (a) Shashi Kumar Ramachandran
The 8th National Photography Awards were conferred by the Union Minister of State for Information and Broadcasting Dr L. Murugan in New Delhi. 13 awards were bestowed in total while Shipra Das bagged the Lifetime Achievement Award. Shashi Kumar Ramachandran was honoured with the Professional Photographer of the Year Award and Arun Saha won the Amateur Photographer of the Year Award.
10. (a) Salhoutuonou Kruse
Salhoutuonuo Kruse is the first woman to become the Minister of Nagaland. She won the MLA elections along with NDPP candidate Hekani Jakhalu from the Dimapur-III constituency. Kruse took oath in Shillong as the Nagaland Minister in the presence of PM Modi. The all-party government was formed in Nagaland under the leadership of Neiphiu Rio of NDDP. Kruse defeated independent candidate Kenizhakho Nkharo from the West Angami seat. She did her pre-university in 1986 at Kohima College.
Also Read: Weekly Current Affairs Quiz: 26 February to 04 March
Take Weekly Tests on app for exam prep and compete with others. Download Current Affairs and GK app
एग्जाम की तैयारी के लिए ऐप पर वीकली टेस्ट लें और दूसरों के साथ प्रतिस्पर्धा करें। डाउनलोड करें करेंट अफेयर्स ऐप
Android
IOS