Winter Grade Diesel: Ladakh to get hassle free travel even in -30 degree temperature
Winter-Grade Diesel fuel is a special category fuel that doesn't freeze in cold weather.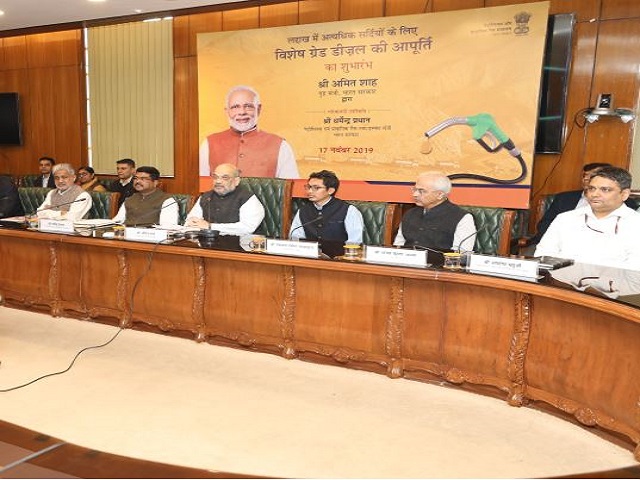 Home Minister Amit Shah inaugurates winter-grade diesel
Winter Grade Diesel: Home Minister Amit Shah launched the first Winter Grade Diesel Sales Center for Ladakh region on November 7. It will help to solve the problems of people as diesel fuel reaches on the freezing point every year during the extreme winters.
It was informed by the Home Minister that five per cent biodiesel has also been blended in special winter grade diesel. This diesel retains its fluidity even at -33 degree Celcius temperature. Earlier, vehicles used to stop in the Ladakh due to the freezing of diesel but now they can run on winter-grade diesel.
Key Highlights
• Whenever the temperature drops, diesel reaches on the freezing point in the high altitude areas like Ladakh, Kargil, Dras, Siachen among others.
• Indian Oil Corporation Limited started production of special winter grade diesel by keeping this in mind.
• The central government is also encouraging electricity, solar energy, education and tourism at a cost of 50 thousand crores for the complete development of Ladakh.
• The first batch of Winter Grade Diesel, which met the standards of Bureau of Indian Standards, has been flagged off from Panipat Refinery.
Also Read | Gotabaya Rajapaksa becomes President of Sri Lanka
Benefits
Winter-Grade Diesel will make the transportation and travel smoothen during the peak tourist season in extreme cold in the region. However, it will also give a boost to tourism and enhance the supply needs of the people of the region. Winter-Grade Diesel will also help in the overall economic development of the area.
What is Winter Grade Diesel?
Winter-Grade Diesel fuel is a special category fuel that doesn't freeze in cold weather. However, standard diesel fuel freezes on -20 to -30 degrees but it remains in a liquid state. There are some additives that prevent the diesel from developing wax particles. It is for the first time in India when Indian oil produced a winter-grade diesel as per the requirement s of the country. The first delivery of winter-grade diesel was given by Panipat oil refinery while second delivery is scheduled by Jalandhar oil refinery.
Also Read | Pneumonia causes death of one child in every 39 seconds: UNICEF Report
Also Read | Jair Bolsonaro, Brazil's President, to be chief guest at Republic Day 2020