Yuvraj Singh announces retirement from international cricket
Yuvraj Singh 2011 World Cup hero announces retirement from international cricket. Yuvraj Singh had played his last Test in 2012 and ODI and T20 in 2017.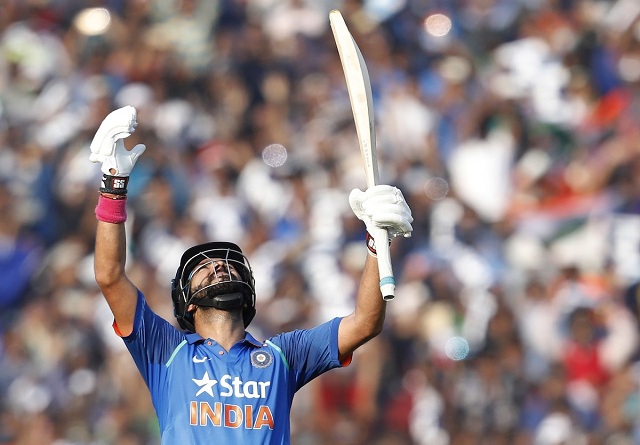 Yuvraj Singh retires from international cricket
Yuvraj Singh, 2011 World Cup hero and one of India's most celebrated cricketers has announced his retirement from international cricket, bringing an end to his illustrious cricketing career with immediate effect. Singh made the announcement in a press conference in Mumbai on June 10, 2019, accompanied by his wife Hazel Keech and his mother, Shabnam Singh.

The 37-year-old all-rounder stated, "After 25 years in and around the 22 yards and almost 17 years of international cricket on and off, I have decided to move on. This game taught me how to fight, how to fall, to dust off, to get up again and move forward." He added by saying, "It was a great rollercoaster ride and beautiful story but it has to come to an end. It was the right time to go."

The legendary cricketer played an instrumental role in many of India's big cricketing wins including the 2007 World T20 and the 2011 Cricket World Cup. He was named player of the tournament in both events. The cricketer is also a survivor of Cancer.

Yuvraj Singh- The match winner!

Yuvraj Singh is one of the biggest match-winners that India has ever seen. His 19-year career began with his ODI debut in the ICC Knockout Trophy in Kenya, where in his very first match, Singh scored a match-winning 84 against Australia.

In total, Yuvraj Singh featured in 40 Tests, 304 ODIs and 58 T20Is. He played a major role in the Indian squad that won the inaugural 2007 World T20 tournament and the 2011 Cricket World Cup.

While announcing his retirement, Singh recalled his almost two-decade-old cricketing journey, in which he shared the dressing room with some of India's greatest cricket legends – Sachin Tendulkar, Rahul Dravid, Saurav Ganguly and Anil Kumble.

The left-handed cricketer had made his cricketing debut under the captaincy of one of India's best captains Saurav Ganguly. Singh credits Ganguly for helping him grow into one of the most feared strikers.

Singh's famous six sixes!

Yuvraj Singh was named the Indian vice-captain at the inaugural ICC World Twenty20 in South Africa. In India's Super 8 match against England at Durban, Singh hit six consecutive sixes in an over by England's Stuart Broad, making the fastest-ever fifty in a T20 game, off just 12 balls, which was also the fastest in any form of international cricket.

This was the fourth time that six sixes had been hit in one over in senior cricket, the first time in Twenty20 cricket and the first time in any form of international cricket against a bowler from a Test playing nation. Singh was adjudged man of the match, after he scored 58 runs in 16 balls and sealed India's victory. He was also named the player of the tournament.

2011 Cricket World Cup Triumph

While many thought they had seen Yuvraj Singh's peak, he outdid his previous triumphs with his dream run in the 2011 ICC World Cup. Singh scored 362 runs in the tournament with one hundred and four half-centuries. He also picked up 15 wickets including a five-wicket haul.
As India created history by lifting the cricket world cup after 28 years at the Wankhede stadium in Mumbai on April 2, 2011, Singh ended the tournament as the 8th highest run-scorer and the fourth-highest wicket taker. He won four Man-of-the-Match awards and was also awarded the Player of the Tournament.

Singh became the first all-rounder to score 300-plus runs and take 15 wickets in a single World Cup.

Yuvraj Singh's fight with Cancer

Yuvraj Singh suffered with respiratory difficulties through 2011. His breathing issues began before India's successful triumph in the cricket world cup.

After the World Cup, Singh was diagnosed with a cancerous tumor stage-1 in his left lung and he underwent chemotherapy treatment at the Cancer Research Institute in Boston, United States as well as the Indiana University Melvin & Bren Simon Cancer Center in Indianapolis, Indiana.

Showcasing the same fighting spirit that he showed on the field, Singh fought against cancer and staged a successful recovery and he was back to playing for India in 2012, post his discharge from the hospital.

Highs and Lows after Comeback

Though he was back to cricket and managed to put up some splendid performances with both bat and ball, Yuvraj Singh could not replicate his earlier form. He still kept playing and giving his best.

While he had his spurts of outstanding performances, his low form in 2013, especially in home series kept him out of major tournaments and series. Yuvraj Singh was one of the five senior players who were not considered for the 2015 Cricket World Cup and was not included in India's 30-man probable for the tournament.

Yuvraj was dropped from the Indian squad before the Indian team's Sri Lanka tour in August 2017, which ended his international career. He was also not in consideration for the 2019 World Cup.

Yuvraj's Last International Match

Yuvraj Singh played his last test match in December 2012 against England, last ODI in June 2017 against West Indies and last T20 in February 2017 against England.
Yuvraj Singh- Batting Stats

Competition

Test

ODI

T20

Matches played

40

304

58

Runs Scored

1900

8701

1177

100s/ 50s

3/11

14/42

0/8

Highest Score

169

150

77 not out

Bowling Stats

Balls bowled

931

5048

424

Wickets

9

111

28

Five-wicket haul

None

1

None

Best Bowling

2/9

5/31

3/17