Chhattisgarh
Chhattisgarh is one of the 29 states of India, located in the centre-east of the country. It is the tenth-largest state as well as the 17th-most populated state in India. In this article, we are giving the important facts related to the Indian State Chhattisgarh which is helpful for those students who are preparing for Bihar PSC Exam.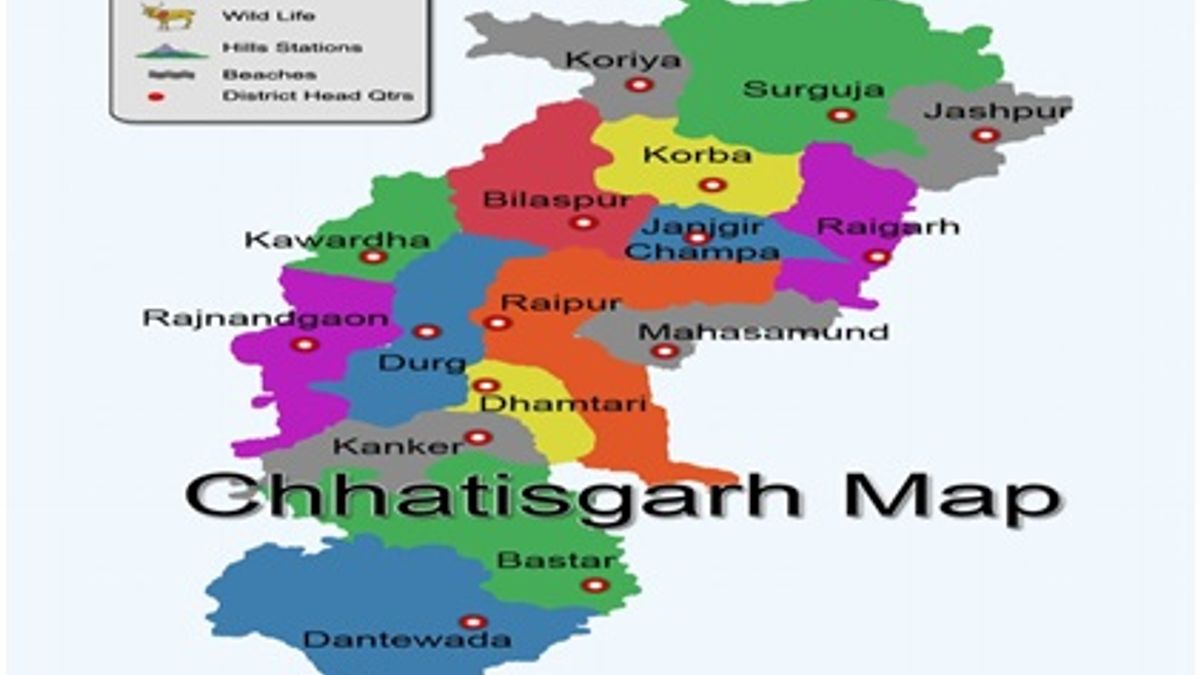 Chhattisgarh
Chhattisgarh is one of the 29 states of India, located in the centre-east of the country. It is the tenth-largest state as well as the 17th-most populated state in India.
How does State get name?
The state was formed on 1 November 2000 by partitioning 27 Chhattisgarhi-speaking southeastern districts of Madhya Pradesh.
There is legend that the origin of the name Chhattisgarh, which in ancient times was known as Dakshina Kosala (South Kosala). "Chhattisgarh" was popularised later during the time of the Maratha Empire and was first used in an official document in 1795.
It is claimed that Chhattisgarh takes its name from the 36 ancient forts in the area. (Chhattis—thirty-six, and garh—fort.) The old state had 36 demesnes (feudal territories). However, experts do not agree with this explanation, as 36 forts cannot be archaeologically identified in this region.
Chhattisgarh: Fact a Glance
| | |
| --- | --- |
| 1. Area | 135,191 Square Kilometer |
| 2. Formation of State | 1 November 2000 |
| 3. Population (as per 2011 census) | 25,545,198 (as per 2011 census) |
| 4. Languages | Hindi, Oriya, Marathi and Telugu |
| 5. Climate | The climate of the state is tropical. It is hot and humid because of its proximity to the Tropic of Cancer and its dependence on the monsoons for rains. Summer temperatures can reach 45 °C (113 °F). The monsoon season is from late June to October and is a welcome respite from the heat. It receives an average of 1,292 millimetres (50.9 in) of rain. Winters are pleasant with low temperatures and less humidity. |
| 6. Capital | Raipur |
| 7. Member of Parliament | Lok Sabha-11, Rajya Sabha- 5 |
| 8. Legislature | Unicameral (90 seats) |
| 9. Airport | Swami Vivekananda Airport in Raipur, Other airstrips: Bilaspur Airport, Bilaspur; Kodatarai Airport, Raigarh; Jagdalpur Airport, Jagdalpur; Nandini Airport, Bhilai; Baikunth Airstrip, Baikunth; JSPL's Airstrip, Raigarh; Ambikapur Airport, Darima, Ambikapur; Korba Airstrip, Korba; Agdih Airstrip, Jashpur; Dondi Airstrip, Dondi, Durg; Kota Road Airstrip, MohanBhatha, Bilaspur; Mulmula Airtrip, Mulmula Janjgir-Champa |
| 10. Major cities | Raipur, Bhilai-Durg, Bilaspur, Rajnandgaon, Raigarh, Korba, Ambikapur, Jagdalpur, Chirmiri, and Dhamtari |
| 11. Festivals | Durg Pooja / Bastar Dussehra, Bastar Festival, Maidai Utsav, Rajim Kumbh Mela, Pakhanjora Mela, (Nar Narayan Mela) Bhoramdev festival, Gancha festival, Teej festival |
| 12. Economy | The nominal gross state domestic product (GSDP) is estimated at ₹3.26 lakh crore (US$45 billion) in 2018–19, the 17th largest state economy in India. The economy of the state recorded a growth rate of 6.7% in 2017–18. Its success factors in achieving high growth rate are growth in agriculture and industrial production. |
| 13. Literacy (As per 2011 census) | 70.01% (2011, 27th) |
| 14. Density | 190 person/Square Kilometer |
| 15. Districts | 27 districts |
| 16. Sex-Ratio (as per 2011 census) | 991 females per 1,000 males (as per 2011 census) |
| 17. Major dance | Panthi, Rawat Nacha, Pandwani, Chaitra, Kaksar, Saila, Khamb-swang, Bhatra Naat, Rahas, Raai, Maao-Pata and Soowa |
| 18. Major Rivers | Indravati, Hasdev, Mahanadi, Godavari, Sabari and Mahanadi |
| 19. Major Minerals | Iron ore, coal, limestone, dolomite, quartz |
| 20. Historical / Tourist sites | Bhoramdev Temple, Arjun's Chariot, Shadni Park (Raipur), Hari Rajeev Lokchan Temple (Raipur), Lakshman Temple (Mahasamund), Parsvnath Tirtha (Durga) |
The state is endowed with a rich cultural heritage and attractive natural diversity. The state is full of ancient monuments, rare wildlife, exquisitely carved temples, Buddhist sites, palaces, waterfalls, caves, rock paintings and hill plateaus. There are many water falls, hot springs, caves, temples, dams and national parks and wildlife sanctuaries.