India's 11 Guinness World Records
As everyone knows that the world is full of wonders; where some people are naturally peculiar while some people are famous in this world because of their weird hobbies. One of them is Ram Singh Chauhan, a resident of Jaipur who has a 14 feet mustache and the world's smallest woman known as Jyoti Amge whose height is only 61.95 centimeters or about 2 feet.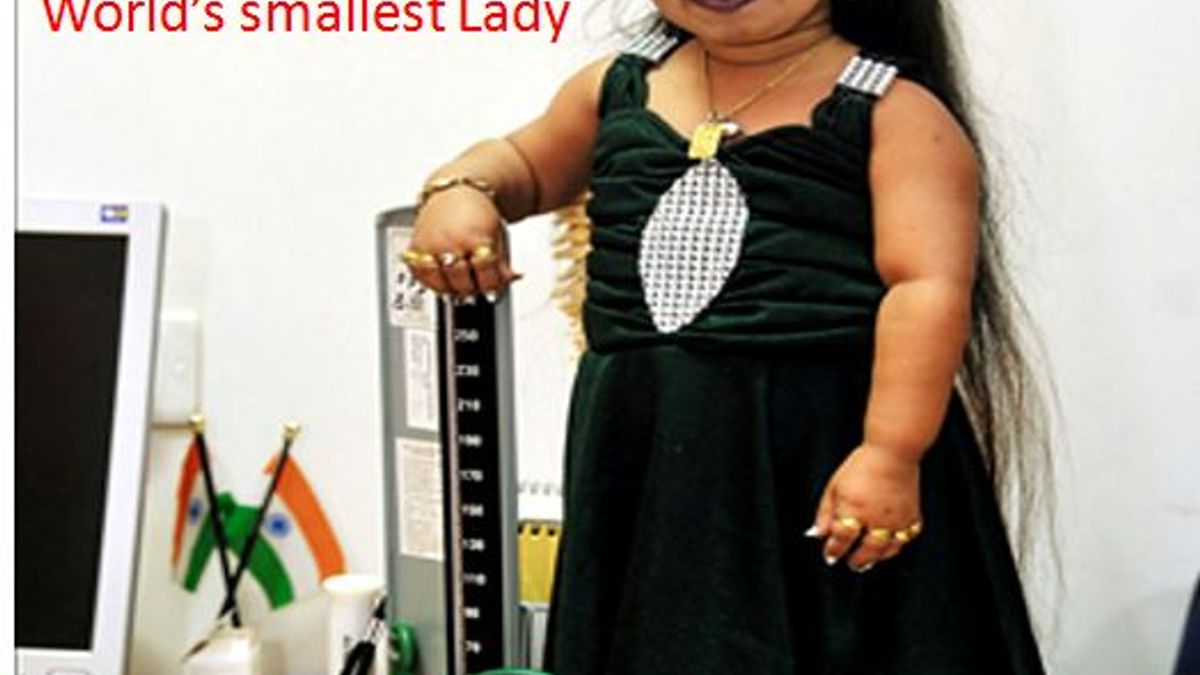 jyoti Amge smallest lady of the world
As everyone knows that the world is full of wonders; where some people are naturally peculiar while some people are famous in this world because of their weird hobbies. This article includes such weird Guinness World Records which are made Indians.
1.World's Most Expensive Suit
It's a suit of Prime Minister Narendra Modi who worn this suit during his meeting with US President Barack Obama in 2015.This suit was sold for a whopping Rs. 4.31 cr. during an auction. This suit was purchased by Gujarat's diamond trader Lalji Bhai Tulsibai Patel. It is worth to mention that this suit was made at a cost of Rs. 10 lakhs, so the starting price of its auction was kept at Rs. 11 lakhs. It has been registered in Guinness Book because of the most expensive sale suit in the whole world.

Image source:The Siasat Daily
2. Nose Typing
Khurshid Hussain of Hyderabad has made Guinness World Record by typing fastest with his nose in the world. Khurshid has typed 103 characters in 47 seconds.

image source:The Hindu
Do you know that our moon is made up of 20 smaller moonlets?
3. Biggest Roti
Dagdu Seth, living in Jamnagar, Gujarat, made the world's largest bread in 2012, which weighs 145 kilograms.

Image source:trendyfeeds.com
4.The world's smallest woman
Nagpur based Jyoti Amge (23 year) who is known to be the smallest woman in the world, is only 61.95 centimeters or about 2 feet in height. Prior to this, Jyoti has also got the title of smallest teenager in the world.

Image source:Pinterest
5.The tallest turban in the world
The turban of Punjab based Avtar Singh Mauni is assumed to be the tallest & heaviest in the whole world. The length of this turban is around 645 meters and weighted 45 kgs.

Image source:Amazing India Blog
6. Heaviest Biryani
In 2008, Kohinoor Foods Limited in Delhi made Guinness World Records by cooking world's heaviest Biryani weighted around 12,000 kilograms of rice and vegetables. There were 60 chefs involved in this preparation.

Image source:hospibuz
7. Record of most songs
Sameer, son of famous lyricist Anjan, has written many hits in the films for the past 30 years. Sameer has written 4000 songs in nearly 650 films in his 30 years of film journey. No lyricist has written as many songs so far.

Image source:Guinness World Records
Why Indian Vehicles have different Colour Number Plates?
8. Folk dance of Kullu (Himachal)
During the Kullu Dussehra festival on October 26, 2015, 10,000 men and 10,000 women took part in traditional costumes in Kullu Valley. More than 20,000 people participated in the dance to spread the message 'Beti Hai Anmol'. Guinness Book Officers were informed about the programme, who recorded it in Guinness World Records book.

Image source:hillpost.in
9. Most Crowd gathered to do yoga
On June 21, 2015, under the leadership of Prime Minister Modi, about 35,985 people participated on the occasion of Yoga Day on Rajpath (Delhi).This was an international event in which participants were from 84 countries. For the first time such a large number of people do yoga together, so this event has been recorded in Guinness World Records.

Image source:www.ibtimes.co.in
10. The World's longest Mustache
Ram Singh Chauhan (58), a resident of Jaipur, holds the world record of the world's longest mustache. The length of his Mustache is 14 feet. Ram Singh has been raising his mustache from the past 32 years.

Image source:Veer Gorkha
11. Longest Single Dance Marathon
Dancer Hemlata had performed dance at the Kerala Music Academy for 123 hours and 15 minutes continuously, which is a Guinness World Record.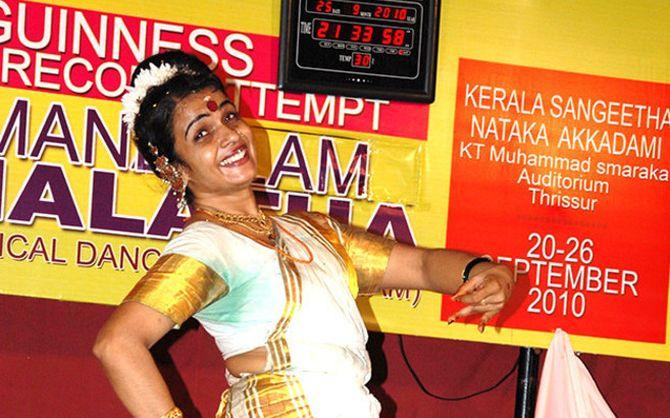 Image source:Rediff.com
In this way, we have seen that how these dedicated people, have done such craziest things that have made them famous in the whole world.