List of IPS Officers Who Turned Into Politicians: UPSC 2022
The list of Indian Police Services Officers or IPS Officers who turned into famous politicians is given below. Check the complete list which is inspiring for UPSC candidates.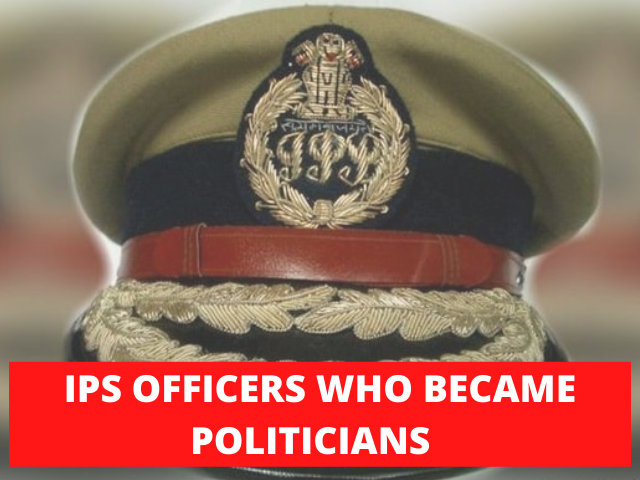 IPS Officers who became Politicians
Here is the list of Indian Police Services Officers who have quit their jobs in administrative services and turned into politicians. Becoming an IPS Officer is many people's dream and serving the population of India is even a bigger dream. Take a look at such Police Officers who turned into politicians to serve the country.
UPSC 2022: Only Self Study & Internet Needed To Crack Civil Services- IAS Saloni Verma & Prakhar K Singh Suggest Strategy

10 IAS Officers Who Turned Into Politicians- Check Complete List!

List of IPS Officers Who Became Politicians
K. Annamalai:

He is a 2011 batch IPS officer who quit the services and joined Bhartiya Janta Party, BJP. Annamalai is an Indian Police Service Officer born in the year 1984. Former IPS officer K Annamalai was appointed in 2020 (August) as the new BJP chief of Tamil Nadu, succeeding L Murugan who was inducted into the Union cabinet. He was a Karnataka cadre IPS officer who resigned from service in 2019 and joined the BJP last year.

Nikhil Kumar:

Nikhil Kumar was born on 15 July 1941. He is a former IPS officer-turned politician from Bihar who was Governor of Nagaland from 2009 to 2013. He was also the Governor of Kerala from 2013 to 2014. One of the country's well-known IPS officers of 1963 batch from the AGMUT Cadre Kumar also served as DGP of the National Security Guards, Indo-Tibetan Border Police, Railway Protection Force and Commissioner of Delhi Police. He is the son of Satyendra Narayan Sinha, the Chief Minister of Bihar and an Indian National Congress leader.

Dr R Nataraj:

He is an Indian politician who belongs to Anna Dravid Munnetra Kazhagam (DMK). He was born to Ramchandran on 31 March 1951 in Chennai, then called Madras. He is an alumnus of Presidency College Madras. He also has a bachelor of a law degree and has earned his doctorate from Madras University. Post his retirement from the Indian Police Service, Dr Nataraj joined AIADMK in 2014. He was a 1975 batch IPS known for the reforms that he brought in the policing and administrative system.

According to his words, "When such persons become members of political parties, the youth get drawn to issues concerning public affairs. Besides, as both IAS and IPS provide leadership roles, it is only a natural transition for officers of the two services to get into politics."
Anusuya Daisy Ernest

: She was a former Additional Superintendent of Police and a survivor of the 1991 bomb blast in Sriperumbudur that killed former Prime Minister Rajiv Gandhi and 15 others. She joined the Congress party. The idea behind her decision is to sensitise the younger generation about the gravity of the crime committed nearly 30 years ago. She stressed that political parties are in need of people who have a "long, unblemished track record" in public service.

AX Alexander:

Days after R Nataraj joined the AIADMK, another former DGP AX Alexander joined the party in 2014. Alexander was also the DGP of Tamil Nadu before R Nataraj. "Political service gives wider and broader scope for rendering public service. Nowadays, people want good people to join politics and I am here," said Alexander.

AG Mourya:

He is a retired IPS officer AG Mourya, who is currently the General Secretary of MNM. He joined the party in 2018 and contested the 2019-Lok Sabha polls from Chennai North.
The list of the above-mentioned politicians would be very helpful for those who wish to make a career in politics.