Today In History, 13 January: What Happened On This Day
What happened today in history (13 January): The Birth of Rakesh Sharma and Orlando Bloom, the demise of Aethelwulf of Wessex, National Geographic society established, Ciurea rail disaster, battle of Chillianwala, Dreyfus affair exposed in France, and more.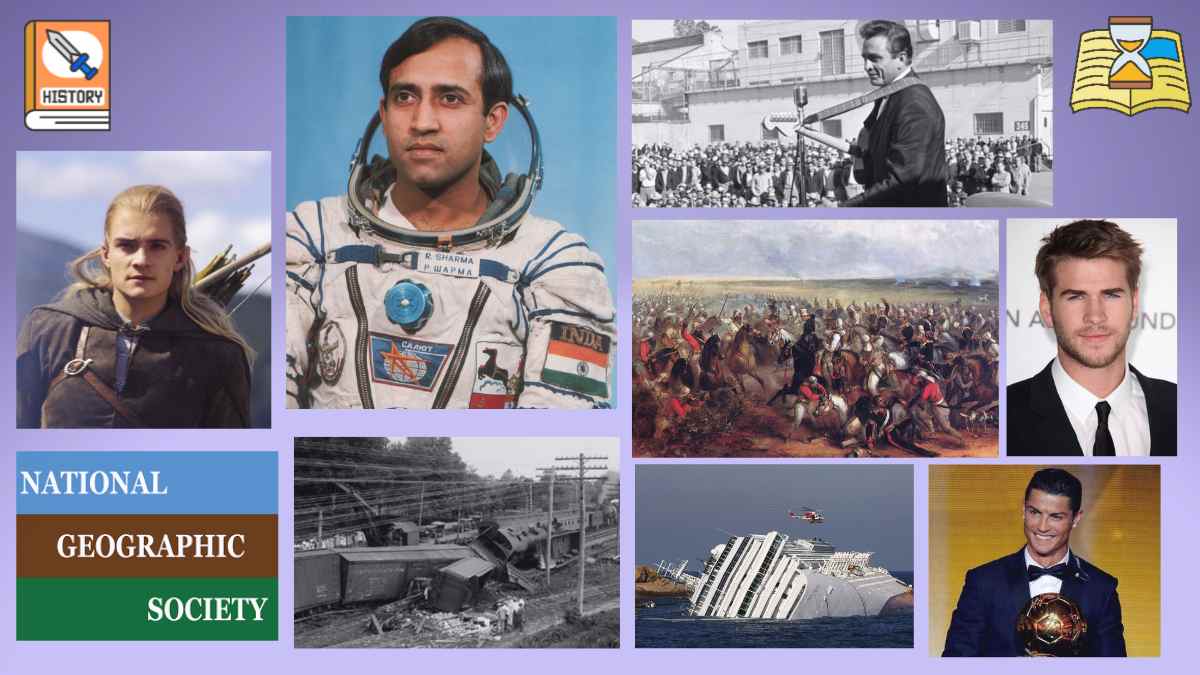 This day in history (13 Jan): The Birth of Rakesh Sharma, first Indian in Space
Today in History, 13 January: The holiday season and the excitement of a new year are waning. It's time to get back to learning. Today is 13 January, another seemingly ordinary day in the first month of the year.
However, 13th January holds a pivotal place in world history. Many significant events transpired on this day.
Dive in to find out what happened on this day (Jan. 13) in sports, politics and art, along with famous birthdays and deaths in world history.
Historical Events On This Day
In 1849, the Battle of Chillianwala began between the Sikh and British forces. There was no immediate winner, but the Sikhs inflicted a crushing blow on the air of invincibility surrounding the British East India Company.
In 1888, the popular scientific and educational society, the National Geographic Society, was founded in Washington DC.
In 1917, the Ciurea rail disaster occurred in Romania, killing between 800 - 1000 people.
In 1942, the first use of an ejection seat occurred. German test pilot ejected from the Heinkel He 280 fighter jet during World War II.
In 1942, American automobile magnate Henry Ford patented a soybean car with a plastic body that was 30% lighter than a regular car.
In 2000, Microsoft founder and chairman Bill Gates resigned as the company's chief executive officer and promoted Steve Ballmer to the position.
In 2012, the Italian cruise ship Costa Concordia sank off the coast of Italy due to its captain Francesco Schettino's negligence. 32 people were confirmed dead.
In 2021, Donald Trump became the first US president to be impeached over his role in the Capitol Insurrection.
In 2021, the world's oldest known cave painting of an animal (several human figures hunting pigs), believed to be over 43,900 years old, was discovered in Indonesia.
In 2022, Britain's Prince Andrew was stripped of his military titles and royal patronages due to increasing sexual assault allegations.
Sports Events Today
In 2014, Portugal and Real Madrid forward Cristiano Ronaldo ended Lionel Messi's streak of winning the FIFA Ballon d'Or award.
In 2017, in a match against New Zealand, cricket all-rounder Shakib Al Hasan scored Bangladesh's highest test score ever (217).
Art and Culture Events Today
In 1605, the controversial "Eastward Hoe" by Ben Jonson, George Chapman, and John Marston was performed. The authors were imprisoned by King James over the play's anti-Scottish satire.
In 1898, French author Emile Zola exposed the Dreyfus affair in France with an expose in the newspaper L'Aurore.
In 1962, Chubby Checker's famous song "The Twist" popularised the Twist dance craze around the world.
In 1968, American country music star Johnny Cash recorded his iconic album Johnny Cash at Folsom Prison in front of 2,000 inmates at California's Folsom Prison.
In 2018, American actor Mark Wahlberg donated his $1.5 million re-shoot fee for the film, "All The Money In The World," to the "Time's Up" movement after discovering that co-star Michelle Williams was only paid $1000.
Notable Deaths On This Day
| | | |
| --- | --- | --- |
| Sr No | Death Year | Personality |
| 1 | 858 | Aethelwulf, King of Wessex who thwarted Viking invasions and ruled over Wessex and Mercia |
| 2 | 1929 | Wyatt Earp, American frontiersman, gambler and gunslinger who is known for the gunfight at the O.K. Corral in 1881 |
| 3 | 1941 | James Joyce, Irish novelist known for his experimental works like Ulysses and Finnegans Wake |
| 4 | 1978 | Hubert Humphrey, American pharmacist, academic and politician who became the 38th Vice President of the United States |
Famous Birthdays On This Day
| | | |
| --- | --- | --- |
| Sr No | Birth Year | Personality |
| 1 | 1906 | Zhou Youguang, Chines economist and linguist |
| 2 | 1938 | Shiv Kumar Sharma, Indian musician and santoor player who helped popularise the Indian classical music |
| 3 | 1949 | Rakesh Sharma, Indian Air Force pilot who became the first Indian man to go into space as part of the Soviet Interkosmos programme in 1984 |
| 4 | 1977 | Orlando Bloom, English actor who starred in the Hollywood blockbuster series The Lord of the Rings and Pirates of the Caribbean |
| 5 | 1990 | Liam Hemsworth, Australian actor and younger brother of fellow Hollywood star Chris Hemsworth. Liam Hemsworth is known for his roles in the Hunger Games series and for replacing Henry Cavill in The Witcher. |
Related | Today in History (11 January)
Related | Today in History (10 January)