Today In History, 10 January: What Happened On This Day
What happened today in history (10 January): Hrithik Roshan and Kalki Koechlin born, David Bowie and Carl Linnaeus passed away, League of Nations formed, Tashkent declaration signed, The Sopranos debuted, World Hindi Day, and more.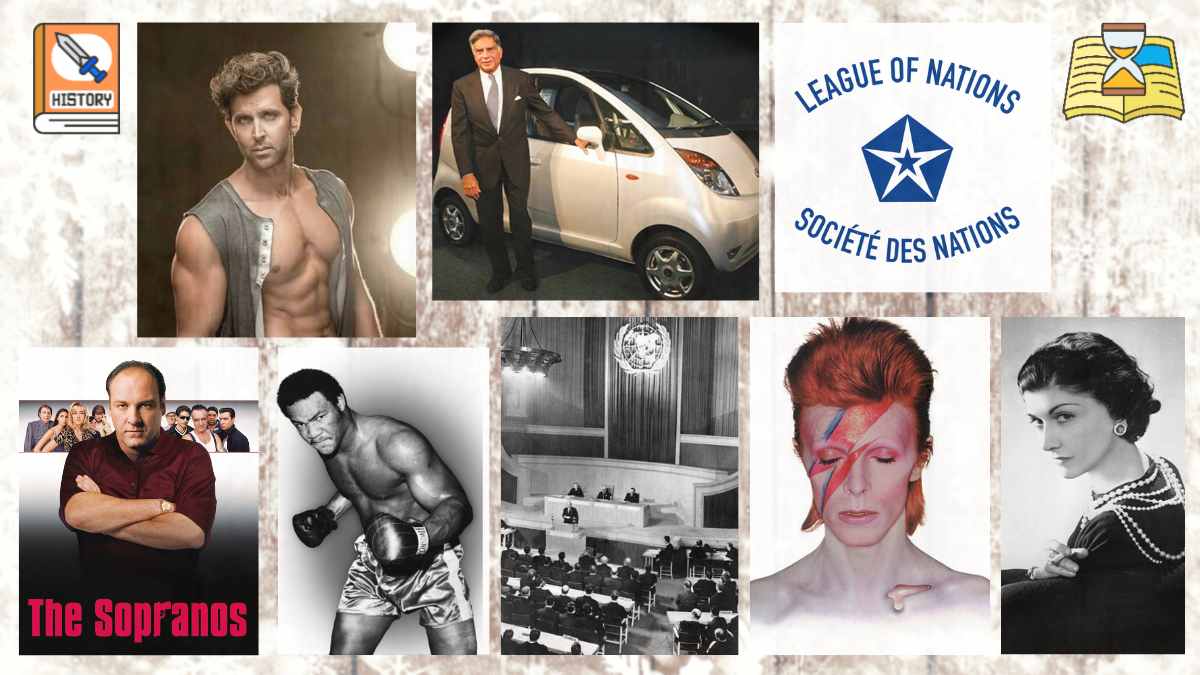 This day in history (10 Jan): World Hindi Day and Establishment of the League of Nations
Today in History, 10 January: 2023 has been full of surprises so far and also shivers. A third of January has gone by, but winter is not going away any time soon. But let's not stop learning because of the weather.
On that note, take a look at the historical significance of the month of January. Today is 10 January. Although it appears to be like any other cold and boring winter day, January 10th holds an important place in world history.
From the birth of one of the most popular Indian actors of the century, the deaths of an iconic English rock star and an esteemed fashion designer to the debut of one of the greatest television shows ever, formation of the League of Nations and the launch of the cheapest car in the world, many crucial events occurred on 10 January.
Dive in to find out what happened on this day (Jan. 10) in sports, politics and art, along with famous birthdays and deaths in world history.
Historical Events On This Day
In 49 BC, Julius Caesar crossed the Rubicon, sparking a civil war that would elevate him to Roman dictator for life.
In 1776, Thomas Paine published the "Common Sense" pamphlet, advocating American independence from British rule.
In 1863, the London Underground began its operations.
In 1972, Sheikh Mujibur Rahman, the founding father of Bangladesh, arrived in East Pakistan (Bangladesh) after being imprisoned in Pakistan for nine months.
In 1920, the League of Nations, a precursor to the UN, was established as part of the Treaty of Versailles after World War I.
In 1946, radar signals reflecting off the Moon were detected for the first time by the United States Army Signal Corps.
In 1946, the first session of the United Nations General Assembly was convened in the Methodist Central Hall in London.
In 1965, the Tashkent Declaration was signed between India and Pakistan to resolve the Indo-Pakistani War of 1965.
In 1984, the United States and the Vatican established diplomatic relations after a 117-year break.
In 1990, the American entertainment conglomerate Time Warner was formed by the merger of Warner Communications and Time Inc.
In 2006, Prime Minister of India Manmohan Singh, proclaimed 10 January as World Hindi Day.
In 2008, Indian automobile company Tata Motors launched the world's cheapest car (₹1 lakh), the Tata Nano.
Sports Events Today
In 1930, New Zealand's first game of Test cricket took place in Christchurch.
In 2011, Argentina and Barcelona forward Lionel Messi won his second consecutive FIFA Ballon d'Or award. Brazilian forward Marta won the women's award for the fifth consecutive year.
Art and Culture Events Today
In 1927, Austrian visionary filmmaker Fritz Lang's futuristic masterpiece Metropolis was released in Germany.
In 1952, the iconic American drama film The Greatest Show on Earth, directed and produced by Cecil B. DeMille, starring James Stewart and Charlton Heston, premiered in New York.
In 1958, American rock and roll singer Jerry Lee Lewis's "Great Balls of Fire" reached #1 on the UK pop charts.
In 1999, the iconic HBO drama TV show, The Sopranos, starring James Gandolfini and Edie Falco, premiered.
Important Days
World Hindi Day 2023: Hindi is one of the world's most spoken languages and is the mother tongue of nearly half the Indian population. January 10 is commemorated as the World Hindi Day since 2006.
Notable Deaths On This Day
| | | |
| --- | --- | --- |
| Sr No | Death Year | Personality |
| 1 | 1778 | Carl Linnaeus, Swedish naturalist and explorer who is known as the "father of modern taxonomy" for formalising binomial nomenclature |
| 2 | 1862 | Samuel Colt, American inventor and industrialist who revolutionized the manufacturing of the revolvers |
| 3 | 1917 | Buffalo Bill, American soldier, bison hunter and showman who became one of the most popular figures of the Wild West |
| 4 | 1971 | Coco Chanel, French fashion designer and businesswoman who founded the iconic luxury brand Chanel |
| 5 | 1976 | Howlin' Wolf, American blues singer known for his iconic song "Smokestack Lightning" |
| 6 | 2016 | David Bowie, English singer and actor known for his distinctive persona and genre bending music, especially rock and pop infused songs like "Under Pressure", "Heroes" and "Space Oddity" |
Famous Birthdays On This Day
| | | |
| --- | --- | --- |
| Sr No | Birth Year | Personality |
| 1 | 1943 | Jim Croce, American singer known for his classic song "Time in a Bottle" |
| 2 | 1945 | Rod Stewart, English singer known for his raspy singing voice and rock and pop music like "Sailing" and "I Don't Want to Talk About It" |
| 3 | 1949 | George Foreman, American boxer who is counted among the greatest heavyweight champions in boxing history and is known for his rivalry with Muhammad Ali |
| 4 | 1953 | Pat Benatar, American rock singer known for her hit songs "Heartbreaker" and "We Belong" |
| 5 | 1974 | Hrithik Roshan, Indian actor known for his romantic and action movies, Greek God looks and exceptional dancing skills in films like Kaho Naa… Pyaar Hai and Krrish |
| 6 | 1984 | Kalki Koechlin, Indian actress known for her unconventional films and playing strong female characters in films like Dev.D and That Girl in Yellow Boots |
Related | Today in History (9 January)
Related | Today in History (8 January)
FAQ
What happened today in history (10 January)?
The Tashkent declaration between India and Pakistan was signed, the League of Nations was formed and the first session of the United Nations General Assembly was held on this day on 10 January.
Which famous personality was born on this day, 10 January?
Bollywood megastar Hrithik Roshan and English singer Rod Stewart were born today (Jan 10) in history.
What major cinema events took place on 10 January?
The acclaimed HBO crime drama The Sopranos premiered on January 10th in history.