Today In History, 8 January: What Happened On This Day
What happened today in history (8 January): The birthday of Elvis Presley, Stephen Hawking and Kim Jong-un, the demise of Galileo Galilei and Marco Polo, Donald Trump banned from Twitter, El Chapo recaptured in Mexico, the Battle of Ashdown, and more.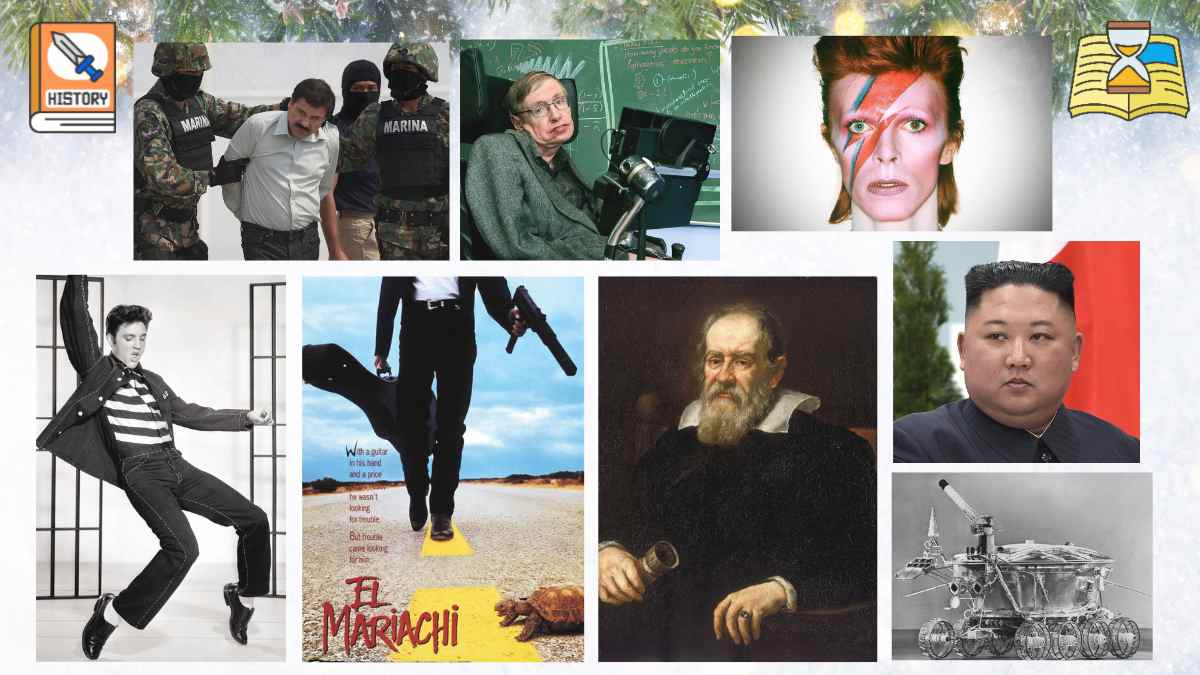 This day in history (8 Jan): Birth of Elvis Presley and Stephen Hawking
Today in History, 8 January: 2023 is advancing rapidly, and a week has already passed by. Today is January 8, the first day of the second week of January. Although it appears to be just a mundane winter day, January 8th holds a pivotal place in world history.
From the births of two of the greatest singers and performers in history, a modern physics pioneer, and a dreaded dictator to the demise of the most influential astronomer of all time and a legendary explorer, the capture of a notorious drug lord, and the professional debut of the greatest golfer ever, many important events transpired on 8 January.
Keep reading to learn what happened on this day (Jan. 8) in sports, politics and art, along with famous birthdays and deaths in world history.
Related | Today in History (9 January)
Historical Events On This Day
In 871, the King of Wessex, Aethelred I and Alfred the Great successfully repelled an invasion by the Viking army in the Battle of Ashdown.
In 1815, American General Andrew Jackson led his forces to victory against British forces in the Battle of New Orleans in the War of 1812.
In 1828, the Democratic Party of the United States was founded.
In 1867, after years of discrimination and slavery, African-American men were granted the right to vote.
In 1918, US President Woodrow Wilson issued his Fourteen Points speech to be used for peace negotiations to end World War I.
In 1959, Charles de Gaulle was inaugurated as president of France's Fifth Republic.
In 1973, the Soviet Union's unmanned space mission Luna 21 was launched to study the surface of the Moon.
In 2011, American Democrat politician and advocate for gun control Gabby Giffords was shot in the head during an assassination attempt but survived though six others were killed.
In 2016, notorious Mexican drug lord Joaquin Guzman, aka "El Chapo," leader of the Sinaloa drug cartel, was captured six months after escaping prison.
In 2021, US President Donald Trump was permanently banned from Twitter for spreading misinformation and inciting the Capitol insurrection
Sports Events Today
In 1962, one of the greatest golfers of all time, Jack Nicklaus, made his professional debut at age 21.
In 1993, American basketball star Michael Jordan became the second-fastest to register 20,000 points in the NBA.
Cinema Events Today
In 1993, filmmaker Robert Rodriguez's shoestring-budget film El Mariachi debuted at the Toronto Film Festival.
In 2017, Casey Affleck won Best Actor (Manchester by the Sea) and Mahershala Ali (Moonlight) won the Best Supporting Actor award at the 74th Golden Globes.
Notable Deaths On This Day
| | | |
| --- | --- | --- |
| Sr No | Death Year | Personality |
| 1 | 1324 | Marco Polo, Italian explorer who travelled on the Silk Road and recorded his experiences of the cultures of China, Mongol Empire, India, Persia and Japan |
| 2 | 1642 | Galileo Galilei, Italian astronomer and physicist who is regarded among the most influential people in science for his contributions to motion, gravity, pendulums, invention of the thermoscope and for discovering the moons of Jupiter, Saturn's rings and phases of Venus |
| 3 | 1765 | Eli Whitney Jr, American inventor who led the Industrial Revolution with his invention of the Cotton Gin |
| 4 | 1965 | Bimal Roy, Indian filmmaker known for his grounded and hard-hitting movies like Do Bigha Zamin, Parineeta and Devdas |
Famous Birthdays On This Day
| | | |
| --- | --- | --- |
| Sr No | Birth Year | Personality |
| 1 | 1823 | Alfred Russel Wallace, British naturalist and explorer who was the co-discoverer of the theory of evolution |
| 2 | 1902 | Carl Rogers, American psychologist who founded the humanistic approach to psychology focusing on the intimate person-to-person relationship between patient and therapist |
| 3 | 1912 | Jose Ferrer, Puerto Rican actor known for his roles in Cyrano and Moulin Rouge |
| 4 | 1935 | Elvis Presley, American singer, also called the "King of Rock and Roll," known for his charisma and energetic and sexually charged stage performances |
| 5 | 1942 | Stephen Hawking, English physicist and cosmologist who was diagnosed with motor neuron disease at age 21 but still made significant contributions to science, especially black holes, and wrote the book A Brief History of Time |
| 6 | 1947 | David Bowie, English singer and actor known for his flamboyant persona and genre bending music in songs like "Under Pressure", "Heroes" and "Space Oddity" |
| 7 | 1951 | John McTiernan, American filmmaker known for his '80s classic action movies Predator and Die Hard |
| 8 | 1967 | R. Kelly, American singer, former basketball player and convicted sex offender |
| 9 | 1984 | Kim Jong-un, North Korean politician and dictator since 2011 |
Related | Today in History (7 January)
Related | Today in History (5 January)
FAQ
What happened today in history (8 January)?
Notorious drug lord El Chapo was recaptured in Mexico after his prison escape and the Battle of Ashdown between Saxons and Vikings took place on 8th January in history.
Which famous personality was born on this day, 8 January?
American rock and roll star Elvis Presley and English singer David Bowie were born today (8 Jan).
What major sports events took place on 8 January?
Jack Nicklaus, one of the greatest golfers of all time, played his first professional game on this day, 8 January.