Today In History, 5 January: What Happened On This Day
What happened today in history (5 January): The birth of Shah Jahan, Hayao Miyazaki, Deepika Padukone and Robert Duvall, the demise of Momofuku Ando, foundation of the German Workers' Party, discovery or planet Eris, first ODI cricket match, and more.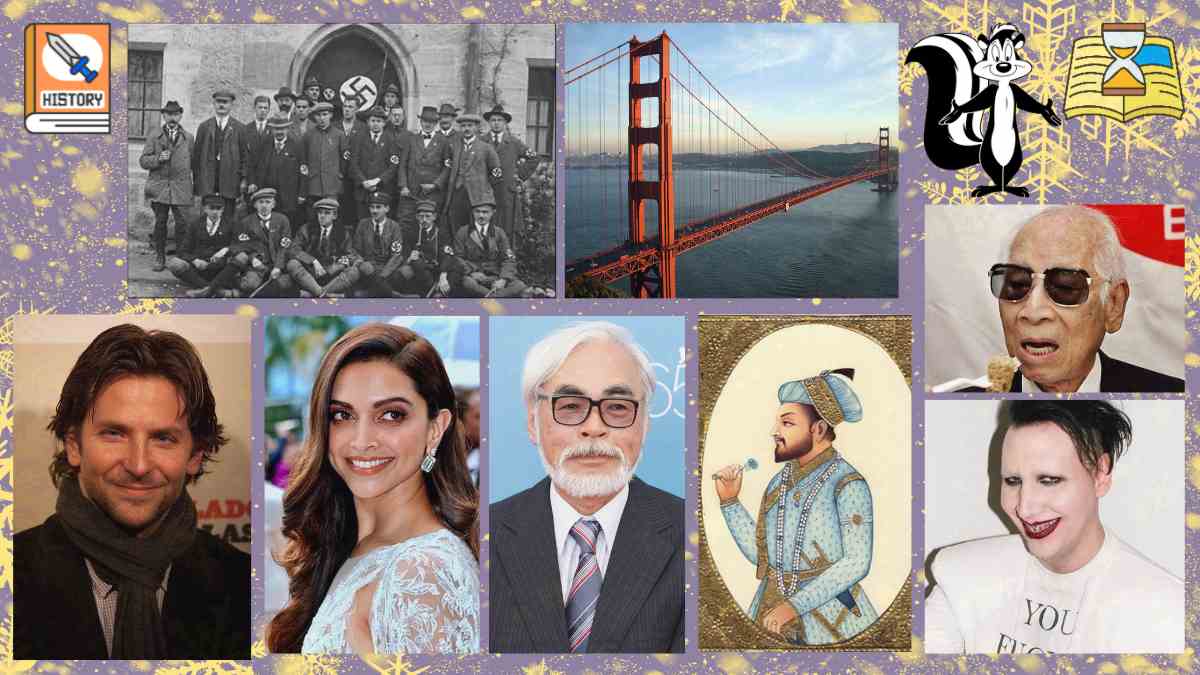 This day in history (5 Jan): Birth of Shah Jahan and Deepika Padukone
Today in History, 5 January: The holiday season is now over, and another wonderful year has arrived. As 2023 continues to chill, literally, it's time to take a look at the historical significance of the first month of January.
Today is January 5. It appears to be an ordinary winter day on the surface, but 5th January holds a pivotal place in world history.
From the births of the maker of Taj Mahal and the greatest Japanese anime filmmaker to the demise of the inventor of instant noodles, founding of the precursor to Germany's Nazi party, the first ODI cricket match, and the discovery of the second dwarf planet in the solar system, many defining events occurred on 5 January.
Keep reading to find out what happened on this day (Jan. 5) in sports, politics and art, along with famous birthdays and deaths in world history.
Historical Events On This Day
In 1895, French officer Alfred Dreyfus was convicted of treason, publicly stripped, and sentenced to life imprisonment on Devil's Island, sparking the Dreyfus Affair.
In 1919, Anton Drexler founded the far-right German Workers' Party, which eventually led to Hitler's Nazi party.
In 1933, the construction of the iconic Golden Gate Bridge in San Francisco began.
In 1972, American president Richard Nixon announced the Space Shuttle Program, which launched satellites and worked on telescopes and the International Space Station.
In 2005, the dwarf planet Eris was discovered in our solar system.
In 2014, the first successful flight of an Indian cryogenic engine took place with the launch of the communication satellite GSAT-14.
Sports Events Today
In 1971, the first ODI cricket match in history was played between Australia and England at the Melbourne Cricket Ground.
In 1993, West Indies cricket legend Brian Lara scored his maiden test century in a match against Australia.
In 2016, 15-year-old Indian schoolboy Pranav Dhanawade became the first batsman to score 1000 runs in a single inning in cricket.
Art and Culture Events Today
In 1886, Robert Louis Stevenson's "Strange Case of Dr Jekyll and Mr Hyde" was published.
In 1945, the controversial cartoon character Pepe LePew debuted in Warner Bros.' "Odor-able Kitty."
In 1953, acclaimed Irish playwright Samuel Beckett's play "Waiting for Godot" was staged for the first time.
In 1959, American rock and roll singer Buddy Holly released his last record, "It Doesn't Matter."
In 1973, American rock musician Bruce Springsteen released his debut album, "Greetings from Asbury Park, NJ."
Notable Deaths On This Day
| | | |
| --- | --- | --- |
| Sr No | Death Year | Personality |
| 1 | 1066 | Edward the Confessor, King of England and the last King from the House of Wessex |
| 2 | 1762 | Elizabeth, Empress of Russia (1741-62) who is known for her peaceful reign marked by zero executions, opposition to Prussian policies and developing infrastructure |
| 3 | 1939 | Amelia Earhart, American aviator and the first woman to fly solo across the Atlantic |
| 4 | 1970 | Max Born, German physicist and mathematician who helped develop quantum mechanics and optics, winning the Nobel Prize in Physics in 1954 |
| 5 | 2007 | Momofuku Ando, Taiwanese-Japanese inventor known for creating instant noodles and founding the brand Top Ramen |
Famous Birthdays On This Day
| | | |
| --- | --- | --- |
| Sr No | Birth Year | Personality |
| 1 | 1592 | Shah Jahan, Mughal Emperor of India (1628-58) who built the Taj Mahal in memory of his wife Mumtaz |
| 2 | 1874 | Joseph Erlanger, American physiologist and neuroscientist who won the Nobel Prize in 1944 for discoveries about nerve fibers |
| 3 | 1931 | Robert Duvall, veteran American actor known for his roles in The Godfather and Apocalypse Now |
| 4 | 1932 | Umberto Eco, Italian philosopher, novelist and literary critic best known for his novel The Name of the Rose |
| 5 | 1941 | Hayao Miyazaki, Japanese filmmaker co-founder of Studio Ghibli, one of the greatest anime studios of the era. Miyazaki is best known for creating the movies Spirited Away and Princess Mononoke |
| 6 | 1941 | Mansoor Ali Khan, Nawab of Pataudi and Indian cricketer |
| 7 | 1955 | Mamta Bannerjee, Indian politician and Chief Minister of West Bengal since 2011 |
| 8 | 1969 | Marilyn Manson, American metal and rock musician known for his distinctive appearance and songs "The Dope Show" and "Tainted Love" |
| 9 | 1975 | Bradley Cooper, American actor and filmmaker known for the movies, A Star is Born, American Sniper and The Hangover |
| 10 | 1986 | Deepika Padukone, Indian actress who predominantly works in Bollywood films and is known for starring in Padmaavat, Om Shanti Om and Ram Leela |
Also Read | Today in History (4 January)
Also Read | Today in History (3 January)
FAQ
Which famous personality was born on this day, 5 January?
American actor/filmmaker Bradley Cooper and Bollywood star Deepika Padukone were born today (Jan 5).
What major sports events took place on 5 January?
The first ODI cricket match in history was played on this day in 1971, between Australia and England at the iconic MCG stadium.