Today In History, 3 January: What Happened On This Day
What happened today in history (3 January): Birth of Michael Schumacher and J.R.R. Tolkien, the creation of bitcoin, first sale of the flip phone, excommunication of Martin Luther, and more.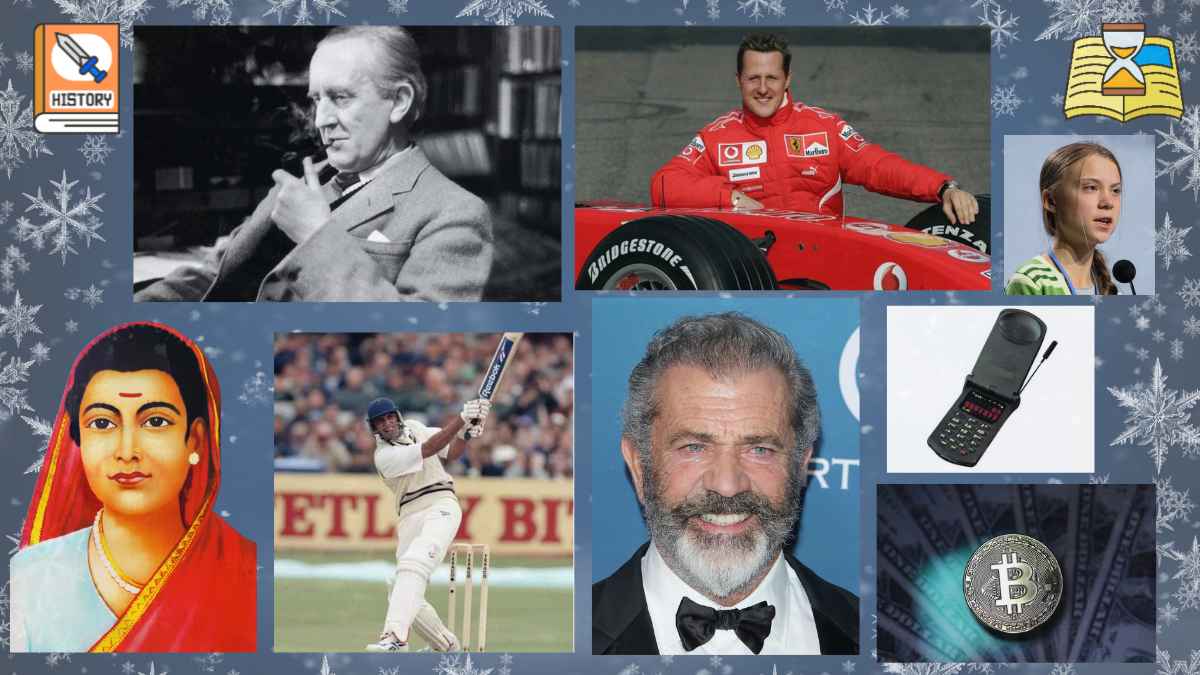 This day in history (3 Jan): Birth of Michael Schumacher and Invention of Bitcoin
Today in History, 3 January: 2023 has arrived and has brought with it a cold wave like no other. As the world combats the chilly weather and relishes the New Year, it's time to learn about the historical significance of the month of January.
Today is January 3rd. The day doesn't appear to be of much importance on the surface, but it holds a major place in world history.
From the births of the greatest fantasy writer and one of the greatest Formula One racers to the creation of the first digital currency, the sale of the first flip phone, and the emancipation of a famous American slave, many pivotal events took place on 3 January.
Read on to find out what happened on this day (Jan. 3) in sports, politics and art, along with famous birthdays and deaths in world history.
Historical Events On This Day
In 1496, Leonardo da Vinci unsuccessfully tested a flying machine.
In 1521, Martin Luther, German priest and Catholicism critic was excommunicated by Pope Leo X and condemned as an outlaw by the Holy Roman Emperor Charles V.
In 1853, Solomon Northup, the American writer of the memoir "Twelve Years a Slave" was freed after 7 illegal years in slavery.
In 1925, Italian fascist leader Benito Mussolini dissolved the Italian parliament and officially proclaimed himself the dictator of Italy.
In 1938, US President Franklin D. Roosevelt, a polio patient, established the National Foundation for Infantile Paralysis, or the March of Dimes, to find a cure for polio.
In 1977, Apple Computer, inc was incorporated by Steve Jobs and Steve Wozniak.
In 1996, Motorola's StarTAC, the first flip phone, went on sale.
In 2001, American politician Hillary Clinton became the first first lady to get elected to office in US history.
In 2004, NASA's Mars Exploration Rover Spirit landed on Mars to study the chemical and physical composition of the planet's surface.
In 2009, the bitcoin network of digital currency was created by an anonymous person(s) under the pseudonym Satoshi Nakamoto.
Sports Events Today
In 1985, Indian cricketer Mohammad Azharuddin scored 110 on debut in the drawn 3rd test against England in Kolkata.
In 1991, Wayne Gretzky became the fastest and youngest NHL player to score 700 goals.
Art and Culture Events Today
In 1893, Pyotr Ilyich Tchaikovsky's final opera, "Iolanta," was first performed outside of Russia in Hamburg, Germany.
In 1987, American soul singer Aretha Franklin became the first female artist to be inducted into the Rock and Roll Hall of Fame.
Notable Deaths On This Day
| | | |
| --- | --- | --- |
| Sr No | Death Year | Personality |
| 1 | 1543 | Juan Rodriguez Cabrillo, Portuguese-Spanish conquistador, who conquered Central America and discovered California |
| 2 | 1967 | Jack Ruby, American nightclub owner who killed Lee Harvey Oswald, the assassin of US President John F. Kennedy |
| 3 | 2002 | Satish Dhawan, Indian mathematician and aerospace engineer regarded as the father of experimental fluid dynamics research in India |
| 4 | 2014 | Phil Everly, American rock and roll singer who delivered superhit songs like "Bye Bye Love" and "Wake Up Little Susie" as part of the rock duo The Everly Brothers |
Famous Birthdays On This Day
| | | |
| --- | --- | --- |
| Sr No | Birth Year | Personality |
| 1 | 106 BC | Cicero, Roman philosopher, lawyer and politician |
| 2 | 1831 | Savitribai Phule, Indian social reformer, educationalist and poet who worked tirelessly to improve women's rights in India |
| 3 | 1883 | Clement Attlee, British politician and Prime Minister (1945-51) who oversaw the Independence of India |
| 4 | 1892 | J.R.R. Tolkien, English writer and philologist who wrote the greatest fantasy novel series The Lord of the Rings |
| 5 | 1929 | Sergio Leone, Italian filmmaker who popularised the spaghetti western film genre with his iconic movies like The Good, the Bad and the Ugly |
| 6 | 1946 | John Paul Jones, English bassist and songwriter of the iconic rock band, Lez Zeppelin |
| 7 | 1956 | Mel Gibson, American-Australian actor and filmmaker who is known for his prowess both in front of and behind the camera. Gibson directed Oscar winning film Braveheart, action films Mad Max and Lethal Weapon series, and Biblical epic The Passion of the Christ. |
| 8 | 1969 | Michael Schumacher, German F1 racer who is regarded as one of the greatest car racers in history |
| 9 | 2003 | Greta Thunberg, Swedish climate change activist |
Also Read | Today in History (2 January)
Also Read | Today in History (1 January)