Today In History, 9 January: What Happened On This Day
What happened today in history (9 January): The birthdays of Sunderlal Bahuguna, Catherine, Princess of Wales and Richard Nixon, Marathas defeated in Battle of Barari Ghat, iPhone announced by Apple, world's first circus staged, NRI Day in India, and more.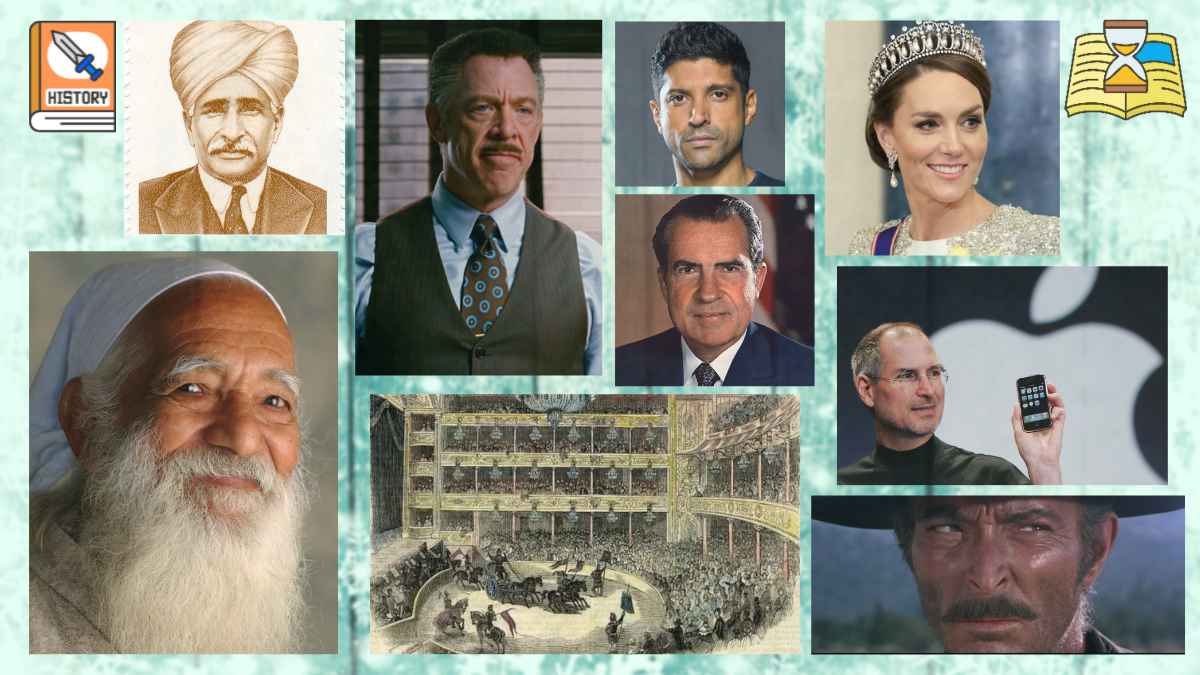 This day in history (9 Jan): The Birth of Sunderlal Bahuguna and Richard Nixon
Today in History, 9 January: One week in, and 2023 continues to chill. But no matter how bitter the cold, the world doesn't stop. On that note, let's take a look at the historical significance of the month of January.
Today is 9 January. Although it appears to be like any other chilly and lazy winter day, January 9th holds a crucial place in world history.
From the births of one of the most influential Indian environmentalists, an infamous American president, and the princess of Wales to the shock defeat of the Marathas by Afghans, the announcement of the iPhone by Steve Jobs, and the introduction of the income tax in Britain, many significant events occurred on 9 January.
Read on to learn what happened on this day (Jan. 9) in sports, politics and art, along with famous birthdays and deaths in world history.
Historical Events On This Day
In 1349, 700 Jews were burned alive for allegedly spreading the bubonic plague in Basel, Switzerland.
In 1760, the Marathas were defeated by the Afghans led by Ahmad Shah Durrani in the Battle of Barari Ghat.
In 1799, British Prime Minister William Pitt the Younger introduced an income tax to raise funds for the war against Napoleon Bonaparte.
In 1839, the world's first commercial photography, the Daguerreotype, was proclaimed by Louis-Jacques-Mandé Daguerre of France.
In 2001, Apple introduced its iconic digital media player application, iTunes.
In 2005, Mahmoud Abbas was elected president of the Palestine Liberation Organization, succeeding Yasser Arafat.
In 2007, Apple inc. CEO Steve Jobs introduced the iPhone, a revolutionary invention combining touch capabilities, iPod, a camera and other features.
Sports Events Today
In 1942, African-American boxer Joe Louis KOed Buddy Baer in the first round at the MSG and defended his world heavyweight title for the 20th time.
In 1998, Soviet chess legend Anatoly Karpov defeated India's Viswanathan Anand to retain his chess title.
In 2012, Argentina and Barcelona forward Lionel Messi won a record third consecutive Ballon d'Or award.
Art and Culture Events Today
In 1768, British equestrian Philip Astley staged the world's first modern circus in London.
In 1984, American hard rock band Van Halen released its most successful album, "1984."
In 2001, American pop singer Michael Jackson received the Artist of the Century award at the 29th American Music Awards.
Important Days
Pravasi Bharatiya Divas (India): Pravasi Bharatiya Divas or NRI Day commemorates the return of Mahatma Gandhi to Mumbai from South Africa and celebrates the achievements of the Indian community overseas.
Notable Deaths On This Day
| | | |
| --- | --- | --- |
| Sr No | Death Year | Personality |
| 1 | 1873 | Napoleon III, French politician, nephew of Napoleon I, and the first President of France |
| 2 | 1923 | Katherine Mansfield, New Zealand writer and journalist who is considered one of the most influential authors of the modernist movement |
| 3 | 1945 | Sir Chhoturam, Indian politician and campaigner of the rights of marginalized communities, who co-founded the National Unionist Party and ruled the United Punjab Province in British India |
| 4 | 2022 | Bob Saget, beloved American comedian, actor and television host known for starring in the sitcom, Full House |
Famous Birthdays On This Day
| | | |
| --- | --- | --- |
| Sr No | Birth Year | Personality |
| 1 | 1913 | Richard Nixon, 37th US President who became the first American president to resign from office fearing impeachment for the Watergate scandal |
| 2 | 1922 | Har Gobind Khorana, Indian American biochemist who won the 1968 Nobel Prize for Physiology for research on the order of nucleotides and nucleic acids in the cell |
| 3 | 1925 | Lee Van Cleef, American actor who appeared in over 170 films and is best known for playing the villainous "Angel Eyes" in Sergio Leone's spaghetti-western classic, The Good, the Bad and the Ugly |
| 4 | 1927 | Sunderlal Bahuguna, Indian environmentalist and leader of the Chipko movement to stop commercial felling of trees in the Garhwal forests |
| 5 | 1941 | Joan Baez, American folksinger and activist who blended themes of protest and social justice in her music |
| 6 | 1944 | Jimmy Page, English guitarist who founded the iconic rock band Led Zeppelin |
| 7 | 1955 | J.K. Simmons, American actor known for his versatile performances in films like Spider-Man and Whiplash |
| 8 | 1974 | Farhan Akhtar, Indian actor, writer, director, singer lyricist and television host |
| 9 | 1982 | Catherine, Princess of Wales and consort to Prince William, heir to the British throne |
Related | Today in History (8 January)
Related | Today in History (7 January)
FAQ
What happened today in history (9 January)?
Apple CEO Steve Jobs first announced the iPhone and world's first modern circus was staged on this day.
Which famous personality was born on this day, 9 January?
Veteran Hollywood actor J.K. Simmons and Bollywood star Farhan Akhtar were born today (9 Jan).
What major sports events took place on 9 January?
Lionel Messi won his third consecutive Ballon d'Or award and Soviet chess grandmaster Anatoly Karpov defended his world champion title against Viswanathan Anand on 9th January.