Today In History, 11 January: What Happened On This Day
What happened today in history (11 January): The birthday of Rahul Dravid and Kailash Satyarthi, demise of Lal Bahadur Shastri and Edmund Hillary, first use of insulin injection, naming of Bangladesh, and more.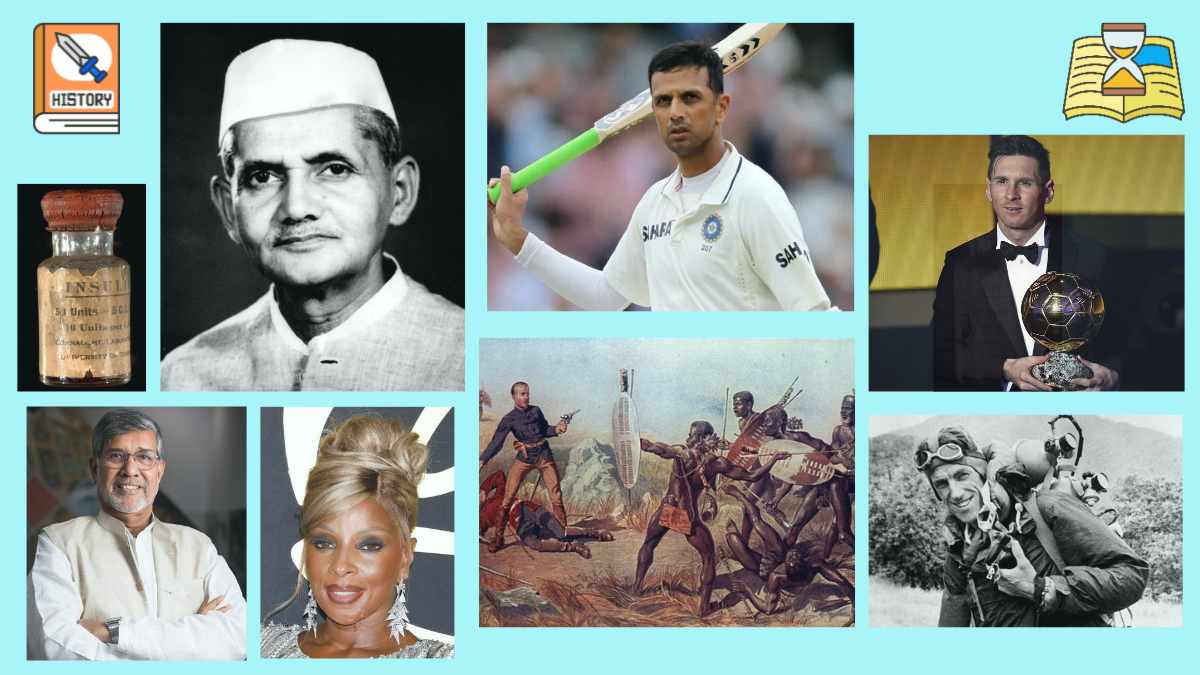 This day in history (11 Jan): Death of Lal Bahadur Shastri and Birth of Rahul Dravid
Today in History, 11 January: 2023 has been a chilling year so far. As most of the world shivers from the bitter cold, let's not fall into the trap of slacking off. Learning is a continuous process.
Today is 11 January, another seemingly ordinary day in the winter month of January. However, 11th January marks a pivotal place in world history.
From the birth of one of the greatest Indian cricketers, the mysterious death of a famed Indian Prime Minister and the inventor of condensed milk to the first human application of insulin injection, the beginning of the Anglo-Zulu war, and the name change of Bangladesh, many key events occurred on 11 January.
Keep reading to find out what happened on this day (Jan. 11) in sports, politics and art, along with famous birthdays and deaths in world history.
Historical Events On This Day
In 630, prophet Muhammad and his followers conquered the city of Mecca.
In 1569, the first recorded lottery in England was drawn in St. Paul's Cathedral.
In 1779, Ching-Thing Khomba was crowned king of Manipur.
In 1787, German-British astronomer William Herschel discovered Titania and Oberon, the two moons of Uranus.
In 1879, the Anglo-Zulu War began between the British forces and the Kingdom of Zululand in Africa.
In 1922, Canadian scientist and physician Frederick Banting first used insulin on humans to treat diabetes by injecting 14-year-old Leonard Thompson.
In 1935, famed American aviator Amelia Earhart made the first successful solo flight from Hawaii to California.
In 1966, Indian Prime Minister Lal Bahadur Shastri mysteriously died in Tashkent, Uzbekistan, just a day after signing the peace treaty to end the Indo-Pakistan War. Many conspiracy theories surround the incident, including that he was poisoned by the CIA.
In 1972, the Indian neighbouring country of East Pakistan adopted the name Bangladesh.
In 1996, the Space Shuttle Endeavour was launched by NASA on mission STS-72 to retrieve the Japanese research satellite Space Flyer Unit.
Sports Events Today
In 1893, Dutch skater Jaap Eden set the record for 1,500 m speed skating in 2:35.
In 2016, Barcelona and Argentina forward Lionel Messi wins his record fifth FIFA Ballon d'Or award.
Art and Culture Events Today
In 1927, Louis B. Mayer, head of the MGM film studio, announced the creation of the Academy of Motion Picture Arts and Sciences, which is today known for its Academy Award, aka the Oscars.
In 1976, acclaimed American playwright Stephen Sondheim's iconic musical "Pacific Overtures" opened at the Winter Garden Theater in New York City.
In 2007, English author J.K. Rowling finished the final instalment of her acclaimed Harry Potter series, The Deathly Hallows.
Important Days
National Human Trafficking Awareness Day 2023 (US)
Republic Day (Albania)
Prithvi Day (Nepal)
Notable Deaths On This Day
| | | |
| --- | --- | --- |
| Sr No | Death Year | Personality |
| 1 | 1874 | Gail Borden, American land surveyor and inventor ho developed the process to make sweetened condensed milk |
| 2 | 1928 | Thomas Hardy, English novelist and poet known for the books "Tess of the d'Urbervilles" and "Jude the Obscure" |
| 3 | 1966 | Lal Bahadur Shastri, second Prime Minister of India (1964-66) who led the country during the Indo-Pakistan War of 1965 and gave the popular slogan "Jai Jawan, Jai Kisan" |
| 4 | 1991 | Carl David Anderson, American physicist and Nobel Laureat known for discovering the positron |
| 5 | 2008 | Edmund Hillary, New Zealand explorer and mountaineer who was the first person along with Tenzing Norgay, to climb Mount Everest |
| 6 | 2013 | Aaron H. Swartz, American computer programmer who helped develop the creative commons license and Reddit |
Famous Birthdays On This Day
| | | |
| --- | --- | --- |
| Sr No | Birth Year | Personality |
| 1 | 347 | Theodosius 1, Roman emperor (379-95) known for promoting Christianity and resolved conflict with the Goths |
| 2 | 1842 | William James, prominent American psychologist who developed popularized psychology in the mainstream and founded the disciplines functionalism and pragmatism |
| 3 | 1885 | Alice Paul, American women's right activist and feminist who fought for the right to vote in USA |
| 4 | 1906 | Albert Hoffman, Swiss chemist known for inventing the psychedelic drug lysergic acid diethylamide (LSD) |
| 5 | 1923 | Carrol Shelby, American race car driver, automobile designer and businessman who helped revolutionize the Mustang for Ford Motor Company |
| 6 | 1954 | Kailash Satyarthi, Indian engineer, academic, and activist who won the Nobel Peace Prize in 2014 |
| 7 | 1971 | Mary J. Blige, American rapper and actress often referred as the "Queen of Hip-Hop Soul" |
| 8 | 1973 | Rahul Dravid, Indian cricket batsman, coach and former captain of the Indian National Team, known for his reliability and slow-paced playing style |
| 9 | 1997 | Cody Simpson, Australian pop singer and actor known for his breakout hit "La Da Dee" |
Related | Today in History (10 January)
Related | Today in History (9 January)
FAQ
What happened today in history (11 January)?
Former Indian Prime minister Lal Bahadur Shastri mysteriously passed away in Tashkent on this day in 1966.
Which famous personality was born on this day, 11 January?
Former Indian cricket captain and renowned batsman Rahul Dravid was born today (11 Jan).
What major demises occurred on 11 January?
Former Indian Prime Minster Lal Bahadur Shastri, first Mt. Everest climber Edmund Hillary, and American inventor (condensed milk) Gail Borden.