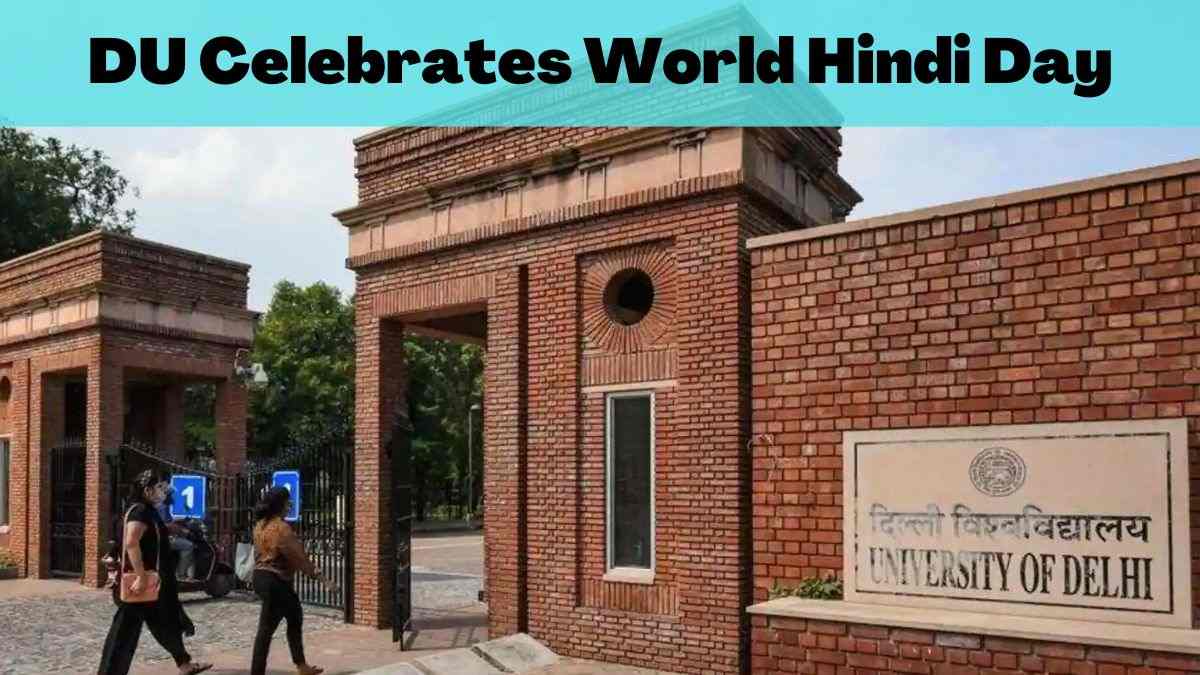 DU Celebrates World Hindi day: The University of Delhi celebrated 'World Hindi Day' on January 10, 2023. The university organized an event where lecturers focused on the promotion of the Hindi language. The event was conducted at the Vice Regal Lodge, convention hall at DU.Dr. Sachchidanand Joshi, Member Secretary, IGNCA was invited as a chief guest to grace the event with his presence and valuable words.
In his speech, he put emphasis on enriching Hindi vocabulary and said that there is a need to assimilate technical words from other languages in the Hindi vocabulary. He further focused on the fact that Hindi does not always need to be spoken with big or formal words, people can use informal words and they will be effective in the same way.
Talking about the role of Hindi in NEP 2020, Dr. said that due to the non-availability of the curriculum in local languages, children studying in rural government schools are not able to get higher education. He further emphasised the fact that we have an inferiority complex about speaking Hindi and we think that speaking in Hindi will undermine us.
Challenges faced by Hindi Language
Speaking about the importance of Hindi and the hurdles this language has faced, Vice Chancellor of DU Professor Yogesh Singh in his presidential address said that Hindi is the language of love and personal touch. It is the language of our mind. Hindi is a popular, easy, and simple language, let it be like that. He further said that Hindi has never received government support, in spite of this, the language is continuously moving forward and flourishing.
Professor Yogesh Singh said that the language of government work was not Hindi in the British era and it is still not so even after independence. He also appreciates the cooperation of the South Indian people to make Hindi the national language in the constitution even though it didn't get enough support from the leaders of North India.
Splendour of Hindi to Increase Soon
The Vice-Chancellor said that the prevalence of Hindi is increasing day by day. When the Prime Minister of India addresses foreign countries in Hindi, the value of Hindi increases. The Vice-Chancellor said that by 2047 India will have to become a developed nation. With that, the splendour of Hindi will automatically increase.
On this occasion, Director of University of Delhi South Delhi Campus, Pro Anoop Lather Professor Prakash Singh, Convenor of Centenary Celebration Committee, Professor Neera Agnimitra, and Proctor Professor Rajni Abbi, including many officers, teachers, and students were present.
Also Read: UGC Chairman Motivates Indian Publishers To Write Technical and Non-Technical Books in Regional Languages
REGISTER FOR RESULTS UPDATES