3 Step career selection strategies for professionals
In grabbing a job, every step that you take matters. Here, we have explained to them in the right order that can help you easily to get hired by employers.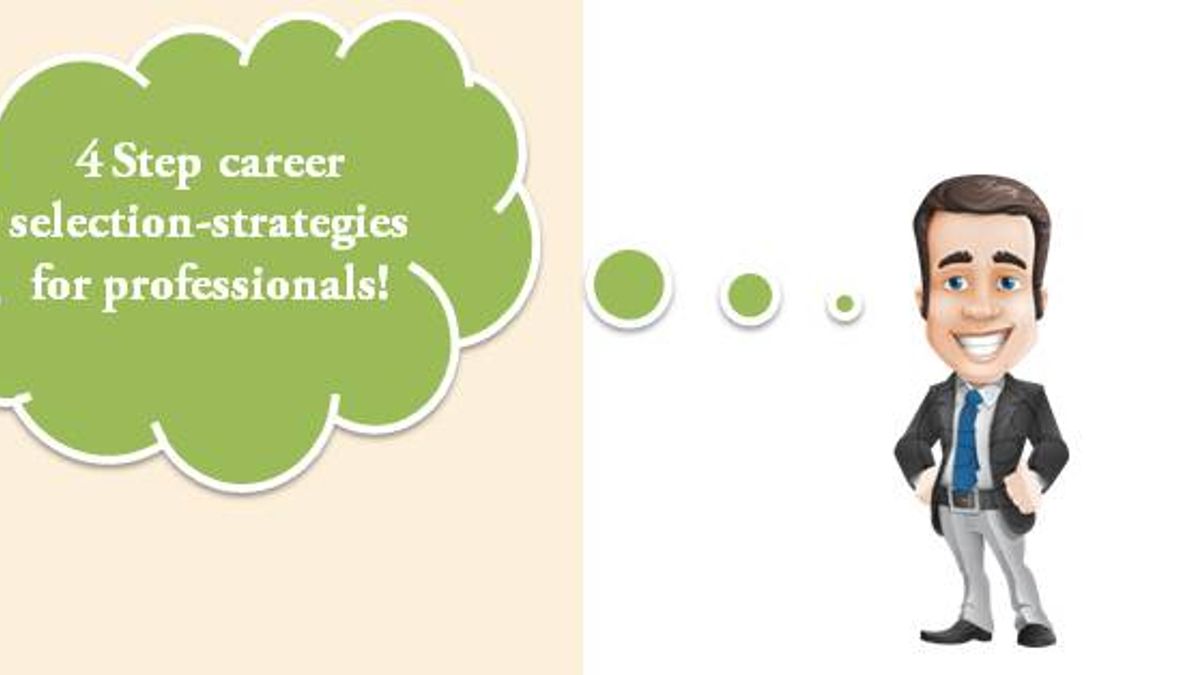 4 Step career selection-strategies for professionals
A well-organized thought process is pivotal when it comes to taking right decisions; especially when it comes to critical aspects of life such as career selection. Because you may make mistakes if you don't go through an orderly and organized thought process. But, examining the different aspects related to a particular career option and evaluating one's interest as well as the scope for future isn't like a cakewalk that you can easily accomplish. In other words, it's a difficult and complex task. Failing to do it may lead you to the consequences that could have bad effects on your professional as well as personal life. So, when thinking about career selection, you should go through an orderly and arranged thought process. In this article, we will discuss a concrete 3 step career-selection strategy that can help you to pick the right career option and build a lucrative career in it.
Self Assessment
One who doesn't know himself/herself can't take right decisions but get confused, especially while thinking about career selection. So, before you pick a career option, you have to assess yourself and understand your priorities. These may be your interest, values, personality traits, and attitudes that could lead to the right career choice. So, the first step is to introspect yourself with the help of the below-given aspects.
Interest
So, what is it that always keeps you excited? It may probably be a particular kind of tasks that you enjoy more than feeling tired of while doing. So, first, you need to figure it out and then, to keep it into your consideration while taking decisions on career options.
Values
Despite being paid enough, the working professionals sometimes fail to perform at work. It may also happen to you if you fail to select the right career option or company. The reason may include the values of the organization that could create a daunting situation for you to keep survive. After all, values sometimes matter more than benefits. So, first check if the values associated with a career option or the organization is matching to your own or not and then, take decision accordingly.
Personality
Your way of interaction depends on the kind of personality that you're possessing. It may include your habitual behaviour, cognition, or emotional pattern that could have an effect on your overall personality. It may wear you down if a career option is chosen without taking the personality into consideration. So, be careful and cautious about your personality while taking a decision on the career.
Aptitudes
If you have some kind of ability, then take it into consideration while taking decisions regarding job, career, or field. It may include the type of workplace, for example, indoor or outdoor, office or factory, and noisy or quiet, that could have an apparent effect on your overall performance at work. So, be careful with this one, too while selecting a career option.
Career Exploration
After self-assessment, it's one of the most important steps that you need to take to select a right career option for rest of your life. Failing at it may cost you a lot. So, you need to examine every possible aspect related to the career that you're eyeing as occupation. Here, we have what you need to examine.
Occupation
Figure out whether the occupation that you're eyeing for, as your career option is matching to the result of the self-assessment or not. If completely not, then take a pause and begin to rethink over the same before taking any hasty decision.
Salary structure
If an occupation doesn't pay you enough, then you can't even survive in the industry. Despite the fact, selecting such career option which can't pay you enough for survival may lead to miseries, failure, and depression that could badly affect your professional as well as personal life. So, be careful about the salary structure while career –selection.
Job outlook
Like others, you also want to achieve success and growth in your professional as well as personal life. But, you can't gain the same if the profession that you want to practice actually doesn't have opportunities for it. So, before taking any on the part career-selection, try to know about the opportunities for growth and success in the occupation. If there is nothing promising, then think again on occupation selection.
Final step
After going through two necessary stages of thought process, you need to materialize your decision to get into profession, company or industry for success and growth. It requires you to be prepared, organized, and confident. So, get prepared with the key points we have tried to explain here below.
Action plan
After taking a concrete decision on career-selection, you need to draw an action-plan how to enter a particular profession, company, or industry. Your effort and time may go in vain if you don't make job application in an organized and prepared way. For it, draw an action-plan so that you can make job application in right manner.
Job search
After drawing an action-plan, begin to search for the companies which are hiring the candidates. For it, you can take help of online job boards, LinkedIn profile, working professionals, and some other sources. It would help you to easily get hired by a company.
Interview preparation
You can't get a job if you fail to crack job interview. For it, you require being well prepared. So, know about every possible question, skills, or expertizes that you might be asked about, in your job interview. This way you can easily get a job that you're eyeing as your career option.
Conclusion
At a time when the verities of jobs are growing with the ever-increasing number of new corporate sectors, selecting a right option is quite a difficult task. But, with the self-assessment, career exploration, and organized action, it could easily be selected. In this article, we have tried to explain 3 stepped career selection process that can help you to choose the right career destination.