VIT Riviera' 18 - One of India's finest student cultural extravaganza comes to a close
In a clear indication that Riviera, the annual students cultural and sports festival of Vellore Institute of Technology (VIT) University is all set to become the most sought after students festival in this region of India in terms of participation, scale and magnitude of events and prize money, the 2018 edition of the event saw participation from 42,000 students, including those from universities and colleges from as many as 29 countries.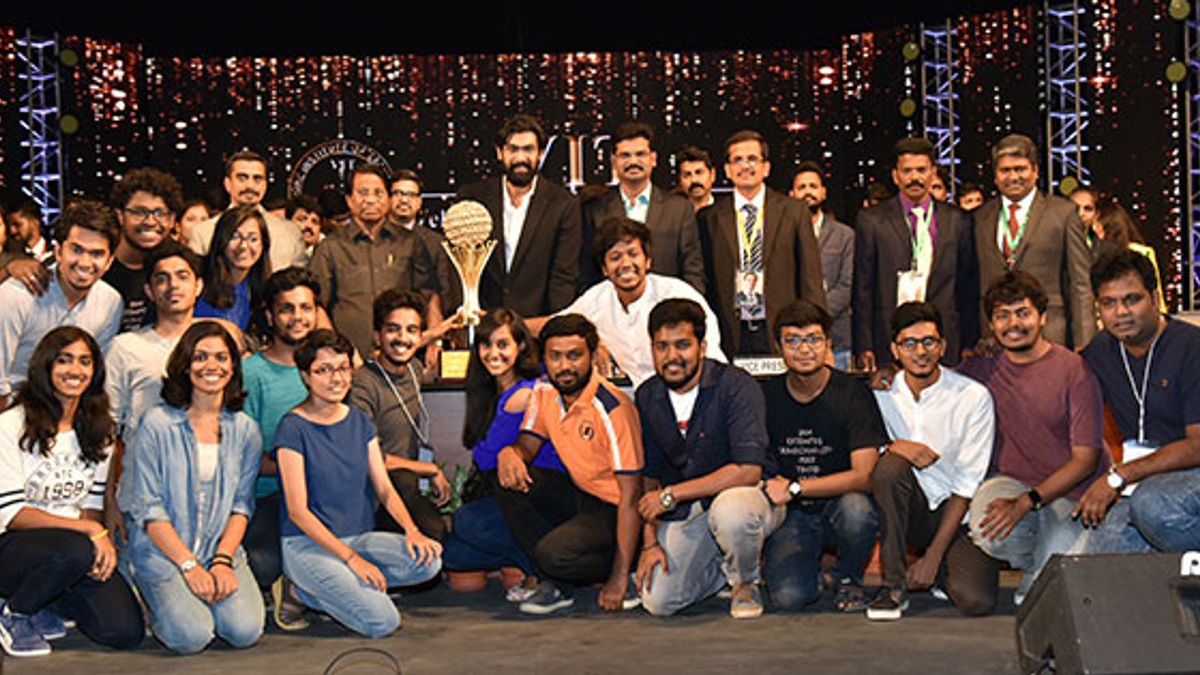 Vellore Institute of Technology (VIT) University
VELLORE: In a clear indication that Riviera, the annual students cultural and sports festival of Vellore Institute of Technology (VIT) University is all set to become the most sought after students festival in this region of India in terms of participation, scale and magnitude of events and prize money, the 2018 edition of the event saw participation from 42,000 students, including those from universities and colleges from as many as 29 countries.


Curtains came down on the four-day extravaganza on Sunday evening. Hosts VIT University bagged the overall trophy for Sports, while Loyola College, Chennai were runners-up. SASTRA University, Thanjavur, bagged the overall trophy for cultural events and Christ University, Bengaluru, were runners-up. Popular actor Rana Dagubatti was the chief guest at the valedictory function and handed over the prizes to the overall winners.
In his address at the valedictory function held at the open air auditorium at the main sports field, Dr. G.Viswanathan, Founder and Chancellor, VIT University, said that VIT University was the leader on many fronts. He said that they expected about 38,000 students to take part in this year's edition of Riviera, but the actual turnout far exceeded their expectations and in the end, over 42,000 students took part. He lauded actor Rana Dagubatti, saying that he belonged to the illustrious Rama Naidu family and that he had a bright future in the film industry.




Mr. Dagubatti recalled that his father was a mechanical engineer and that he too wanted to study engineering and become an engineer, but life had brought him to the film industry. He said that he had been in the film industry for 10 years and all the success he had achieved was due to support from fans. He also interacted with students at the end of his speech.

It all began on Thursday with over 6,000 youth taking part in a 9.9 kilometre long marathon run to mark the inauguration of Riviera' 18. The theme of the marathon was 'defying the odds.' A few hours later, the festival got off to a colourful, youthful and energetic start with the formal inaugural function at the open air auditorium in the main sports area named after Kalpana Chawla of VIT University.

The inaugural event, the culmination of several months of preparation and coordination by student organisers, faculty members and the entire team of VIT that was behind Riviera '18 was attended by none other than former cricketer Gautam Gambhir, who has led India to many memorable victories at home and abroad matches.




During his interaction with students, who quizzed him on various aspects of his life, Mr. Gambhir, while replying to a specific question, said that: "Consistency comes with maturity and belief. When I started my career, I started believing in what I did. It boils down to the belief in our processes, performance, and abilities. Do not run behind consistency. It comes as you start going forward - it is a by-product of your processes."

He also inspired the students to be tough in their resolve, no matter what hurdles came in their path. "Rejections make you mentally tough. Rejections have made me a better player in my profession," he remarked.

To a question on what his thoughts were when early wickets fell during the final match of 2011 World Cup that India won, Gambhir said cricket was not about an individual player but eleven persons believing that they can win a game. "If you do not believe that you cannot win a game of cricket, you do not deserve to play,"

Asked about his Foundation, he said it took care of the education of the children of martyrs. "Right now, we are sponsoring 14 children and we want to cover more. I could not join the defence forces, and this has been a regret in my life," Gambhir said.

Mr. Gambhir also gave away prizes to the marathon winners. Among men, Mikiyas from Ethiopia came first by completing the race in 25 minutes and two seconds. Santhosh Kumar of Islamiah College in Vaniyambadi came second, followed by Binu Peter of St. Stephen's College, Kottayam.
Among women, Kalaiselvi of Jenneys College of Physical Education, Tiruchi, came first by completing the race in 41 minutes 46 seconds, followed by M. Vinitha of the same institution in second place and Merina Mathew, a TCS employee and a former student of VIT.

On the second day, it was Aikya, a parade showcasing the diversity and cultural heritage of India that stole the show. During her interaction, Eshita Singh, student organiser, said the theme was Theatre of Dreams - a place where dreams are realised. Ms. Singh, who is the organiser for ISO and Documentation, Riviera '18, added that they had accordingly introduced more fun-based events this year. "To realise the theme, we went digital and involved students. We conducted polling on our Facebook page for choosing the theme and pro-show artists. The theme was chosen based on the voting by students," she said.

Samrat Roy, manager, events and cultural committee, said events were selected to keep in line with the theme. "We had 400 proposed events. Of this, we selected 200 and then, listed out 130 events based on creativity," he said.

'Aikya' showcased cultural heritage of various States including Andhra Pradesh, Telangana, Assam, West Bengal, Bihar, Gujarat, Karnataka, Manipur, Punjab, Tamil Nadu, Kerala, Maharashtra and Uttar Pradesh. The cultural parade also saw participation from international students. Krishna Radhakrishnan, president of Women Entrepreneurs Welfare Association, was the chief guest at the event.

According to A.Maria Sebastian, Coordinator of Bharathidasan Tamizh Ilakkiya Mandram of VIT, through 'Aikya', they focussed on promoting poet Bharathi. A number of folk arts reflecting Tamil Nadu's culture were performed and it featured 'silambam', 'kolattam', 'kai silambam' and 'thapattam.' One of the events, "Tamil Juke Box," was conducted on Friday with 30 contestants.

On the third day, students from nearly 60 colleges from India and abroad took part in the international cultural event on Saturday. Mellifluous music and the reverberation of drums filled Anna Auditorium. In Infusion 2.0 audience were able to get a glimpse of cultures from all across the globe.

According to R. Subashini, core faculty organiser of Infusion, it was an international cultural exhibit and for the first time, the event saw participation from 28 countries represented with 1,708 external students registering on the spot.

Countries like England, Colombia, Italy, Kenya, Myanmar, Netherlands, Russia, Bangladesh, Bhutan, Nepal, Sri Lanka, Philippines, China, Thailand, Brazil, Ethiopia, Vietnam, Nigeria, Zimbabwe, Fiji and Malaysia were showcased by their students through songs and dance. The team from the upcoming Tamil movie 'Sagaa' took part.

A workshop on Global Skills was also conducted on the day. Other events that featured on Saturday included 'Drushyam', a Telugu event, 'Solli Adicha Gilli', a fun-filled Tamil event with rounds such as 'dubsmash', tongue twisters, 'maathiyosi' and many others, and 'Thalia and Melpomene', a stage play organised by the Dramatics Club of VIT.

Two Tamil events 'Tent Kota' that explored the cine talents of young minds, and 'Ink and Talk', an event to bring out inspiring ideas were also part of the penultimate day's events.

Like all good things coming to an end, curtains came down on Riviera' 18 on Sunday. Ms. Eshita Singh, summing up the four-day event, said that among the 128 events that were staged, half of them were new. She said the focus of this year's festival was on fun events such as RC Racing and Gallympics. Events related to all types of art such as dance, music, drama, photography and cinematography were held. Anthony Joseph, proposed a vote of thanks at the end of the valedictory function.

Prizes worth over Rs. 20 lakh were given away to students during Riviera' 18. In the sports festival, students competed in cricket, snooker, swimming, volleyball, tennis, athletics, basketball and also body building. The festival is all set to become much bigger and better when it returns next year, organisers said. The students received plenty of support from Dr. G.Viswanathan, Mr. G.V.Selvam, Vice President, Vice Chancellor Professor Anand Samuel during the festival to ensure that it was a grand success.
Disclaimer: The information provided in this Notification is solely by Vellore Institute of Technology (VIT) University., Jagranjosh.com bears no representations or warranties of any kind, express or implied, about the completeness, accuracy, reliability, suitability or availability with respect to the information. Individuals are therefore suggested to check the authenticity of the information.