Chandrayaan-2 Live Online Streaming, When, Where and How to watch on Mobile, PC
Chandrayaan-2 Launch Live: To know when, where and how to watch live streaming of Chandrayaan-2 on your mobile and laptop follow given links.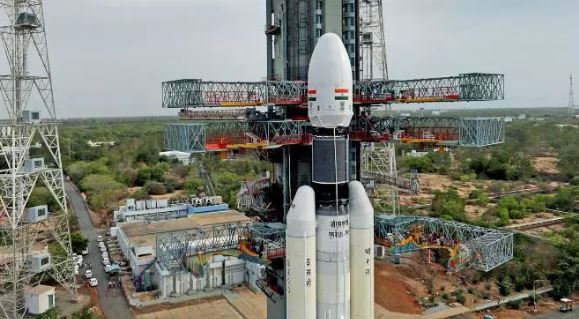 Chandrayaan-2
Chandrayaan-2 Launch Live Updates: 20 Minutes left for much awaited Moon mission of India. ISRO is streaming live its lauching through various channels like Twitter, Facebook and YouTube. ISRO and Doordarshan are streaming the launch event live. Launch of this mission is scheduled for today however it was called off last week due to a technical snag found in the launch vehicle. A week ago, launch of Chandrayaan-2 was called off 56 minutes before its scheduled launch due to a technical snag. Countdown for Chandrayaan-2 mission has already begun. Launch vehicle GSLV Mark III will carry orbiter, lander and a rover to the Moon.
When to watch Chandrayaan-2 launch?
Indian Space Research Organisation (ISRO) has scheduled launch of the Chandrayaan-2 at 2.43 pm. Lift-off will begin at 2:43 pm IST and it will be live streamed by ISRO and official networks of Government of India. This is India's unmanned lunar mission which is carrying Pragyan Rover, an AI powered robot, to explore surface of the Moon. Launch vehicle GSLV Mk-III will lift-off with three robotic objects of the mission from Sriharikota. Chandrayaan-2 consist of orbiter that will observe the surface of the Moon and become a source of communication between Earth and Moon mission.
Also Read : Chandrayaan 2: "Know these super women" Behind India's Second Lunar Mission
Where to watch Chandrayaan-2 launch Live?
• Satish Dhawan Space Centre (SDSC) in Sriharikota had opened registrations to witness live launch from viewer's gallery. However, registrations are closed now.
• ISRO will run Live streaming of Chandrayaan-2 launch on its Twitter (Watch here) and Facebook (Watch here) pages.
• Doordarshan will also stream the Chandrayaan-2 launch live on its YouTube channel. Live stream of Doordarshan will be started at 2:10 pm.
• For those people who don't have access to the Internet can watch Doordarshan TV channel for major highlights of the event.
• Doordarshan TV Channel will show pictures and progress of mission from inside ISRO's control room.
About GSLV Mk-III
• GSLV Mk-III is India's most powerful rocket launch vehicle. It can transfer satellites to the Geosynchronous Transfer Orbit.
• Launch vehicle GSLV Mk-III's different stages are, S200 solid rocket boosters, L110 liquid stage, and the C25 upper stage.
• The six wheeled Pragyaan rover weighs 27kg and can generate 50W of electrical power. It can travel up to 500m and relies on solar energy for its functioning.
Also Read | Chandrayaan-2 Mission: Countdown Begins, Launch at 2:43 pm today