Chandrayaan-2 Launch: Less then five hours for lift-off
Chandrayaan-2 will be lifted-off at 2.43 pm today however its countdown is already going smoothy, ISRO confirms in a latest Tweet.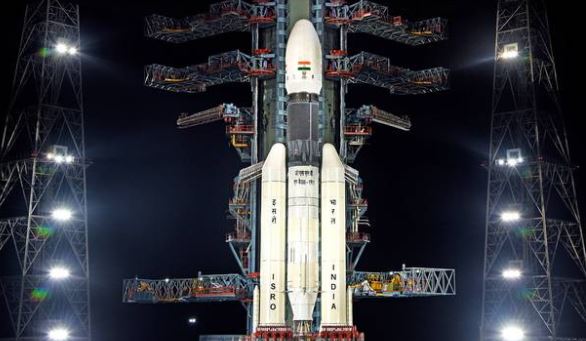 Chandrayaan-2
Chandrayaan-2 will be lifted-off by GSLV-Mark-III at 2.43 PM today. Chandrayaan-2 is ISRO's much anticipated Moon mission. Sucess of Chandrayaan-2 can open new horizons in the Space for India.
has begun for the launch of Chandrayaan-2 Mission, India's much awaited Moon mission. Chandrayaan-2 is India's second Moon mission that will be launched on July 22, 2019 at 2.43 pm. Chandrayaan-2 is using the heavy-lift launch vehicle GSLV-Mark-III for the Moon expedition.
GSLV-Mark-III is carrying the important probe that will be ignited at 2:43 pm from Satish Dhawan Space Centre at Sriharikota in Andra Pradesh. Indian Space Research Organisation (ISRO) said that 20 hour mandatory countdown for Chandrayaan-2 was started last evening at 6.43 pm and it is going satisfactory. ISRO has also done a pre-launch rehearsal and confirmed that everything is functioning normal. ISRO chairman Dr Sivan said, that all preparatory arrangements have been put in place for the mission.
ISRO just tweeted and confirmed that UH25 (fuel) filling of liquid core stage (L110) of GSLVMkIII-M1 completed and filling of N204 for the liquid core stage (L110) of GSLVMkIII-has successfully completed.
Major Highlights
• Actually, Chandrayaan-2 was all set to launch on the 15th July but a technical snag was found less than an hour before its scheduled lift-off as a result mission had to be called off.
• The flight duration of Chandrayaan-2 from the earth to the moon has been reduced from 54 days to 48 days by tweaking the flight path.
• According to the ISRO Chandrayaan-2's lander will be reached on the moon by September 7 as per the plan.
• Scientists would perform fifteen crucial manoeuvres to navigate the probe from an earth-bound elliptical orbit to the surface of the moon. Total cost of the mission is worked out to be 978 crore rupees.
Objectives of Chandrayaan-2
Study of lunar surface is an important part of Chandrayaan-2 mission. In other words, objectives of Chandrayaan-2 include studying mineralogy and chemical composition of lunar soil. Another objective is to search for water or ice in the near-South Pole of the moon, examining its atmosphere, studying lunar seismic activities and to carry out mapping of the moon using high-resolution cameras. ISRO aims to make a soft-landing on the surface of the Moon.
All the slots meant for the public to view the launch, have been already booked within minutes. Chandrayaan-2 will bring India and its 1.3 billion dreams to the moon, besides yielding rich dividends for the nation's scientific pursuit and nourishing scientific attitude.
Also Read | India's mixed relay silver in Asian Games to be upgraded to gold