Chandrayaan 2 Launched Succesfully: Meet women power behind this mission
Chandrayaan-2 successfully launched by ISRO on July 22 by GSLV MkIII-M1 Vehicle at 1443 hours. This mission was led by two women scientists Muthayya Vanitha and Ritu Karidhal.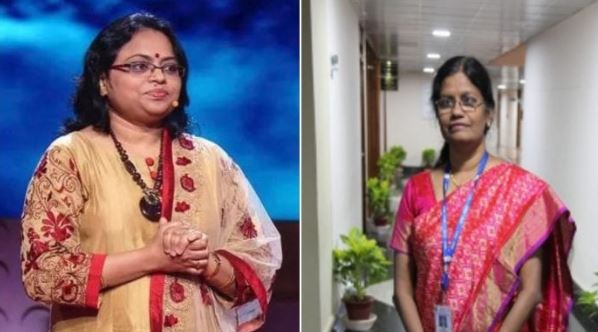 ISRO scientists Ritu Karidhal and Muthayya Vanitha
Chandrayaan-2, India's Moon mission, has been launched from Andhra Pradesh's Sriharikota. GSLV Mk-III-M-1 is carrying three robotics to the Moon. But, this time two women scientists of ISRO were working behind the scene and made it possible for India.
This mission was leading by two women scientists of Indian Space Research Organisation (ISRO). Muthayya Vanitha was leading the Chandryaan-2 and on the other hand Ritu Karidhal was working as Mission Director. It had never happened before when women power is heading this much of highly important ISRO mission.
Project Director and Mission Director both are women for Chandrayaan-2. Muthayya Vanitha is an electronics engineer, now responsible for success and failure of Chandrayaan-2. On the other hand, Mission Director Ritu Karidhal was earlier working as Deputy Director of the Mars Mission.
For last two decades they have been associated with ISRO. They were part of several launches as well as development of sub-systems for satellites. ISRO has previously had women project directors for the launch of communication and other satellites.
Akshay Kumar tweeted congratulating women scientists. He wrote, "India's second space mission to the moon, #Chandrayaan2 is led by two women scientists of @isro , a first in India's history! Sending my best to the rocket women and #ISRO team, more power to you!"
Chandrayaan-2 women leaders
Muthayya Vanitha (Project Director)
• She is Project Director of Chandrayaan-2. Before this she was heading telecomm and divisions in digital systems group in ISRO's Satellite Centre. This center is also known as UR Rao space center.
• She is also a project director of telemetry and telecomm and divisions in digital system group. She has also worked as deputy project director for TTC-baseband systems for Cartosat-1 and deputy project director for Oceansat-2 and Megha-Tropiques satellites.
• Vanitha has been responsible for the project from the very beginning, which involves getting the entire system configured, reviewed, assembled and implemented, and also to become a single-point authority for the overall project.
• She was also awarded as best woman scientist in year 2006.
Also Read | Chandrayaan-2 launch called off: Know everything you need to know
Ritu Karidhal (Mission Director)

• She is the mission director of Chandrayaan-2. Before this, she was also appointed as operations director of Mars Orbiter Mission. It was India's first interplanetary mission.
• Her job was to conceptualize and execute the craft's onward autonomy system, which operated the satellite's functions independently in space and responded appropriately to malfunctions.
• Ritu Karidhal holds a master's degree in the field of Aerospace Engineering from IISc.
• She has been working with ISRO since 1997. She has received ISRO Young Scientist Award from former president APJ Abdul Kalam in 2007.
Women Astronaut in Gaganyaan
ISRO is planning to send one woman astronaut, along with two others, to space under Gaganyaan Mission. VR Lalithambika, as head of the human space programme office, is helping in mission coordination and working with Human Space Flight Centre, the nodal centre for Gaganyaan mission led by its director S Unnikrishnan Nair.
Also Read | Lunar Eclipse 2019: A special coincidence after 149 years