Chandrayaan-2 launch called off: Know everything you need to know
Chandrayaan-2 launch was put off by ISRO just 56 minutes before it scheduled launch. ISRO has not declared another launch date yet.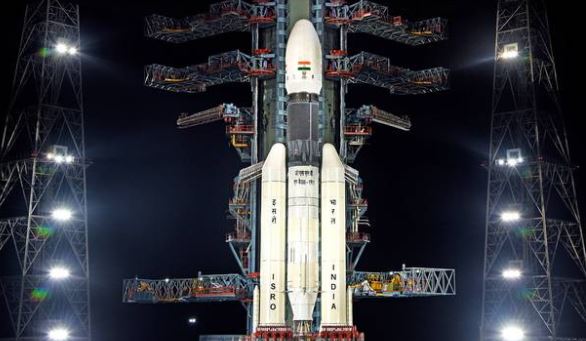 Chandrayaan-2
Chandrayaan-2 was called off just 56 minutes before its previously scheduled time. After that ISRO has declared on its website and on twitter that due to a technical snag found in the system an abundant precaution need to be taken. Chandrayaan-2 was about to launch as ISRO had fill the engine with liquid hydrogen in the cryogenic upper stage of the rocket. ISRO's official twitter handle reads 'Chandrayaan-2 launch has been called off for today. Revised launch date will be announced later.'
Chandrayaan-2 is important for India because it is first of its kind Moon mission that will land near the lunar South Pole to find out water sources.
10 reasons to know
• ISRO updated on its website that a technical snag was observed in launch vehicle system at one hour before the launch. Due to important measure of precaution taken by ISRO, Chandrayaan-2 launch was called off. Till now ISRO has not announced any other launch date.
• In the cryogenic stage of the rocket ISRO had detected some technical issues. This stage of a rocket provides more thrust and power for every kilogram of propellant it burns.
• A new launching date is yet to be announced because launch windows have to meet several technical criteria as result it could take weeks or months for a new launch date.
• Every moment was observed by scientists of ISRO. Experts are saying that it was good to called it off rather taking any risk.
• If ISRO wants to launch it again in the same month, then it will have 3 suitable window periods in July. On new moon on July 15 and 16 and then on July 29 and 30 will be suitable period for it.
• Now, mission has been paused, till its new launch date ISRO will empty the fuel loaded in the rocket. Then, rocket will be sent to the investigations.
• Launch vehicle of Chandrayaan-2, GSLV MK-III, will carry an orbiter, lander and a rover to uncover lunar secrets.
• If ISRO's Chandrayaan successfully lands on the Moon then India will be the fourth country to send a spacecraft on the Moon surface after the Russia, US and China.
• Previous Moon mission, Chandrayaan-1 found some proofs about the presence of water on the Moon. Now, Chandrayaan-2 will assist scientists to find out more authentic proofs regarding this exploration.
• All the equipments, lander and rover, assembled with Chandrayaan-2 mission will help ISRO to find out more proofs of water on the Moon.
Also Read | Chandrayaan-2 Mission: All you need to know
Background
Chandrayaan 2, India's second mission to moon, had been approved by the cabinet in 2008. Several dates and deadlines were changed for this mission as it was first scheduled for March 2018, but delayed four times. Deadlines were extended to make some changes in the design of the lander and the orbit. These were important changes becuase with it would help us to land on the surface of the moon. After some changes in the design of the lander, orbit and GSLV Mark III Lunch vehicle July 2019 launch date was decided. Changes were made to make it sure that launching vehicle will not found any trouble while carrying heavier satellite.
Also Read | Chandrayaan 2: ISRO asked people what you would take to the Moon; see the answers