China, Kiribati formally restore diplomatic ties
China and Kiribati have formally restored diplomatic relations, days after Kiribati called off its ties with Taiwan. China and Kiribati were allies till 2003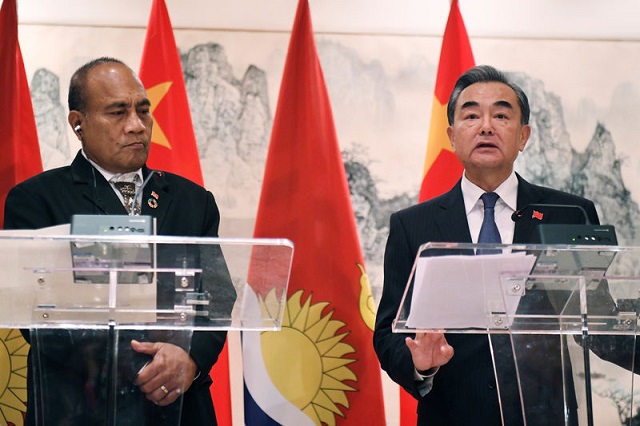 China, Kiribati restore diplomatic ties
China and Kiribati have formally re-established diplomatic relations, ending the much-speculated suspense. The move comes just days after Kiribati called off its ties with Taiwan.
China's Foreign Minister Wang Yi and Kiribati's President Taneti Mamau signed a joint communique to formalise their diplomatic relations on the sidelines of the UN climate summit on September 27, 2019. China and Kiribati were allies till 2003 but after that Kiribati established relations with Taiwan and recognised its country status, leading China to break off its diplomatic ties with the Pacific island nation.
However, on September 20, 2019, Taiwan and Kiribati called off their diplomatic relations. The move of Kiribati cutting off its ties with the self-governed island nation, Taiwan, had given rise to speculations of China's pressure. Many claim that this is coup that has been planned by China before it marks its 70th founding anniversary. China aims to pressure all of Taiwan's allies to break away before its founding day.
Just a week before Kiribati's move of ending its alliance with Taiwan, the Solomon Islands had also ended its diplomatic ties with Taiwan. Now, Taiwan just has 15 allies left that recognise its country status.
Taiwan and Kiribati cut off diplomatic ties amid China pressure
Background
Taiwan claims itself to be a self-ruled sovereign nation since the end of a civil war in 1949. China, however, claims it to be a part of its territory and says that it has no right to establish formal ties with any nation.
Overtime, most nations including the United States and the European nations shifted their support to China in the matter.
Only 15 nations across the world currently recognise Taiwan, mostly Latin American and Pacific nations. Taiwan is also not a member state of the United Nations, as China is already its member.