Coronavirus India: PM Narendra Modi to address nation on COVID-19 outbreak at 8 pm today
Coronavirus India: Prime Minister Narendra Modi will be addressing the nation at 8 pm today on coronavirus outbreak in the nation.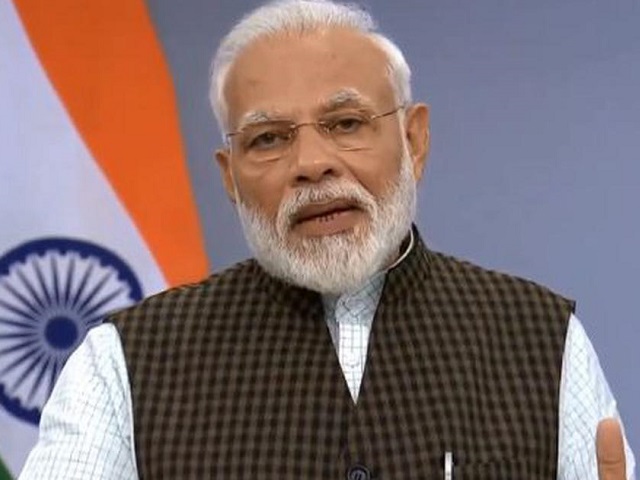 PM Modi to address nation at 8 pm
Coronavirus India: Prime Minister Narendra Modi will be addressing the nation at 8 pm today, March 19, 2020. The Prime Minister is expected to talk about COVID-19 pandemic and the efforts to combat it.
The coronavirus cases have risen to 166 positive cases in India. While three have died from the virus, around 14 people have recovered and have been discharged after being tested negative for it.
The Health Ministry has issued an advisory for the people of the nation to stop further spread of the virus, emphasising on social distancing, maintaining proper hand hygiene and restricting mass gatherings.
Health Ministry directs educational institutions to postpone exams
The Union Health Ministry has directed various educational institutions to postpone their exams including the United Grants Commission (UGC), Central Board of Secondary Education (CBSE) and National Council for Teacher Education as a preventive measure to stop the spread of novel Coronavirus.
The Ministry has also directed to reschedule the Joint Entrance Examination - Main (JEE-Main) as its dates may clash with the rescheduled CBSE board exam dates. The new JEE date will be announced after March 31st. The Ministry has also directed all institutions to reschedule all evaluation work till after March 31st.
The CBSE has postponed all the ongoing 10/ 12th board examinations. The exams will be conducted after March 31st. The rescheduled dates will be communicated soon.
Superhero Vaayu to teach kids how to fight against COVID-19 virus
The Government has enrolled Superhero Vaayu to clear all queries related to Coronavirus and share healthy tips with kids on how to defeat COVID-19 pandemic.
The Government of India recently tweeted a video of Superhero Vaayu taking up questions from little kids on how to defeat coronavirus and stay healthy. The video campaign deals with simple queries such as 'what is coronavirus, how does it spread, what are its symptoms and what precautions one should take to avoid getting infected.
Superhero Vaayu is also seen teaching kids how to properly wash hands, maintain proper hygiene, maintain social distance and visit a doctor if one feels sick.
ICMR Chief: No evidence of Community Transmission of COVID-19, India still in stage-II
The Director General of ICMR, Dr Balram Bhargava has assured that currently there is no evidence of community transmission of the novel coronavirus. He said that India continues to be stage-II of the virus outbreak, which is local transmission.
The Health Ministry also confirmed that the positive cases of the virus are primarily being reported among individuals who have a travel history to affected countries or those who have come in close contact with those tested positive. Hence, a notification from the Health department claimed that all individuals need not be tested for coronavirus.
ICMR to allow private labs to conduct COVID-19 tests
The ICMR has decided to expand its laboratory network to further intensify COVID-19 testing facilities. The medical research organisation currently has 72 functional labs. It is engaging with other government labs as well including the CSIR and DRDO labs. Forty nine of these labs will begin conducting COVID-19 tests within a week.
Besides this, ICMR is also planning to engage with high-quality private laboratories to conduct COVID-19 tests, which includes labs authorised by the National Accreditation Board for Testing and Calibration Laboratories (NABL). The move has been undertaken to increase access to COVID-19 tests with appropriate safeguards.
ICMR's revised COVID-19 testing strategy
The Indian Council of Medical Research (ICMR) issued a revised testing strategy for COVID-19 virus on March 16 in coordination with the Department of Health Research and the Union Ministry of Health and Family Welfare.
Who will be tested for coronavirus?
1. Those who have traveled to high-risk coronavirus affected nations in the last 14 days.
2. Those who have come in direct close physical contact with confirmed coronavirus case.
Important Note: The test will only be conducted if the person develops symptoms. The above category people will be kept under home quarantine for a period of 14 days. If the person develops symptoms then a laboratory test will be conducted. However, if there are no symptoms then there will be no laboratory test.
Ministry of Health Helpline number for COVID-19 virus testing: 91-11-23978046
How are the COVID-19 laboratory tests conducted?
The throat swab or nasal swab of the suspected person is taken in one tube in cold chain.
COVID-19 testing facilities list: To get the full list, go to www.icmr.nic.in/content/covid-19
Important Note: The health care workers dealing with patients with severe respiratory illness or respiratory distress should be tested if they develop symptoms of acute respiratory illness.
Centre orders closure of schools, gyms, museums, theatres till March 31st
Union Health Minister Dr. Harsh Vardhan had chaired a high-level meeting of Group of Ministers to discuss about COVID-19 on March 16, 2020. The ministers held a detailed discussion on the prevention and management of the deadly COVID-19 virus and proposed the implementation of certain social distancing measures as a preventive step to stop the spread of the virus in the nation.
The following social distancing measures have been brought to force till March 31st:
1. Closure of all educational institutions including schools and colleges, gyms, spas, museums, theatres and other social and cultural centres till March 31.
2. Avoiding non-essential travel to enable social distancing in public transport and ensuring proper disinfection of surfaces.
3. Private sector organisations to allow employees to work from home wherever feasible.
4. Meetings to be conducted through video conferences as far as feasible, reschedule meetings involving a large number of people unless necessary.
5. Restaurants to ensure proper cleanliness, follow the handwashing protocol, ensure at least 1m distance between tables and encourage open-air seating.
6. Large sporting events and competitions have been advised to be postponed.
7. Regulation of mass gatherings and avoid overcrowding by ensuring at least one-metre distance between people.
Delhi Government orders closure of gyms, spas till March 31st
Delhi Chief Minister Arvind Kejriwal on March 16, 2020 directed the closure of all gyms, night clubs and spas in the national capital till March 31, 2020. The Chief Minister also announced a ban on all social, cultural, political, academic, religious, sports or family gatherings with more than 50 people excluding weddings till March 31st.
The state government has urged people to postpone weddings, scheduled during this time, if possible. Besides this, the government has suspended the operation of theatres and weekly bazaars till March 31.
While shopping malls will remain open, they will have to be disinfected daily and an ample amount of hand sanitizers will have to be made available at the entrance of the malls and shops. The government has urged malls and shop owners to allow entry of people only after they have sanitized their hands.
Delhi Government's Order
The Indian Government declared the COVID-19 virus outbreak as a "notified disaster" earlier this week. The total number of confirmed coronavirus cases has risen to 114 in India as of March 16. With the virus being declared as a notified disaster, the State Disaster Response Funds will be temporarily used for the supply of food, medical care and water to the patients in quarantine camps.
WHO declares Coronavirus "Pandemic"
The World Health Organization (WHO) declared the Covid-19 virus outbreak as pandemic on March 11, 2020. The WHO said that so far more than 4300 people have died worldwide due to this virus, therefore it has been declared pandemic. The European country, Italy has declared a complete lock-down to prevent the spread of Coronavirus. At the same time, the Gulf countries have also banned the movement of foreigners. In India, all tourist visas have been suspended till April 15.
The Union Health Ministry has advised people to avoid all non-essential travel aboard and refrain from travelling to eight nations including Spain, France, Germany, China, South Korea, Japan, Italy and Iran. The novel coronavirus has spread to over 114 countries across the world. The Ministry's advisory also urges all international passengers coming to India to self-monitor their health and undergo self-imposed isolation for 14 days from the date of their arrival.
Coronavirus India helpline number: +91-11-23978046
Coronavirus India helpline email: ncov2019@gmail.com
The Union Health Minister, Dr Harsh Vardhan is continuously reviewing and monitoring the status and the actions being taken by various states to prepare for the virus. The Health Ministry has also requested people to kindly adhere to the do's and dont's specified by the Ministry in regard with the virus and avoid large gatherings. He has also ordered universal screening for all international passengers in 30 airports across the country.
Qatar puts India on travel ban list
Qatar has imposed a temporary ban on people coming from 14 countries including India as a precaution to stop the spread of novel coronavirus. The list also includes nations such as China, Iran, Iraq, Bangladesh, South Korea, Pakistan, Nepal, Lebanon, Philippines, Thailand, Syria, Sri Lanka and Egypt. The nation has also suspended all its flights to and from Italy. Qatar Airways is currently working closely with the health authorities of India after it was revealed that some of the Indians who tested positive for the virus had come on its flight on February 29.
All primary schools shut in Delhi till March 31st
To prevent the possibility of spread of the deadly virus, the Delhi Government has ordered closure of all primary schools in the capital, both government and private, till March 31, 2020.
India, which was free of the deadly virus after the earlier three people recovered in Kerala, reported three fresh cases, in Delhi, Jaipur and Hyderabad on March 2. On March 4, 23 more people were tested positive for the virus in the country, 15 among whom include Italian tourists.
The patient, who was tested positive of coronavirus in Delhi, reportedly has travel history from Italy. The second confirmed coronavirus case in Hyderabad has travel history from Dubai. The third case in Jaipur is an Italian tourist who showed symptoms of the deadly virus. He was tested negative during the first testing but when his condition worsened, a second sample was collected and that came out to be positive.
The Indian government has decided to screen all passengers entering the nation from foreign countries. Those who show even the slightest symptoms will be kept in isolation for at least 14 days, as in some cases the virus takes a couple of days to show symptoms.
Coronavirus update in India: All Cases
• Four new confirmed cases have been reported, including the first confirmed case from Jammu, one from Uttar Pradesh, one from Delhi and another from Ernakulum, Kerala.
• Earlier, five cases of COVID-19 virus were reported in Kerala on March 8. As per reports, a family of three with travel history to Italy was tested positive for coronavirus. Two of their relatives who came in contact with them were also tested positive for the virus. The family had reportedly visited a couple if relatives and attended few functions. All those who came in contact with them are being traced currently.
• One confirmed case of coronavirus was reported in Ghaziabad, Uttar Pradesh. The person had travelled to Iran. Another case was reported in Gurugram, Haryana when a Paytm employee was tested positive for coronavirus after he returned from his vacation in Italy. Paytm, as a precautionary measure, has shut both its offices in Gurugram and Noida.
• The confirmed case in Telangana had first landed in Bengaluru from Dubai and then traveled to Hyderabad, where he developed symptoms. According to Karnataka's Health Minister, B Sriramulu, a medical team is monitoring all those people who came in contact with him in Bengaluru. The Telangana government is doing the same for the people who came in contact with him in Hyderabad.
• The infected Delhi resident was not screened at the Delhi Airport, as he had flown in from Vienna in Austria. He had reportedly traveled by road to Vienna from Italy and took the Delhi flight from there. The patient is currently being kept in isolation at Ram Manohar Lohia Hospital. He is reported to have infected 6 of his relatives in Agra.
• The Italian tourist reported to have tested positive for the deadly virus infected his wife and other 15 people, including 14 Italians who had come as a group with him to tour India and one Indian driver.
• Around 100 people, who came in contact with the infected patients, have been requested to stay in isolation for a period of 14 days.
• The Union Health Minister has requested the public to exercise calm and follow the basic precautions to keep themselves healthy. He also requested the public to avoid large gatherings for sometime.
• Prime Minister Narendra Modi had tweeted earlier saying that he has decided not to participate in any Holi programme this year. He also quoted expert's advice to reduce mass gatherings to avoid the spread of novel coronavirus.
Air India Crew asked to stay in isolation
The Delhi resident who was tested positive of COVID-19 virus on March 2, had flown on Air India's Vienna-Delhi flight on February 25 . As a result, the entire crew of the flight has been asked to stay in isolation for 14 days and report to health authorities in case they develop any symptoms of the virus. However, it is not clear if a similar advisory has been issued to the other passengers of the flight or not. The flight had carried over 200 passengers.
India restricts export of 26 medicines
India has restricted the export of 26 pharmaceutical ingredients and medicines including paracetamol as the threat of coronavirus looms larger across the nation. India is the world's key supplier of generic drugs.
The listed 26 active pharmaceutical ingredients (APIs) and medicines account for almost 10 percent of all Indian medical exports. Besides common pain reliever paracetamol, the list includes erythromycin, Vitamin B12 and tinidazole.
While the Indian government has assured that there is enough stock in the nation to manufacture formulations for the next 2-3 months, it is not clear how the restriction in export of these medicines would impact their availability in the nations that import them. The United States accounted for almost 24 percent of the import of Indian medicines and 31 percent of the import of Indian pharmaceutical ingredients in 2018, as per US Food and Drug Administration.
Coronavirus Symptoms: Know all symptoms
The most common symptoms of novel coronavirus or COVID-19 include:
• Fever
• Dry cough, Sore throat
• Tiredness, aches and pain
• Cold, runny nose, nasal congestion
• Diarrhea
• Respiratory issues
Important Note: The coronavirus symptoms are generally mild to begin with. Some people may be infected but may not feel unwell. Most people can recover from the disease without needing much serious treatment. People who are already battling a medical condition are more vulnerable to getting infected from the deadly coronavirus.
Coronavirus Prevention: How to protect yourself from COVID-19?
Following are some basic protective measures that WHO has issued for the public to protect themselves and others from novel coronavirus:

1. Wash hands frequently: Clean your hands regularly with either soap and water or hand sanitizer. Regular and thorough cleaning of hands will kill the virus that may be on them.
2. Do not touch eyes, mouth or nose: Avoid touching your eyes, nose or mouth, especially when you are outside as hands come in contact with many surfaces and can pick up the virus. Once hands are contaminated, they can transfer the virus to your eyes, nose or mouth, from where it can enter your body and infect you.
3. Maintain 3 feet distance from others: Ensure that you maintain at least 3 feet or 1 metre distance from those who are coughing or sneezing, as the moist particles that come out from their nose or mouth at that time may contain the virus if the person is infected and can infect you as well.
4. Cover your mouth and nose/ wear a mask: Make sure that you cover your nose or mouth with either a tissue, handkerchief or bent elbow when you sneeze or cough. Throw the tissue immediately into the dustbin after using. This way you will protect yourself and those around you. You can also wear a mask to avoid inhaling any droplet infected with the virus.
5. Seek medical care for fever, cough: If you have difficulty in breathing or have fever or cough, seek medical help immediately. Avoid travelling, especially in public transport if you are feeling unwell. You can call your national or local health authorities to be directed to the right medical facility. It will help protect you and prevent the spread of COVID-19 and other viruses.
Coronavirus Protection: Important Facts
1. Coronavirus is not known to survive for long on surfaces or objects.
2. Spraying alcohol on your body will not kill the virus that has already entered your body.
3. Currently, there is no evidence of the deadly virus spreading to pets such as cats or dogs.
4. Vaccines used to cure pneumonia do not provide protection against COVID-19.
5. No evidence that regular rinsing of nose with saline water will protect people from getting infected.
6. People of all ages can get infected by the deadly COVID-19 virus. However, older people or people with pre-existing medical illness such as diabetes, asthma or heat disease are known to be more vulnerable to catching the virus.
Background
The latest two cases of COVID-19 take India's total tally of confirmed coronavirus cases to five. Previously, three patients were tested positive of the novel coronavirus in Kerala. The first one was detected in Thrissur, second in Alappuzha and the third in Kasargod.
All the three people had reportedly traveled together from Wuhan and two were medical students from the city. They were kept in isolation wards in different hospitals and given special medical care. They were discharged last month after they recovered and their samples came out negative.