Current Affairs 6 April 2019 Digest 1: David Malpass named World Bank President; Vikram Kirloskar takes charge as CII President
David Malpass, senior Treasury official in the Trump administration has been unanimously chosen as the new President of the World Bank.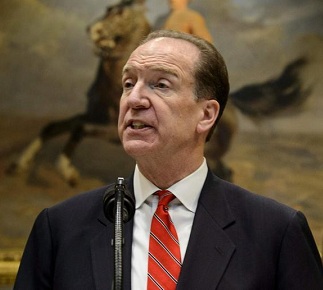 David Malpass named new World Bank President
Story 1- David Malpass named new World Bank president

Senior US Treasury official David Malpass was on April 6, 2019 unanimously chosen as the new President of the World Bank.

The announcement came as expected just prior to next week's joint spring meetings of the World Bank and the IMF. The selection was made by the World Bank's board of directors after an open and transparent nomination process in which citizens of all membership countries were potentially eligible.

Unwritten Rule

Though citizens from all member countries are considered eligible for the bank's top job, since its inception following the second World War, all of the bank's presidents have invariably been from the United States.

Similarly, the top position at the bank's sister institution, the International Monetary Fund, has been held by European leaders.
• David Malpass is an American government official and economic analyst who currently serves as Under Secretary of the Treasury for International Affairs.
• He previously served as Deputy Assistant Treasury Secretary under President Ronald Reagan, Deputy Assistant Secretary of State under President George H W Bush and Chief Economist at Bear Stearns for the six years preceding its collapse.
• During the 2016 US presidential election, Malpass served as an economic advisor to Donald Trump, and in 2017, he was nominated and confirmed as the undersecretary for international affairs in the United States Department of the Treasury.
• Malpass was recognised for his forecasts before the financial crisis of 2007–2008 and in the time period following the Great Recession.
• In February 2019, President Trump announced Malpass as the nominee for President of the World Bank.
• He had been the lone candidate for the job and his nomination by Trump earlier in 2019 sparked outrage among critics, who saw it as an affront to the global anti-poverty lender's very mission.
• The 63-year-old has been quite a strident critic of global financial institutions, calling their lending practices as corrupt and ineffective and complaining that they are overly generous to China.
• He, however, softened his stance recently, saying that he was committed to the bank's mission of eliminating extreme poverty and that reforms enacted last year had addressed many of his criticisms.
Controversy

In recent years, the emerging market countries have challenged the unwritten arrangement on World Bank and IMF leadership, demanding a more open, merit-based selection process.

Though the bank stressed that it now allows a more open process, very few non-American candidates in recent years have received little support from major bank shareholders.
Many, including former Treasury officials from both political parties, have sharply criticised Malpass and his qualifications, pointing to his failure to foresee the global financial crisis during his time at the now-defunct investment bank Bear Stearns and his opposition, which later proved unjustified, to post-crisis Federal Reserve policies.
Story 2- Vikram Kirloskar takes charge as CII President

Vikram Kirloskar on April 6, 2019 took charge as the new President of the Confederation of Indian Industry (CII).

Kirloskar is the Chairman and Managing Director of Kirloskar Systems Ltd and Vice Chairman of Toyota Kirloskar Motor. He succeeds Rakesh Bharti Mittal, who is the Vice Chairman of Bharti Enterprises.

In other decisions, the CII revealed that Uday Kotak, founder and MD and CEO of Kotak Mahindra Bank will be the President-Designate, while TV Narendran, the CEO and MD of Tata Steel will be the Vice President for the period 2019-20.

About Vikram Kirloskar

• Kirloskar has been associated with CII for three decades and has been the chairman of Global Innovation and Technology Alliance Board since its inception in 2012-13.

• He has over 24 years of experience in the business of manufacturing automobiles and auto parts.

• He also serves as the Vice Chairman of Toyota Kirloskar Motor Private Limited.

• He has been Non Executive Director at Kirloskar Pneumatic Company Limited since June 2002. Besides, he has been a Director at Kirloskar Proprietary Ltd. since March 2010.

• He served as a Director of Kirloskar Industries Ltd from May 2004 to May 2012. He also serves as the Director of Kirloskar Toyoda Textile Machinery Pvt. Ltd., Kirloskar Systems Limited, Kirloskar Theratronics Private Limited, Toyota Kirloskar Auto Parts Private Limited, Vikram Geet Investments and Holdings Private Limited and Toyota Tsucho Insurance Broker India Private Limited.

• He served as the Director of Kirloskar Brothers Limited from June 2001 to May 2015.

• Before that, he served as the Director at Onmobile Global Limited from August 2007 to August 2008 and Kirloskar Oil Engines Limited.

• He is a member of the National Council of Confederation of Indian Industry.

• He was conferred with the Suvarna Karnataka award by the Karnataka Government, in recognition of his efforts in expanding and developing industry within the state.

• As far his personal education background is concerned, Kirloskar holds a Bachelor of Science in Mechanical Engineering from the Massachusetts Institute of Technology, Cambridge, USA.