Current Affairs in Short: 05 November 2019
HLAG has recommended the central government to launch Elephant Bonds to bring back USD 500 billion black money.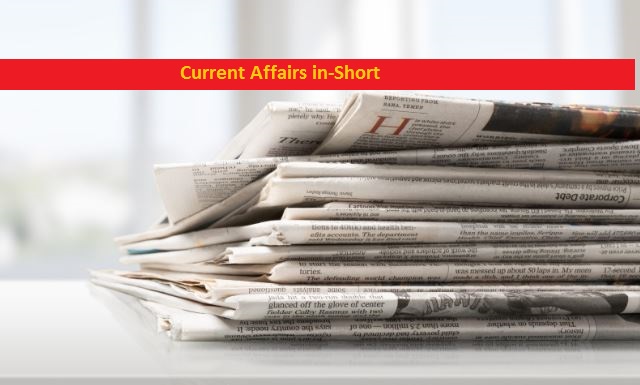 current affairs inshort
Govt panel recommends Elephant Bonds
• The High-Level Advisory Group (HLAG) has recommended the central government to launch Elephant Bonds to bring back USD 500 billion black money.
• As per the Elephant Bond, black money will be converted into white money once the person informs the government. However, some part of the amount will go to the government's account.
• Surjit Bhalla led HLAG said that India will get around USD 500 billion from Elephant Bonds which can accelerate infrastructure projects.
Fifth edition of Wastelands Atlas-2019 released
• Narendra Singh Tomar, Agriculture Minister, released the 5th edition of Wastelands Atlas-2019. It was published by the Department of Land Resources and National Remote Sensing Centre.
• Wastelands Atlas-2019 provides complete geospatial information on wastelands of India that can help in planning various land development programs and schemes.
• It can provide State and district wise distribution of different categories of wastelands area in the country and will be helpful in addressing land degradation.
New governors in all seven provinces in Nepal
• President of Nepal Bidya Devi Bhandari has appointed new governors for all seven provinces of the country.
• As per the recommendation of the cabinet, Somnath Adhikari, Tilak Pariyar, Bishnu Prasad Prasai, Amik Sherchan, Dharmanath Yadav, Govinda Kalauni and Sharmila Kumari Panta have been appointed new governors.
• Earlier, governors of all seven provinces were relieved by the President Bidya Devi Bhandari.
Also Read | India opts out of RCEP agreement: Know all the reasons
Nirmala Sitharaman unveils ICEDASH and ATITHI initiatives
• Two new IT Initiatives named ICEDASH and ATITHI have been recently launched by Finance Minister Nirmala Sitharaman.
• The objective of these initiatives is to improve monitoring and pace of customs clearance of imported goods and facilitating arriving international passengers.
• ICEDASH is a monitoring dashboard for Ease of Doing Business. ATITHI app can provide a hassle-free and faster clearance by Customs at the airports.
'Skills Build Platform' by IBM and Govt
• IBM has launched skills build platform under the aegis of Ministry of Skill Development & Entrepreneurship (MSDE).
• National Skill Training Institutes (NSTIs) and Industrial Training Institutes (ITIs) will provide two-year advanced diploma in IT, cloud computing and networking.
• Apart from that, students will receive consultations on role-based education for specific jobs.

Also Read | ATP Rankings 2019: Rafael Nadal No.1, India's Prajnesh Gunneswaran on 94th
Also Read | Bihar Govt bans vehicles older than 15 years in Patna
Take Weekly Tests on app for exam prep and compete with others. Download Current Affairs and GK app
एग्जाम की तैयारी के लिए ऐप पर वीकली टेस्ट लें और दूसरों के साथ प्रतिस्पर्धा करें। डाउनलोड करें करेंट अफेयर्स ऐप
Android
IOS