Current Affairs in Short: 26 October 2018
Olympic and world championship silver medallist P V Sindhu has once again regained her world no. 2 spot in the latest BWF rankings, which were released on October 25, 2018.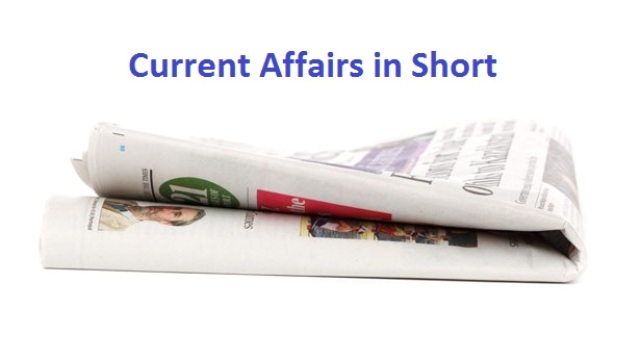 Current Affairs in Short: 26 October 2018
Sindhu regains world no. 2 spot in BWF rankings

• Olympic and world championship silver medallist P V Sindhu has once again regained her world no. 2 spot in the latest BWF rankings, which were released on October 25, 2018.
• Sindhu, who is currently competing at the French Open in Paris, jumped one spot to stay one spot behind Chinese Taipei's Tai Tzu Ying, who continues to dominate the rankings.
• Sindhu had achieved the world no 2 ranking for a week for the first time in April last year but she slipped soon before regaining the position for almost two months from September to November. She slipped to world no 3 after that and held that spot for most part of 2018.
• Saina Nehwal, who had reached the finals of Denmark Open last week, was rewarded for her stupendous show as she too climbed one rung to reach the world no. 9 slot.
• In the men's singles, Kidambi Srikanth remained static at world no 6, while Sameer Verma jumped five spots to be at the 18th position. H S Prannoy, who skipped the events in Denmark and France, slipped two places to be ranked 17th.

Google fired 48 employees for sexual harassment in past two years

• Google has said that it fired 48 employees in the past two years, including 13 senior executives, as a result of sexual harassment allegations, citing "an increasingly hard line" on inappropriate conduct.
• The US tech giant issued the statement from chief executive Sundar Pichai, saying, in recent years, Google has made a number of changes, including taking an increasingly hard line on inappropriate conduct by people in positions of authority.
• Pichai stated that the company is serious about providing a safe and inclusive workplace. He further said that they review every single complaint about sexual harassment or inappropriate conduct, investigate it and take action.

Russia successfully launches first Soyuz Rocket since failed space launch

• Russia has successfully launched a Soyuz rocket for the first time since the failure of a similar rocket aborted a manned take-off to the International Space Station (ISS) on October 11, 2018.
• The Russian defence ministry said in a statement on October 25 that a Soyuz-2.1B rocket was successfully launched carrying a satellite for the Russian military.
• According to the ministry, the satellite reached its orbit at the set time. This was the first launch of a rocket from the Soyuz family since the October 11 accident.
• Overall, it was the third launch of a Soyuz rocket from Russia's northern Plesetsk launch pad in 2018.
• Russia's Roscosmos space agency has set up a commission to investigate the failed launch to the ISS and is set to announce its findings on October 30.

Pooja Dhanda wins Bronze in World Wrestling Championships

• Indian wrestler Pooja Dhanda on October 25, 2018 won a bronze medal in the women's freestyle 57kg weight class at the Wrestling World Championships, held in Budapest, Hungary. Dhanda defeated Grace Bullen of Norway 10-7.
• This was India's second medal at the 2018 Championships. Earlier on October 22, Bajrang Punia had to settle for silver after losing to Japan's Takuto Otoguro in the 65kg category.
• Before Pooja, only three Indian women grapplers Alka Tomar in 2006, Geeta Phogat and Babita Phogat in 2012 had won a bronze medal each at the World Championships tournament.

Delhi's air quality deteriorates, slides towards 'severe'

• The air quality in the national capital deteriorated on October 26, 2018, gradually inching towards the 'severe' category, as parts of the massive Bhalswa landfill site continued to smoulder.
• The Central Pollution Control Board (CPCB) recorded the overall Air Quality Index of Delhi at 358 on 25th morning, which falls in the 'very poor' category.
• An AQI between 0 and 50 is considered "good", 51 and 100 "satisfactory", 101 and 200 "moderate", 201 and 300 "poor", 301 and 400 "very poor", and 401 and 500 "severe".
• The Centre-run System of Air Quality Forecasting and Research also reported an AQI in the 'very poor' category.
• Fire had raged at the landfill site on October 20. However, by 23rd evening, the flames were somewhat brought under control, as per Delhi Fire Service officials.
• The NCR areas of Faridabad, Noida, Greater Noida, Ghaziabad and Gurgaon had also recorded air quality in the 'very poor' category on October 25, according to CPCB data.

PM Modi inaugurates Krishi Kumbha 2018

• Prime Minister Narendra Modi on October 26, 2018 inaugurated Krishi Kumbha 2018 in Lucknow, Uttar Pradesh through video conferencing.
• On the occasion, the Prime Minister expressed hope that there will be a record production of food grains during Kharif season and reiterated the government's commitment to double farmers' income by 2022.
• The Prime Minister said that events such as Krishi Kumbh greatly benefit the farmers. He said that the Kumbh is a commendable achievement of the Uttar Pradesh government and will open new avenues for farmers in coming days.
• He said that this time the farmers will get increased price for their crops since Minimum Support Price of 21 Rabi and Kharif crops has been increased which was a historic decision.
• The 3-day long Krishi Kumbh is having Haryana and Jharkhand as partner states and Japan and Israel as partner countries.

WCD Minister inaugurates 5th edition of Women of India National Organic Fest 2018

• Women and Child Development Minister Maneka Gandhi on October 26, 2018 inaugurated the 5th edition of Women of India National Organic Fest 2018 in New Delhi. The fest will continue till November 4, 2018.
• The event would witness participation from woman farmers and entrepreneurs from across the nation.
• For the first time in this edition of the festival, a vegan food and food court has been introduced.
• Overall, nearly 400 groups and companies would be participating in the fest to sell their organic produce.

US to not allow Iran to develop world's deadliest weapons

• US President Donald Trump said on October 26, 2018 that all sanctions against Iran lifted by the 2015 nuclear deal will be back in full force from November 5 and promised more in the future to prevent Tehran from developing the world's deadliest weapons.
• In May, the Trump administration withdrew the US from the Iranian nuclear deal and reimposed a series of tough sanctions on Iran, citing the Islamic nation's malign activities.
• While the first phase of sanctions is already in place, the sanctions would come into full force on November 4 and the US expects all countries, including India, to bring down their import of Iranian oil to zero by then or face secondary sanctions.
• To avoid this, India either needs a waiver from the US or has to bring down the purchase of Iranian oil to zero.

Manali-Rohtang helicopter service inaugurated

• The Manali- Rohtang helicopter service was inaugurated by Himachal Pradesh Chief Minister Jai Ram Thakur on October 25, 2018.
• The service will ply between Manali-Rohtang-Manali. It was started by the state's Tourism Department with the help of Aryan Aviation.
• It would enable the tourists to watch Solang, Hamta and other attractive places besides Rohtang pass.

Philippine Island once called 'Cesspool' reopens to visitors

• The Philippine island- Boracay, which was once called 'cesspool' due to overcrowding, partying and neglect, was opened for visitors on October 26, 2018 after a six-month closure to clean waters.
• The officials at the island in central Aklan province have imposed new rules to regulate the influx of visitors and beach parties, decongest resorts and prevent sewage from being discharged directly into the turquoise waters.
• Under the new rules, the visitors will be kept to about 6,000 daily and they will be required to sign an oath agreeing to follow certain strict regulations including proper waste disposal and a ban on bonfires.
• More than 2 million tourists visited Boracay last year to enjoy its powdery white-sand beaches, spectacular sunsets and festive nightlife, generating about 56 billion pesos (USD 1.3 billion) in revenue.
• However, the huge influx of visitors and neglect have threatened to turn the tiny island into a "dead island" in less than a decade.
Video: Check out the latest current affairs of this week