Current Affairs in Short: 30 October 2019
Greta Thunberg, a Swedish climate activist, has refused to accept an environmental award.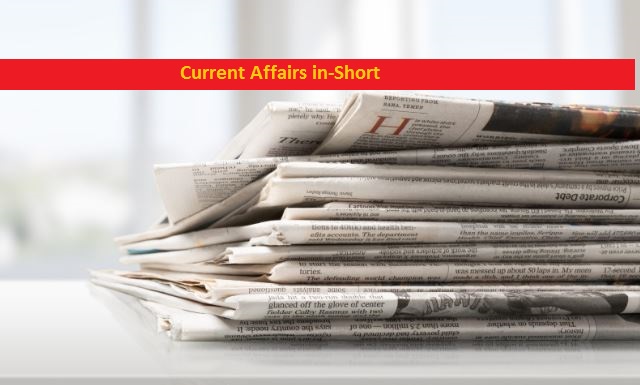 current affairs inshort
Greta Thunberg refuses Nordic Council environmental award
• Greta Thunberg, a Swedish climate activist, has refused to accept an environmental award. She said in an Instagram post that climate movement needed people in power to start to listen to science and not awards.
• She thanked Nordic Council for the award and criticized Nordic countries for not living up to their great reputation on climate issues.
• She was nominated for her efforts by both Sweden and Norway and won the organisation's annual environment prize.
Rafael Grossi becomes new IAEA head
• Rafael Grossi has become new Director-General of International Atomic Energy Agency (IAEA). IAEA is also known as the UN's nuclear watchdog.
• He will be headed IAEA for a term of four years. Rafael Grossi is the sixth head of IAEA.
• Earlier, Rafael Grossi was working as a diplomatic and nuclear veteran from Buenos Aires in Argentina.
Britain to vote on December 12 to break Brexit deadlock
• British Parliamentarians supported PM Boris Johnson for his call for an election to break Brexit deadlock.
• Once the House of Lords passes the legislation and it becomes law by the end of the week, it will be the UK's third election in four years.
• The House of Commons backed the election date, hours after the European Union formally agreed to postpone Britain's departure again.
Also Read: Vice President Venkaiah Naidu introduces 15-point charter for Parliamentary reforms
Indian Railways introduces OTP-based refund system
• Indian Railways have started a new One Time Password-OTP based refund feature for tickets booked through authorised IRCTC ticketing agents.
• As per the IRCTC, the objective behind this initiative is to bring a transparent and customer-friendly refund system.
• A registered mobile number will receive an OTP and customer will share OTP with the booking agent for getting refund amount.
RBI imposes fine on Jalgaon Peoples Co-operative Bank and Janata Sahakari Bank
• RBI has imposed a fine of Rs. 25 Lakh fine on Jalgaon Peoples Co-operative Bank and Rs 1 crore on Pune-based Janata Sahakari Bank.
• These fines were imposed because of violating norms of advances management, violating income recognition and asset classification norms.
• The action was taken on the basis of deficiencies in regulatory compliance. As per the RBI, these banks were failed to implement directions issued by the RBI.
Also Read: Union Cabinet approves National Digital Communications Policy 2018
Also Read: Jio tops telecom market with 31.7 percent revenue share, Airtel second