Current Affairs in Short: 9 May 2018
The Indian tea industry has recorded the highest ever production as well as exports in financial year 2017-18. India's total tea production was 1325.05 million kgs, an increase of 74.56 million kgs as compared to 2016-17.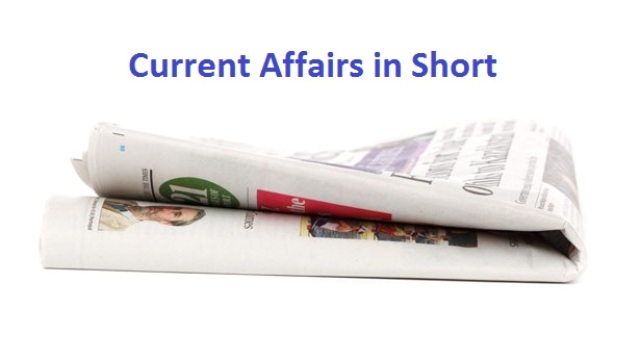 Current Affairs in Short: 9 May 2018
Australian court rules lawmakers with dual citizenship ineligible
• An Australian high court ruled on May 9, 2018 that lawmakers with dual citizenship will be ineligible to hold a parliamentary seat.
• Under Section 44 of the Australian Constitution, members of parliament cannot continue to have citizenship in another country, and must prove they took "all reasonable steps" to renounce the other citizenship before being elected.
• Abiding by the section, the high court ruled that Labor senator Katy Gallagher will be ineligible to sit in the parliament.
• The ruling has triggered four other MPs including three Labor MPs to resign over dual citizenship issues.

LG sets up panel on CCTVs operation

• The Lt. Governor of Delhi, Anil Baijal formed a high-level committee on May 8, 2018 to come up with a standard operating procedure for installation, operation, and monitoring of CCTVs in the city.
• An official statement said that the use of surveillance camera system should not be permitted to become a tool to violate privacy of individuals which is held to be a fundamental right.
• The statement added that there must be clear responsibility and accountability for all surveillance camera system activities including images and information collected, held and used.
• The committee would be headed by Principal Secretary, Department, Manoj Parida.

Indian tea records highest ever production

• Indian tea industry has recorded the highest ever production as well as exports in financial year 2017-18.
• India's total tea production was 1325.05 million kgs, an increase of 74.56 million kgs as compared to 2016-17. In percentage terms the increase was around 6%.
• Similarly, the total quantity of tea exported during the financial year 2017-18 stood at 256.57 million kgs, while the foreign exchange realised from exports of Indian tea was $ 785.92 million.
• The quantity of tea exports increased by 12.71% to 28.94 million kgs during 2017-18 as compared to the corresponding period last year, while the revenue earned from exports saw a rise of $ 95.19 million (13.78%).
• The earlier record for the highest quantity of tea exports was during the financial year 1976-77 when the total quantity exported was 242.42 million kgs.

Beijing to hold World Robot Conference

• The 2018 World Robot Conference will be held in Beijing from August 15 to 19.
• The event will see over 12,000 competing teams and 50,000 participants from more than 10 countries and regions.
• A robot competition will be held during the conference where participants will compete in five categories.
• According to the organiser, the conference will greatly stimulate passion and innovation in the robot industry as well as help with research and development.

Renewable industry created 500,000 plus jobs in 2017 globally: IRENA

• According to the International Renewable Energy Agency (IRENA) report, the renewable energy industry created more than 500,000 new jobs globally in 2017, a 5.3 per cent increase from the previous year, with India and China among the largest employers.
• The report, 5th edition of Renewable Energy and Jobs - Annual Review, was launched at IRENA's 15th council in Abu Dhabi on May 8, 2018.
• The report stated that the total number of people employed in the sector, including large hydropower, now stands at 10.3 million globally, surpassing the 10 million figure for the first time.
• China, Brazil, the US, India, Germany and Japan remain the world's largest renewable energy employers, representing more than 70 per cent of all industry jobs globally.

IMF reaffirms that India will be the fastest-growing major economy in 2018

• The International Monetary Fund (IMF) reaffirmed on May 9, 2018 that India will be the fastest-growing major economy in 2018, with a growth rate of 7. 4 per cent that rises to 7. 8 per cent in 2019 with medium-term prospects remaining positive.
• The IMF's Asia and Pacific Regional Economic Outlook report said that India was recovering from the effects of demonetisation and the introduction of the Goods and Services Tax.
• It said the recovery is expected to be underpinned by a rebound from transitory shocks as well as robust private consumption.
• The report said, medium-term consumer price index inflation is forecasted to remain within but closer to the upper bound of the Reserve Bank of India's inflation-targeting band of 4 per cent with a plus or minus 2 per cent change.
• It said, the consumer price increase in 2017 was 3.6 per cent and projected it to be 5 per cent in 2018 and 2019.
• Overall, the report stated that Asia continues to be both the fastest-growing region in the world and the main engine of the world's economy.


Ravi Shankar Prasad launches website of Digital India Internship Scheme

• Union Minister Ravi Shankar Prasad launched the website of Digital India Internship Scheme in New Delhi on May 9, 2018.
• Under the scheme, 25 interns will be inducted for a period of three months.
• Speaking at the launch, the minister said that the interns will be paid a stipend of Rs 10 thousand per month.
• The Minister appealed to the youth to apply to the internship programme saying that Digital India is important in the scheme of things.
• The Minister also asked officials to train the interns properly and handhold them in such a way that they get the incentive for the future.
• The internship is an opportunity for a student to secure first hand and practical work experience under the guidance of qualified and experienced Supervisor and Mentor.

SC pulls up ASI for failing to take steps to protect Taj Mahal

• The Supreme Court on May 9, 2018 came down heavily on the Archeological Survey of India (ASI) for its failure to take appropriate steps to protect and preserve of the iconic Taj Mahal.
• The apex court also expressed concern over Taj Mahal being infected by insects and asked the authorities, including the ASI, what steps they have taken to prevent this.
• The two-judge bench comprising Justices M B Lokur and Deepak Gupta said that the situation would not have arisen if the ASI would have done its job.
• Meanwhile, Additional Solicitor General ANS Nadkarni, who was appearing for the centre told the bench that the Ministry of Environment and Forests (MoEF) was considering the apex court's suggestion to appoint international experts to look into the issue of protection and preservation of Taj Mahal.

Leaders of China, Japan and South Korea meet in Tokyo

• The leaders of China, Japan and South Korea met in Tokyo on May 9, 2018 against the backdrop of historic diplomatic moves by North Korea and a push for the isolated country to give up its nuclear weapons.
• Japanese Prime Minister Shinzo Abe, Chinese Premier Li Keqiang and South Korean President Moon Jae-in held talks in the first three-way summit in 2 and half years.
• Japanese Prime Minister Shinzo Abe stated that the meeting is an opportunity to advance North Korea's abandonment of weapons of mass destruction and ballistic missiles in a complete, verifiable, and irreversible manner, in line with UN resolutions.
• He said Japan, China and South Korea must work with the international community to demand concrete action by North Korea.
• South Korean President Moon said the three nations would continue cooperation as South-North relations is very important for peace and prosperity of Northeast Asia.