G20 Summit 2019: PM Modi meets Donald Trump talks 5G, Defence, Trade
PM Modi and US President Donald Trmup had an extensive bilateral meeting at G20 Summit 2019. They talked about various issues like Trade, Defence and 5G.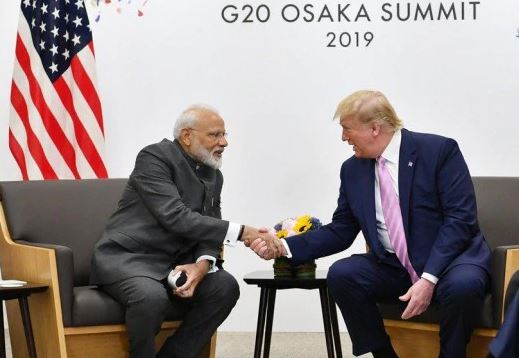 PM Modi meets Donald Trump
Prime Minister Narendra Modi and US President Donald Trump held bilateral talks ahead of the formal inauguration of the G-20 Summit in Osaka, Japan. Both leaders, who met just after the Japan-America-India (JAI) trilateral meet, discussed issues including trade, defence and 5G communications networks.
During the Japan-America-India trilateral meeting, Modi emphasised "the importance India attaches to" the grouping. During the meeting, Modi said that he wants to discuss Iran, 5G, bilateral relations and defence relations with the US President. The Prime Minister also thanked the US President for expressing his "love towards India" in a letter recently delivered by US Secretary of State Mike Pompeo.
Also Read|G20 Summit 2019: PM Modi says Terrorism is the Biggest Threat to Humanity
Modi-Trump meeting @ G20 Summit 2019
• PM Modi took to twitter, "The talks with the US President were wide-ranging. We discussed ways to leverage the power of technology, improve defence and security ties as well as issues relating to trade. India stands committed to further deepen economic and cultural relations with USA."
• Donald Trump said, "We have become great friends and our countries have never been closer. I can say that with surety. We'll work together in many ways including military, we'll be discussing trade today."
• US President congratulated PM Modi on his recent election victory and said that the two countries would work together in many areas including military.
• "I think we're going to have some very big things to announce. Very big trade deal. We're doing some very big things with India in terms of trade, in terms of manufacturing," Trump said at the start of talks with Modi.
• Before this meeting, the US President had tweeted about India for "very high tariffs". Trump had said New Delhi's recent imposition of retaliatory import duties was "unacceptable" and should be withdrawn.
Also Read | G20 Summit 2019: PM Modi meets Saudi Crown Prince, talks trade, energy and security
Also Read | NRC Assam draft exclusion list: Follow these steps to find your name