G20 Summit 2019: PM Modi says Terrorism is the Biggest Threat to Humanity
In G20 Summit 2019 India's Prime Minister Narendra Modi held extensive discussions on the Indo-Pacific region, improving connectivity and infrastructure development with US President Donald Trump and Japanese premier Shinzo Abe in Osaka.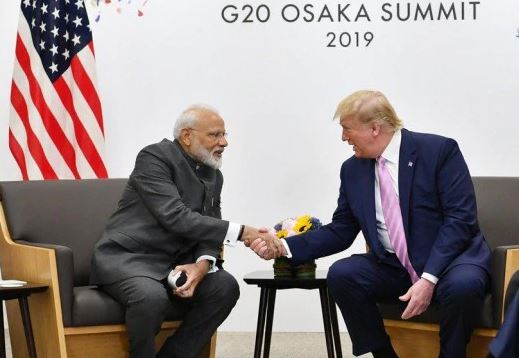 G20 Summit 2019 Logo
G20 Summit 2019: Before formal opening of G20 Summit PM Narendra Modi had trilateral meeting with US President Donald Trump and Japanese premier Shinzo Abe in Osaka. They discussed on the Indo-Pacific region, improving connectivity and infrastructure development. PMO tweeted "Committed to a better future. Meeting of JAI (Japan-America-India)Trilateral takes place in Osaka. PM @AbeShinzo welcomes the leaders. @POTUS congratulates Prime Ministers Modi and Abe for their electoral victories. PM Modi highlights the importance India attaches to JAI,".
BRICS united against terrorism
In a press conference at G20 Summit, Foreign Secretary Vijay Gokhale, on informal BRICS meet, said, "All the BRICS countries condemned terrorism in all its forms and manifestations, reiterated responsibility for preventing financing of terrorism, for using territories and Internet for terrorist purposes."
PM Modi meets Crown Prince of Saudi Arabia
Prime Minister Narendra Modi on Friday held bilateral talks with Crown Prince of Saudi Arabia Mohammed bin Salman and discussed deepening cooperation in trade and investment, energy security and counter-terrorism with the "invaluable strategic partner" in Osaka. External Affairs Ministry spokesperson Raveesh Kumar said in a tweet, "An invaluable strategic partner. PM Narendra Modi met with Crown Prince of Saudi Arabia Mohammed bin Salman Al Saud on the margins of the #G20. Discussed deepening cooperation in trade & investment, energy security, counter terrorism, among other areas,"
Trump Special Session
At a special session US President Donald Trump on Digital Economy, talked about China and India on 5G and data localisation respectively. Trump said that they must ensure resilience and security of their 5G network. "US opposes data localisation and policies which have been used to restrict digital trade, and violate privacy and intellectual property protections."
Prime Minister Narendra Modi met Japanese Prime Minister Shinzo Abe ahead of the two-day G20 Summit that will take place in Osaka on June 28. He will be meeting several world leaders, including US President Donald Trump. He will also hold a trilateral meeting on the sidelines of the summit with Russian and Chinese Presidents Vladimir Putin and Xi Jinping, respectively.
PM Modi's in his departure statement said that issues such as women empowerment, artificial intelligence and common efforts to address challenges like terrorism will be high on his agenda. He said the two-day Osaka summit will also be an important stepping stone for India towards hosting the G20 summit in 2022.
The host country of the G20 summit leads the group over the course of one year from December through the following November as the G20 presidency. The G20 presidency also organizes relevant ministerial and working group meetings.
PM Modi meets Japanese PM
• PM Narendra Modi and Japanese PM Shinzo Abe hold talks in Osaka. This is the first such meeting between these leaders since the start of Japan's Reiwa era.
• Looking forward to the visit of Japanese PM Shinzo Abe to India later this year for the annual summit, PM Modi says.
• Many aspects of India-Japan relations were discussed.
G20 Summit 2019 Themes
There are eight main themes for G20 Summit 2019 that includes Global Economy, Trade and Investment, Innovation, Environment and Energy, Employment, Development and Health. While the G20 was originally established in response to the global financial crisis, its core mission today is to establish economic fundamentals for realizing sustainable and inclusive growth of the global economy.
G20 Summit Participants
The participants are leaders from 19 countries and the Europian Union (EU). The 19 countries are Argentina, Australia, Brazil, Canada, China, France, Germany, India, Indonesia, Italy, Japan, Mexico, Republic of Korea, Republic of South Africa, Russia, Saudi Arabia, Turkey, United Kingdom, United States of America. In addition, leaders of invited guest countries and representatives of invited guest international organizations participate in the summit along with leaders from the G20 members.
What is G20 Summit?
• The G20 Summit is formally known as the "Summit on Financial Markets and the World Economy". G20 stands for the "Group of Twenty".
• As the "premier forum for international economic cooperation" (agreed by leaders at the Pittsburgh Summit in September 2009), representing more than 80% of the global GDP, the G20 has made continuous efforts toward achieving robust global economic growth.
• As globalization progresses and various issues become more intricately intertwined, the recent G20 summits have focused not only on macro-economy and trade.
• But also on a wide range of global issues which have an immense impact on the global economy, such as development, climate change and energy, health, counter-terrorism, as well as migration and refugees.
• The G20 has sought to realize an inclusive and sustainable world through its contributions towards resolving these global issues.
Read | Samant Goel appointed new RAW chief, Arvind Kumar becomes IB director
Read | West Indies vs India Live Telecast, World Cup 2019: When and where to watch Ind vs WI cricket match live streaming